While large cultural buildings and mixed-use developments tend to dominate the headlines, often the less high-profile, unplanned and messy bits of cities have a big impact on people's lives. The 2018 Venice Architecture Biennale, dedicated to the concept of 'Freespace', is an inspiring exploration of the unfinished and the reused, as well as space that is co-opted in a creative, informal or improvised way.
Grafton Architects' Shirley McNamara (co-curator of the Biennale) summed up this idea at the opening: 'Architecture shouldn't feel remote from the ordinary person. It shouldn't be about power and commerce. Architecture is there to bring people together.'
This time the non-architects are as much to be celebrated as the professionals and the 'generosity of spirit and sense of humanity at the core of the architect's agenda' is explored. Participants, both in the invited exhibition and in the national pavilions, have responded with enthusiasm to the Freespace theme. It captures the current zeitgeist with open-ended, people-centred and flexible ideas that are the only possible response to our era of unprecedented instability.
Architecture in motion
France's 'Infinite Places' installation celebrates an 'unfinished architecture in perpetual motion' and provides a refreshing antidote to glossy purpose-built structures by displaying ten adaptive-reuse projects around France – former factories, mail sorting offices and funeral homes. These have slowly been transformed into cultural centres, homeless shelters and residential complexes.
The pavilion's curators have practiced what they preach by building the exhibition design out of the remnants of last year's art biennale show. Quotes dotted around the space drum the point home. 'The finished is death, the unfinished is life,' declares architect Matthieu Poitevin.
The value of 'happenstance'
An openness to ideas and experimentation abounds elsewhere, with the Spanish pavilion plastered in 143 multi-disciplinary proposals by universities extolling the virtues of 'a perpetual state of evolution'. Meanwhile, Scotland's 'Happenstance' installation in the gardens of Palazzo Zenobio shows how 'non-space, stalled space and civic space all have the potential to change and grow, depending on how we choose to occupy them,' explains exhibition curator, WaveParticle. Architects and artists have created a playground-like 'living library of ideas' where visitors can add their own structures and thoughts relating to the Freespace theme.
Improvisation and informality are also central to the British pavilion, where architects Caruso St John and artist Marcus Taylor have built a new 'public space' from scaffolding atop its roof. This makeshift 'Island' can be interpreted as both a place of 'refuge and exile' – reflecting the current condition of Brexit Britain – while the pavilion below is left empty, as a blank canvas to be filled by future programming.
The challenges of informality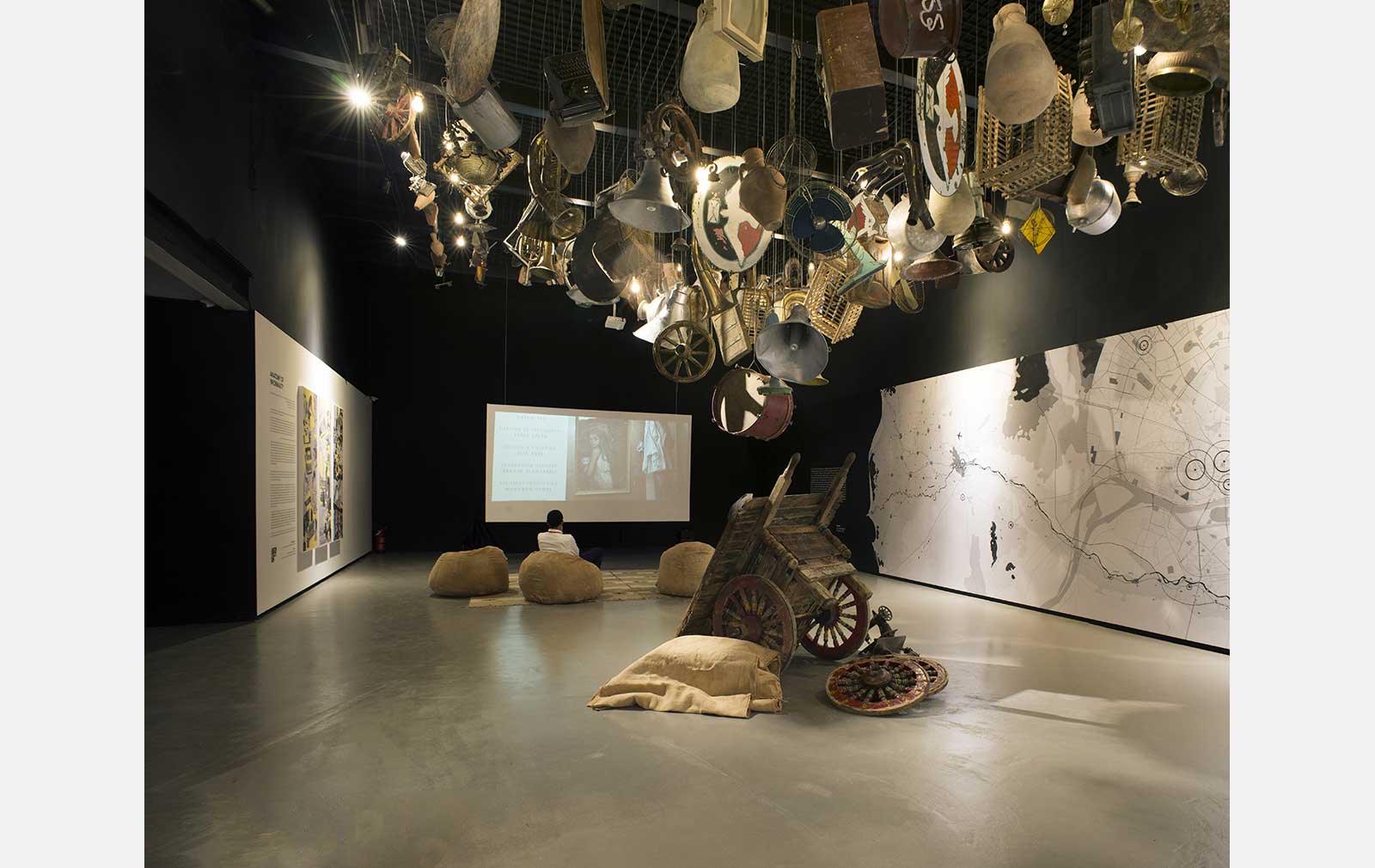 Messiness and informality can go too far, of course. The Egypt pavilion warned against the continuous sprawl of spontaneous commerce and the complete takeover of public space by souks and informal trading spaces in urban areas. Meanwhile, China's Amateur Architecture, led by Pritzker Prize-winning architect Wang Shu with Lu Wenyu, showed a model made by young graduate architects of a vernacular construction that could improve the experience of living in the spontaneously-built, illegal structures and settlements in rural towns.
Reclaiming bridges and squares from transport
The dominance of the car is another curb on freespace examined successfully at the Venice Architecture Biennale. The Hungary Pavilion explores how Budapest's famous late 19th-century Liberty Bridge was taken over and occupied by young cyclists and pedestrians hosting picnics, live music and yoga classes during the summer of 2016 while it was closed to traffic for renovation work on neighbouring tram tracks. This vibrant moment in time was a temporary reimagining of a historic monument and asked the question of who the city should be for and how it might be transformed.
Ireland's Free Market exhibition takes this theme further, focusing on the Irish market town. Six architects and designers have created a powerful statement on a limited budget. Laid out like a market square surrounded by stalls, its displays looked at the slow, incremental takeover of these fundamental public spaces by vehicles, and the lack of joined-up thinking – and funding – in trying to resolve the issue. The beauty of the marketplace is that it always had a flexible programme, says co-curator and architect Miriam Delaney. 'One day it could host the market, the next a parade, another day it could be empty.' The exhibition proposed 'simple and humble solutions that aren't radical or avant-garde' – reducing parking by improving railway stations links or using empty town halls as co-working spaces – but that could signify small and meaningful improvements.
Free Market will tour ten market towns next summer, culminating in a 2019 symposium 'where the different levels of bottom-up and top-down will be brought together,' says Delaney. 'That's the point where we will try to shift policy.'
Hidden spaces
Just as the Irish pavilion curators are clear that their biennale contribution is about small towns that usually go unnoticed, other attendees focus on aspects of their countries that aren't usually in the limelight. Pakistan's first Venice pavilion, 'The Fold', brings to life the alleyways between dense informal settlements where play, negotiation and interaction happen. Meanwhile UAE's entry, 'Lifescapes Beyond Bigness', charts life in the gardens and urban blocks of low-rise neighbourhoods in the Emirates showing a way of life that appears a million miles from the region's famous glass-and-steel high-rises – and that might be lost if not preserved.
This year's Venice Architecture Biennale elevates the humble, less glamorous, prescriptive and deterministic side of the built environment and manages to tell us a great deal about the spaces where cities thrive, as well as the lives and aspirations of ordinary people. It is an extraordinary burst of fresh air.
Read next:
Adam Caruso reveals the 'crazy' idea behind 'Island' at the Venice Architecture Biennale
Postcards from the Venice launch party of our new book