New York native Bozenka Shepherd first discovered Detroit through the pages of Car and Driver magazine while researching her degree in Industrial Design. Intrigued by industrial heritage, she and her dad drove to the city, getting lost along the way.
It was on this trip she fell in love with the atmosphere of Detroit's suburbs and streetscape, and a few years later, when she and her dad purchased a house in Detroit and spent the summer refurbishing it, she fell in love with home renovation.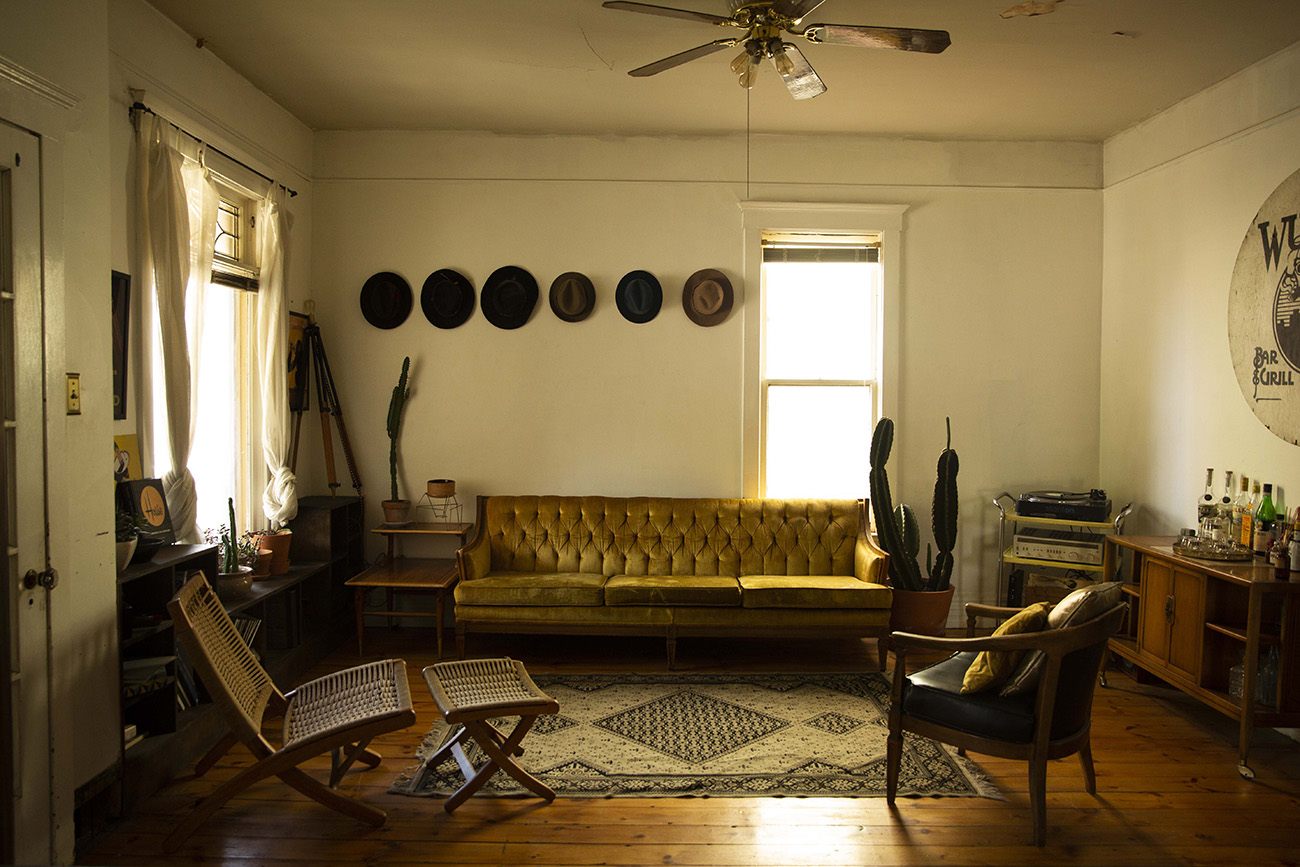 Fast forward a few summers later. Biking around the city, Bo and her partner Kyle Dubay began to notice all the illegally dumped materials around the city, pulled from its dilapidated buildings. The pair filled up their backpacks, one board at a time, and took the materials home to craft bottle openers and screen printed signs that they'd sell on a Saturday morning at the Eastern Market. Woodward Throwbacks was born.
Detroit had over 80,000 abandoned buildings when Bo and Kyle started their fledgling business; buildings full of usable materials and relics of Detroit's manufacturing heyday. As Woodward Throwbacks grew over the next year, Bo and Kyle expanded their offerings to include sustainable furniture made from salvaged and reclaimed materials they collected from around the city. Their one-car garage operation quickly became a 24,000 sq ft facility, and Woodward Throwbacks became a sustainably crafted furniture showroom and design studio.
Bo Shepherd takes us inside the Corktown home she shares with Dubay – a space that embodies the company's development and her love affair with Detroit.
What is home to you?

Shepherd: Home is where I feel that I can be my most authentic self. Surrounded by all the things I love, it's a place of inspiration and experimentation. A judgment-free zone where I can take wild ideas and make them a reality. Home is where I can create an experience that's enjoyed by guests and myself.
What were the main design interventions in your home?

Shepherd: I feel that we have not yet made the design intervention as our home is constantly in motion and evolving! As a designer who primarily uses found and reclaimed materials, I have nearly unlimited access to furniture and decor – which has us regularly recreating new moments around our home and pushing the boundaries of what we think a space can be.
'Having a brand new space in an old house is pretty exciting and has inspired me to tackle other rooms that need a touch more attention'
What is your favourite space in your home?
Shepherd: My favourite space in our home has to be our newly renovated sunroom. Previously, it was a catch-all for all the unwanted things in our house. We challenged ourselves to design and build out a space without spending a dime and essentially to "shop" our own home for furnishings and decor.
We used plywood from a previous project to build a seating nook and clad it with green beadboard we salvaged on a trip to St Louis. I found a round butcher's block slab to repurpose into a coffee table, and the finishing touch was the most perfect burnt branch, which we wrapped in string lights to create a unique ceiling light. Overall, the project exercised our resourcefulness and made the most neglected room in our house the most used room!
How does the ethos of your home chime with your other projects?
Shepherd: Our ethos has always been to reimagine salvage as sustainable materials – and as something that can be re-designed into something new. You can see firsthand how we have pushed boundaries of using reclaimed materials by mixing different mediums and styles of furniture in our own home. This translates into our other projects as well. The most satisfying part of our work and design practice is when we pair opposing furniture styles in a designed space, step back and see how well it's worked.
What's the biggest design luxury in your home?
Shepherd: Our newly renovated first-floor bathroom! We bought our home back in 2014, right out of college, and renovating the space wasn't financially an option. So, having the opportunity to finally refresh the bathroom, design and build the room how we wanted it was a milestone.
More importantly, having a brand new space in an old house is pretty exciting and has inspired me to tackle other rooms that need a touch more attention. You can see the progress and transformation on our Instagram highlights.
If you could live in any building around the world besides your own, which would it be?
Shepherd: I would choose an old brick industrial building with a lot of land. A compound of sorts that is still in a city but far enough away to be isolated and have privacy. As for location, my partner and I honestly cannot see ourselves anywhere else but Detroit. And we've already been on the hunt for this dream building, which, luckily for us, may become a reality very soon…