In the wake of the Time's Up movement and gender inequality grabbing headlines across the world, there's never been a better time for female entrepreneurs to step into the limelight. Women-only coworking spaces are springing up to nurture this new generation of innovators in creative environments that help them thrive.
Female coworking spaces are more plentiful in the US but a ripple effect is happening in other countries like the UK, where women-only clubs are bursting onto the scene in London as an antidote to gentlemen's clubs. While creating micro-economies for the entrepreneurs who inhabit them, these spaces also champion a new work-life balance for women.
The Wing, Williamsburg, New York + more
Founded by Lauren Kassan and Audrey Gelman in 2016, The Wing is a contemporary take on the women's club movement that took hold of New York in the 19th and 20th century. 'Women's clubs played a pivotal role at certain times of social and political change, specifically around suffrage,' says Gelman. 'Here we are 100 years later… we hope to be a resource and a haven for women living today.'
The pioneering women's coworking provider has a busy year ahead, with new spaces slated to open in Toronto, Santa Monica, Silver Lake, and Seattle. They follow hot on the heels of the brand's recent Williamsburg coworking space – which includes its Little Wing childcare facilities so members can bring their children to work with them. It occupies the upper two floors of a newly built three-storey brick building in Brooklyn and offers 12,000 sq ft of space plus a huge rooftop that peeks out across Williamsburg. A lactation room is onsite as well as a children's playroom, dubbed The Little Wing, where children can play under supervision while their moms work upstairs.
Interiors designer Laetitia Gorra crafted its decadent decor, blending a signature jewellery box colour palette with black and white stripes and bolder colour pops. Its blush hues feel familiar, but the Williamsburg space has a bolder feel than The Wing's other all-female coworking hubs and could be a hint of what lies in store for its 2020 openings.
Best for: Working moms in the media.
Cost: Membership starts from $185* per month.
Where: NYC, Brooklyn, San Francisco, DC, London, Seattle, Los Angeles and Toronto.
Charley Co. Denver, Colorado
Denver's Charley Co. is an independently owned coworking space with the mantra 'Come as you are.' Founded by Bryn Carter, the women's coworking space is 'for women, by women' and sits inside The Source Hotel + Market Hall in Denver's RiNo Art District, beneath the soaring rafters of a historic warehouse building.
As well as the usual mix of workspaces (shared office spaces, small team spaces, individual desks and lounges) there's an onsite mother's room, art gallery wall, nail bar and a hair salon.
Best for: Being in the heart of the art scene.
Cost: POA
Where: 3350 Brighton Boulevard, RiNo Art District, Denver, CO 80216
One Roof, Melbourne, Victoria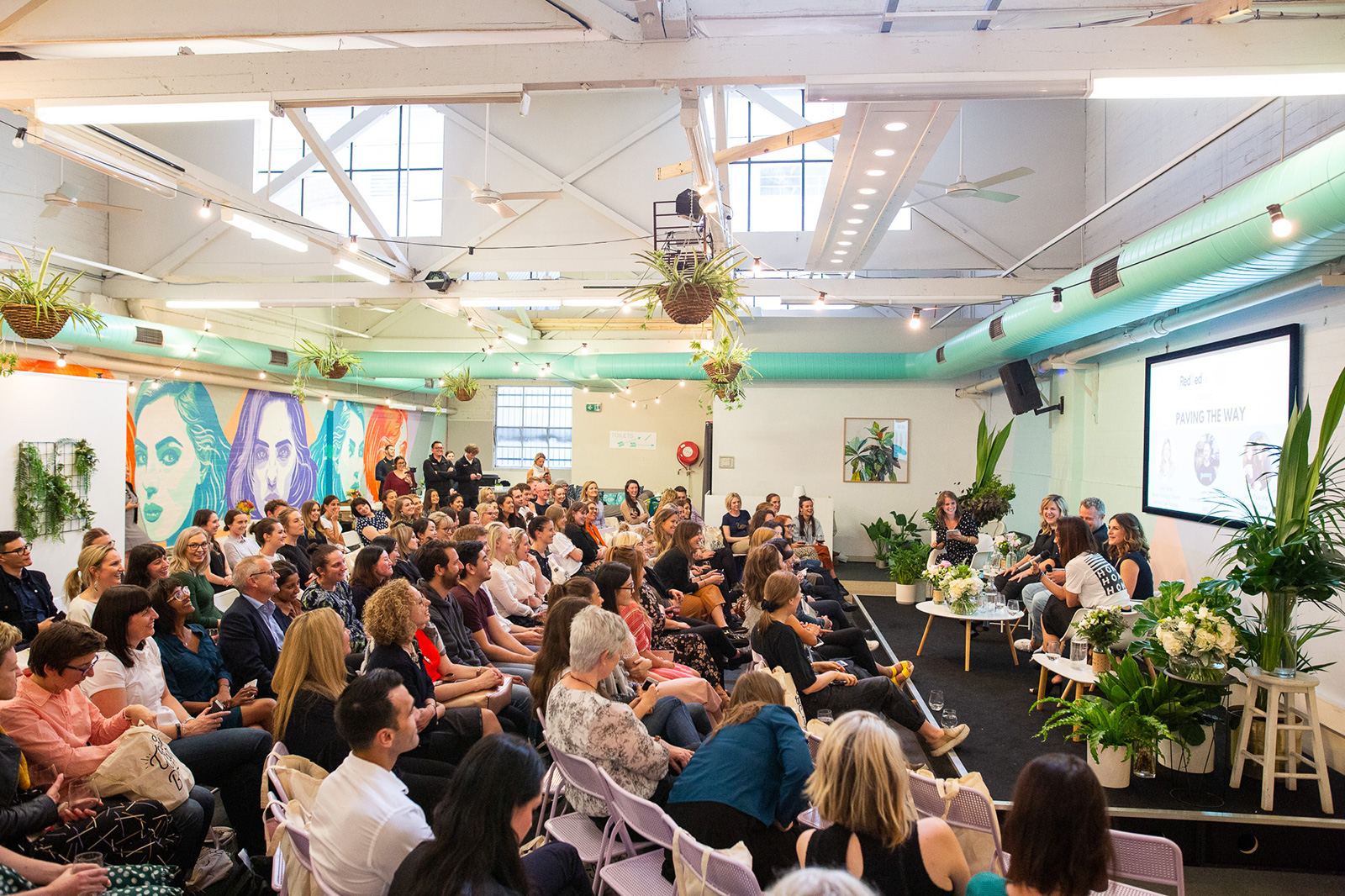 A community, event space and circular ecosystem, One Roof started as an experimental pop-up space in an Airbnb mansion in St Kilda. After 400 women came through the doors in under a week, it was clear to founder and CEO Sheree Rubinstein that there was an audience for her brand of female-focused coworking space.
One Roof aims to provide everything a female entrepreneur needs to grow their business and close the gender gap in one space and is based in Southbank, Melbourne. The 1,000 sqm space is furnished with modernist pieces and hanging plants, and a mix of workspaces that accommodates 100 startups and smaller businesses. It also brags an impressive support network for members: 'there's weekly legal, finances, social media and sales support sessions, wellness workshops, meditation classes, networking events, community lunches.'
Best for: All-in-one economy.
Cost: Seed membership costs from 200 AUD per month.
Where: 77-81 City Road, SouthBank, VIC, 3006
The Coven, Minneapolis, Minnesota
Situated in Minneapolis's North Loop neighbourhood, The Coven is a warehouse-style coworking office that's open to women and non-binary folks. The coworking space is framed by bare brick walls and high ceilings and is home to a wide range of entrepreneurs from finance and technology to community activism. A regular programme of events offers practical help to members, covering topics ranging from nutrition, business and coding skills to astrology at the more cosmic end of the spectrum. The Coven also runs a scholarship programme, which awards free year-long memberships which are funded by full-paying members.
Best for: Business diversity in the Mid-West.
Cost: $140 a month for social membership, $225 for full membership which includes unlimited workspace access.
Where: 30 N 1st Street, Minneapolis, MN
The AllBright, London, England
'A woman must have money and a room of her own,' wrote Virginia Woolf in her seminal feminist manifesto A Room of One's Own. This statement is at the core of new London women's member's club and coworking space The AllBright, which launches today in Bloomsbury. Its name is inspired by former US secretary of state Madeleine Albright, who said: 'There's a special place in hell for women who don't support other women.'
An offshoot of the women-led funding initiative of the same name, The AllBright is less a formal coworking space and more a place to host meetings, socialise, collaborate and network.
'Quite often when you have a mixed environment, men tend to dominate discussions and women tend to hold back,' says co-founder Anna Jones. 'In a female environment, women are more likely to speak up, share experiences, talk about their successes, and be a bit more open and honest about some of the challenges that they face – because frankly, it's quite hard to be the only woman in the room.'
The AllBright is set within a five-storey Georgian townhouse with interiors designed by studio No.12. It offers workspace, meeting rooms as well as treatment rooms for relaxation, meditation and therapeutic treatments. (Founding member and Sky News anchor Sarah-Jane Mee quipped to the FT, 'You can be a feminist and still enjoy a blow-dry and yoga.') Also on the menu is a curated list of events, debates and networking opportunities for female entrepreneurs, creatives and consultants.
Best for: Established professionals who've already hit their stride.
Cost: Membership starts at £750 (knock off £100 if you're under 27) and there's a joining fee of £300.
Where: 11 Rathbone Place, London
The Assembly, San Francisco, California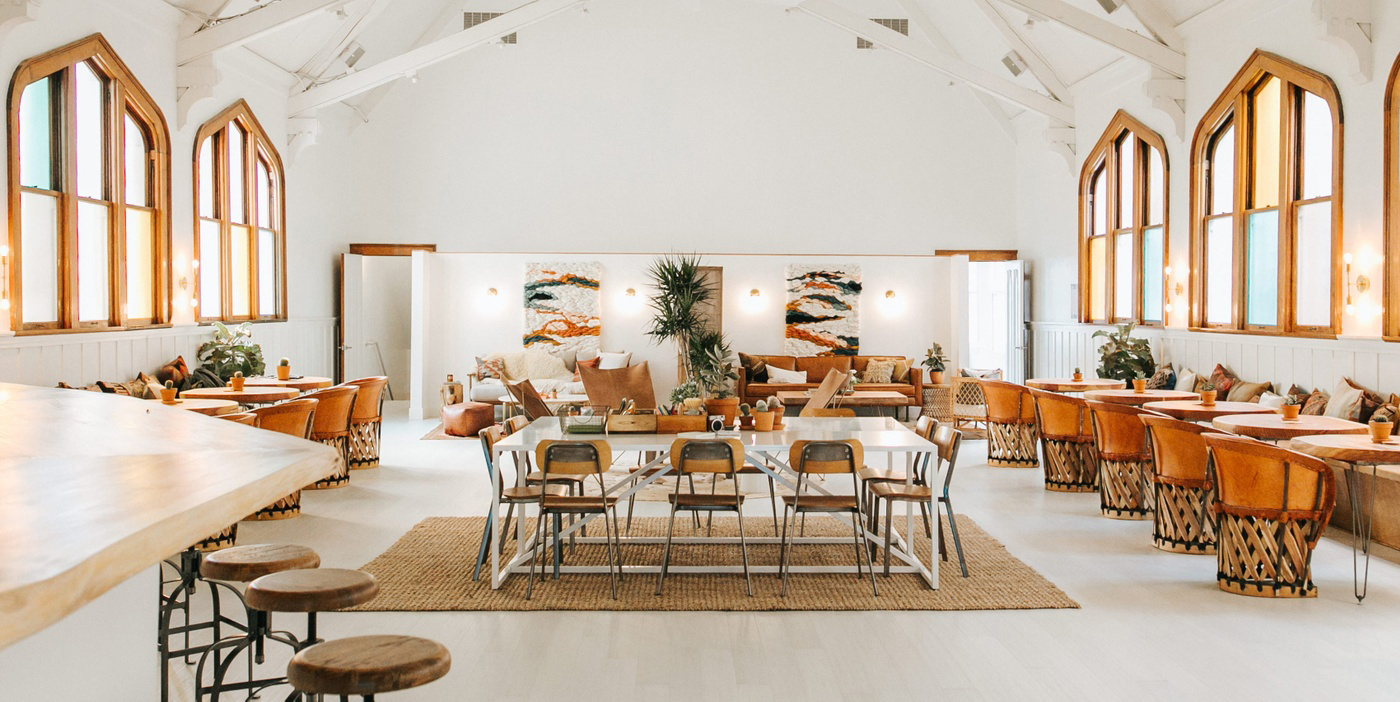 At this wellness-focused clubhouse in San Francisco, members can de-stress with on-site acupuncture and cupping, yoga, and fitness classes. The Assembly inhabits a hundred-year-old former church with soaring ceilings and plenty of natural light. It's been given a complete overhaul, with whitewashed walls and floors and new stained glass windows in soft pinks and blues. As well as a full schedule of workout sessions, members can join weekend field trips to the coast, and regular opportunities to network with fellow entrepreneurs.
Best for: Wellness enthusiasts and entrepreneurs in need of some self-care.
Cost: $250 a month for membership, which includes unlimited access to classes.
Where: 14th Street, San Francisco, CA
The Riveter, Seattle, Washington
The Riveter is a female-forward coworking space founded by NASA Space Camp and NYU law graduate Amy Nelson. Its name evokes the image of feminist icon Rosie the Riveter, who inspired women across the US to take up their tools during WWII to keep the front supplied – and the economy booming.
The Seattle coworking provider opened its first 11,000 sq ft space in Capitol Hill and has since launched outposts in Los Angeles and Austin. Five more US spaces are on the horizon. All put wellness first, with daily yoga and barre classes and a 5 pm meditation session to formally end the day. 'We try to build a space that's reflective of the way women work,' says Nelson.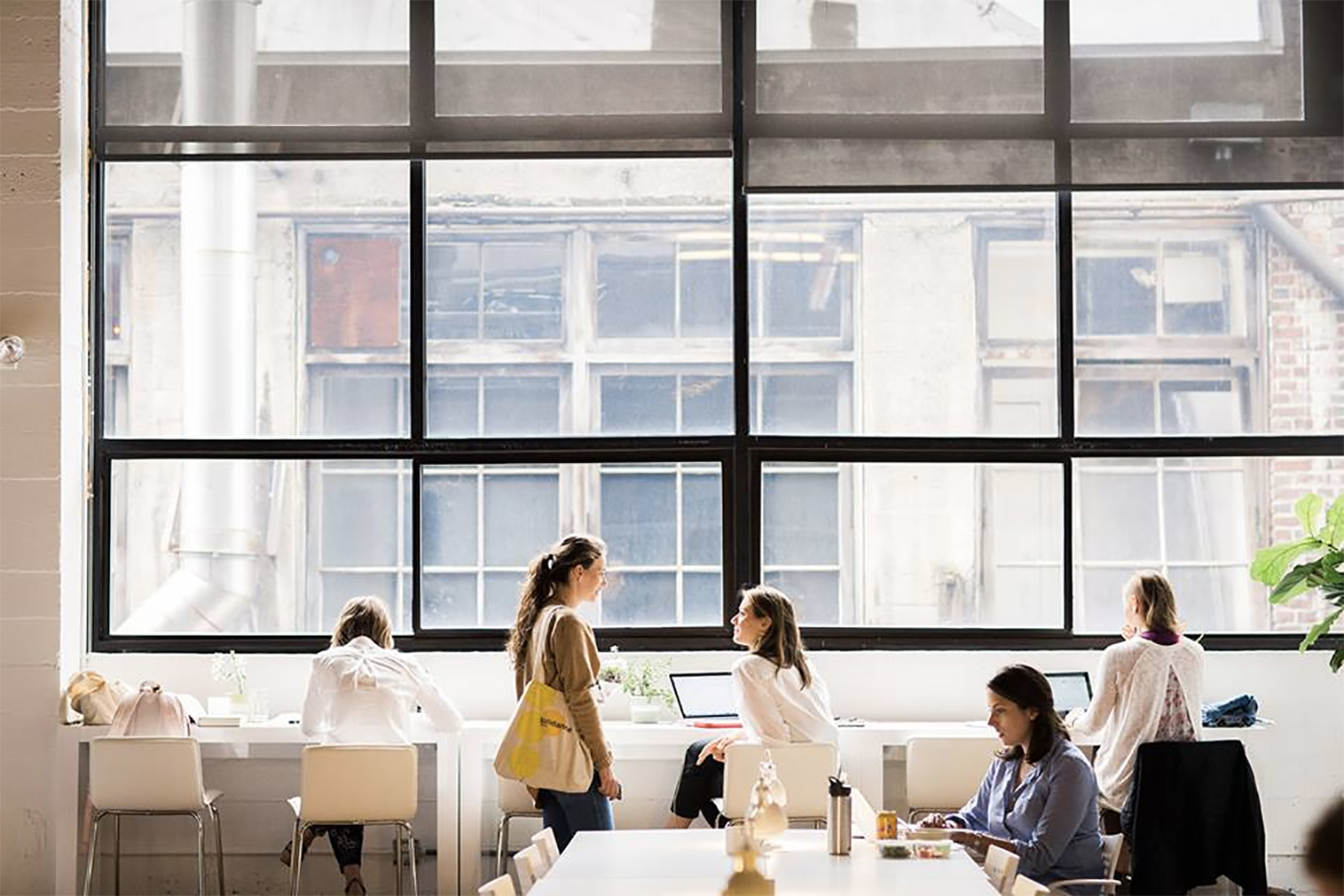 Unlike some women's coworking spaces, men are welcome at female-focused The Riveter. Says Nelson: 'Our goal was to change the dynamic for women entrepreneurs and business owners and I feel very strongly that to do that you have to involve all genders in the conversation or nothing will ever change.'
Best for: Working moms and wellness-conscious women.
Cost: $375 for a floating desk, with a dedicated desk priced at $450 per month. Private workspaces start from $750 per month.
Where: Seattle, LA, Austin
Make Lemonade, Toronto, Ontario
Toronto boasts several female-only coworking spaces, but Make Lemonade is the newest and most design-savvy. 'We're on a mission to create a community of driven women who create, dream and get.sh*t.done,' they say. They do this from a yellow and pink infused workspace in the city's downtown core.
Make Lemonade is the brainchild of freelancer Rachel Kelly, who struck upon the idea for the hub after growing frustrated with working from coffee shops. 'I created Make Lemonade because, as a freelancer, the struggle of not having a home base was real,' says Kelly. 'I was tired of hopping from coffee shop to coffee shop with dodgy Wi-Fi and limited seating. My mission was to create an office space that lived inside my imagination.'
Studio MMNT Design crafted the interiors for the 3,000 sq ft-space, which does welcome male-identified visitors – so long as they relate to the space's feminist values.
Best for: Young entrepreneurs who want flexible membership packages.
Cost: Drop-in sessions from $30 for 'the zest', while a whole lemon will set you back $500 per month.
Where: 326 Adelaide Street West, Toronto
The Hivery, Mill Valley, California
The Hivery offers a more relaxed take on coworking, with a bright space that feels more like a shared living room than an office. Member sit around wooden tables and bask in sunlight that streams in through huge arched windows. Collaboration is The Hivery's focus, and its inspiration lab and incubator programme is designed to connect members that are entering new fields or considering a career change. Unlike many coworking spaces, there's no application process either, meaning The Hivery's doors are open to all.
Best for: Women considering a career change and those looking for a mentor.
Cost: $395 a month for unlimited use of the space, however, there's also a $95 monthly community membership which just gives access to events and networking.
Where: 38 Miller Ave, Mill Valley, CA
And one that's coming soon…
Dee Behan, Oonagh Geoghegan and Emma Startup are fundraising 2.5m AUD to get Frankly Co. off the ground in Sydney after growing frustrated with working out of coffee shops around the city. Like The Wing and One Roof, the women's coworking space will bring fitness and childcare into its business model, though it will look to offer a broader range of membership packages for workers in the area.
Unlike it's more boutique counterparts, Frankly Co will target big corporations with 25% of its projected income from big business. While it will be women focussed, they won't be banning men: 'We're not saying "no men" — they can come if they want to,' Startup told The Sydney Herald. 'We're targeting the key areas where women are lacking support: flexibility and childcare.'