'Boston is just a village, sprawling far and wide,' wrote the 19th-century German philosopher Friedrich Engels.
Today, the historic east coast city that's home to multi-million dollar brownstones in Back Bay and Fenway Park stadium, where the Red Sox play, is more like a series of villages. And none more unusual than the colourful neighbourhood of Jamaica Plain; one of America's first streetcar suburbs and an architectural treasure trove of highly decorated, rainbow-hued, wooden houses dating back to the 18th century.
Architectural-styles
JP, as it's known locally, forms part of Boston's 'Emerald Necklace' of green spaces designed by Frederick Law Olmsted, the man behind New York's Central Park.
Stroll down one of its bucolic streets and, in between the Hispanic bakeries and craft breweries, gawk at the towering mansions. They are dressed like frosted cakes with wrap-around porches, turrets, scalloped siding, carved archways, triple-decker balconies, ginger-bread trim, stained-glass windows and multi-coloured paint jobs.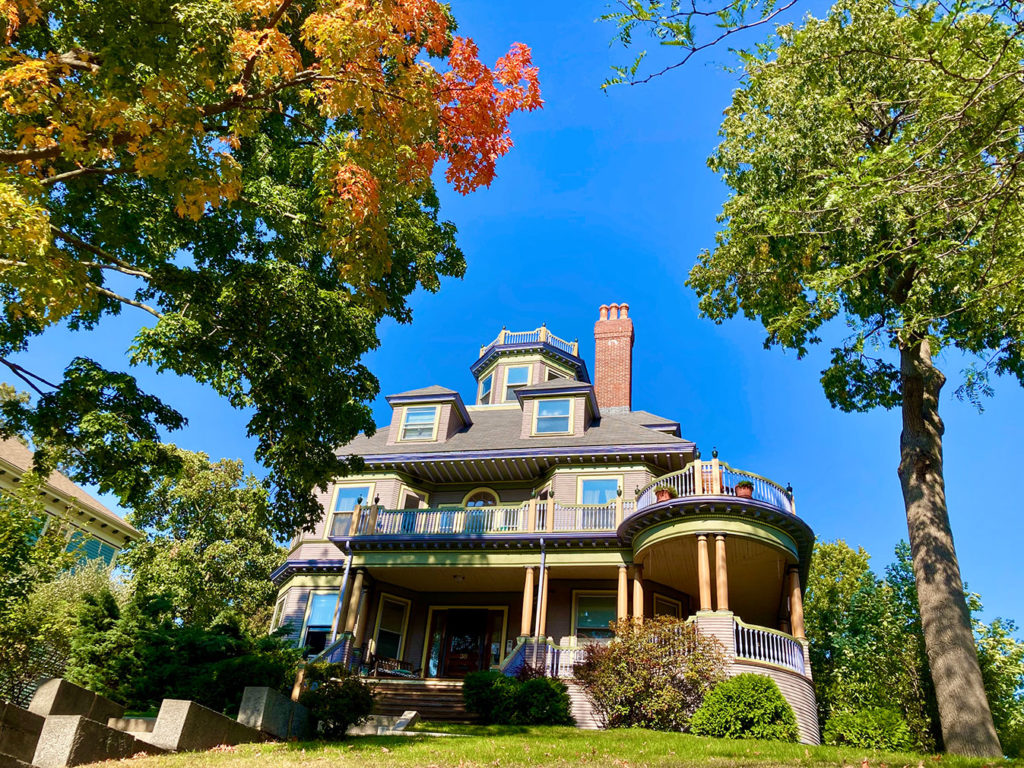 They come in over a dozen different styles, including Greek revival, Italianate, Second Empire, Gothic revival, Stick and Queen Anne (that appeared from 1880 to 1910 across the US and was similar to the English Baroque), as well as several Shingle-style homes designed by William Ralph Emerson; cousin of Transcendentalist Ralph Waldo Emerson.
The Loring-Greenough House
The villas are a legacy from the area's modern foundation in the 1600s as a leafy spot for the wealthy to build lavish estates. The only surviving Colonial-era building in the Sumner Hill area, The Loring-Greenough, was constructed in 1760 and has immaculate Georgian interiors open to the public who can also attend concerts in the lush gardens.
Many of the area's Colonial and Revolutionary residents were involved in the trade of enslaved people, sugar and Jamaican rum. Some historians have pointed to this as a source for the area's unusual name. The Loring Greenough is recorded as having at least one enslaved man, named London, and a young boy called John May, as part of its household until the state abolition of slavery in 1788-89.
Others, however, have pointed to an anglicization of the name Kuchamakin, a local leader belonging to an indigenous Massachusett tribe, from which the state also takes its name, as an alternative source.
The Taylor House
Take a virtual walk under the antique chandeliers of an iconic local landmark before it closes its doors. Built in 1853 for a merchant family, the Italianate building was restored to its former glory in the 1990s, including a 16-window tower, as a boutique bed and breakfast before being put up for sale this summer for $3.35m after suffering heavy losses during the pandemic.
The Adams Nervine Asylum
This soaring building near The Arnold Arboretum was designed by J Gardner Weld in the French-Mansard style with an octagonal tower and accompanying coach house. It opened in 1880 as an administrative building for a 'progressive' asylum for unmarried women with 'nervous disorders' but who were not considered insane, including diarist Alice James, sister of novelist Henry James. It closed as a medical institution in the 1970s before being turned into apartments.
The Blue Dodecagonal House
With its blue and yellow tower, unusual Gothic and Italianate features, and the fact that it's built out of three interconnecting hexagons, the 'house with 12 sides' is one of the most interesting buildings in the area. Built around 1874 by two Scottish immigrants and covered with hexagon shingles, it was listed on the US National Register of Historic Places in 1987.
Famous faces
A hot spot for writers, artists and activists, including women and people of colour, one of Jamaica Plain's famous former residents is Sylvia Plath. The Pulitzer-winning poet was born in 1932 in a Philadelphia-style home a short walk from Jamaica Pond where sailboats drift by in the summer heat.
The unimposing address has no plaque and, unlike The Bell Jar author's grave in the UK, has not become a pilgrimage for fans who leave pens planted in the earth next to her headstone featuring an inaccurate quote from Ming dynasty poet Wu Ch'Eng-En that reads: 'Even amidst fierce flames the golden lotus can be planted.'
Alice and her wife recently bought their own 1890s rainbow home in Jamaica Plain, which they are currently in the process of renovating. You can follow their progress on Instagram @thehouseofdivine