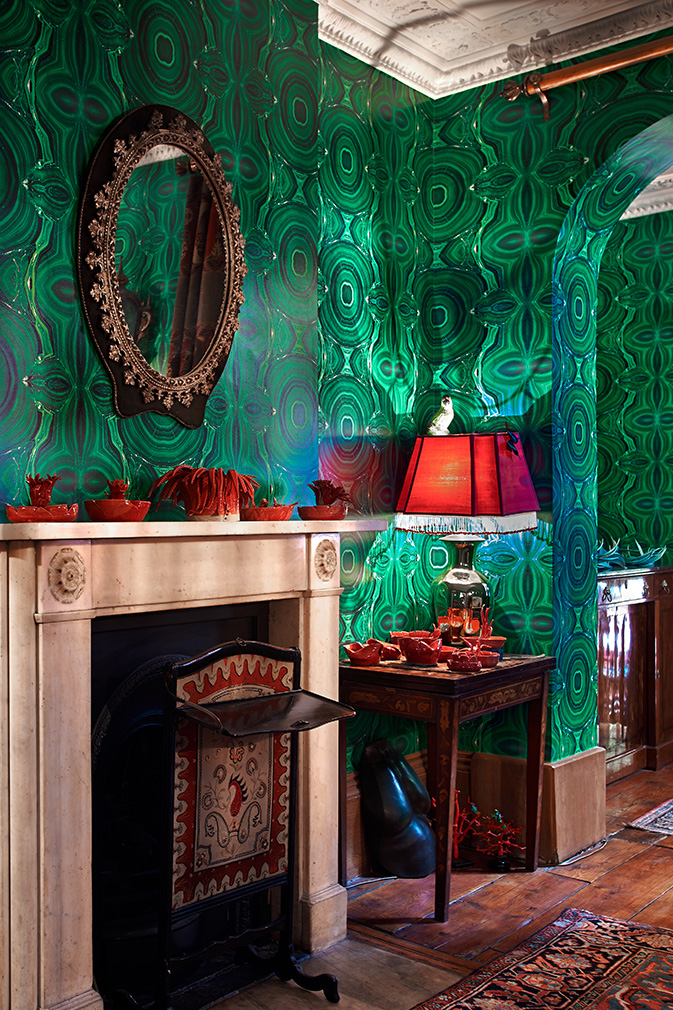 Filled with period features and bristling with ghost stories, potter Kate Braine's 18th-century Cheyne Row townhouse is the setting for her exhibition. Tendril is the Night brings together over 300 of her hand-thrown ceramics amassed over 20 years.
Braine's vision emerges against a backdrop of antique furnishings, vivid green wallpapers and a stuffed lion. There are collections of celestial blue, sea green and charred volcanic earth. Molten glass mimics a cracked tundra and swirling glazes trickle like salt streams in rockpools.
We take a tour as the ceramicist reveals the stories behind the exhibition and how the London building has shaped her work.
How did you approach curating the show?
Using the whole house is clever because you can evoke different feelings in different rooms. I like to start with colour. The browns in the dining room are more mellow, for example – they make you think of eating chocolate. And in the green room, it all comes down to surgery: the green of the surgeon's cloak and red of blood. I love the juxtaposition of these primary colours.
Every time a new batch [of pots] comes out [of the kiln] I have to think about where to put them. So there's movement all the time. But now I need more space. I am slowly filling the house floor by floor.
Journeying through the exhibition, there's a strong feeling the house itself is a protagonist in the work.
Yes, I really think so. I had the house blessed because I felt something funny had gone on here… It's very haunted! And now it's come into its own again – the house really loves the pots. It's like The Nutcracker: there has been an invasion, they have taken over!
How do you describe your relationship with clay?
I enjoy the imperfection of the handmade pot – I can't bear decorative pots. I always have to slash them! I'm not fussed about trying to show off about technique; many of the pots are down to extraordinary good luck. But they have a life to them, and that's what's interesting to me. Many are old friends that show the progression of my work over the years.
Why do you recycle fragments of your pots?
It's so much physical work that I really value each tendril. In the garden, it's worked really well planting my broken sprigs. In the winter nothing grows here, so it looks really dramatic, and in the summer, nature ends up taking over. More and more are springing up, and I've planted some fake tulips in between which I love.
Besides growing up in the area, do you have an affinity with the strong tradition of ceramics in Chelsea?
I was brought up on Cheyne Walk, and it was all artists here. The church was where William de Morgan had his potting factory, Chelsea china was on Lawrence Street, and then there's the mud of the Thames. That's why I'm so happy working here.
Kate Braine, Tendril is the Night runs 27 – 30 June at Cheyne Row. It is also available to see by appointment only throughout the remainder of July via Alice at KTW London: alice@ktwlondon.com
Related stories: A ceramicist's converted dye mill is for sale in Rhode Island
Meet the potters defying London's space crisis