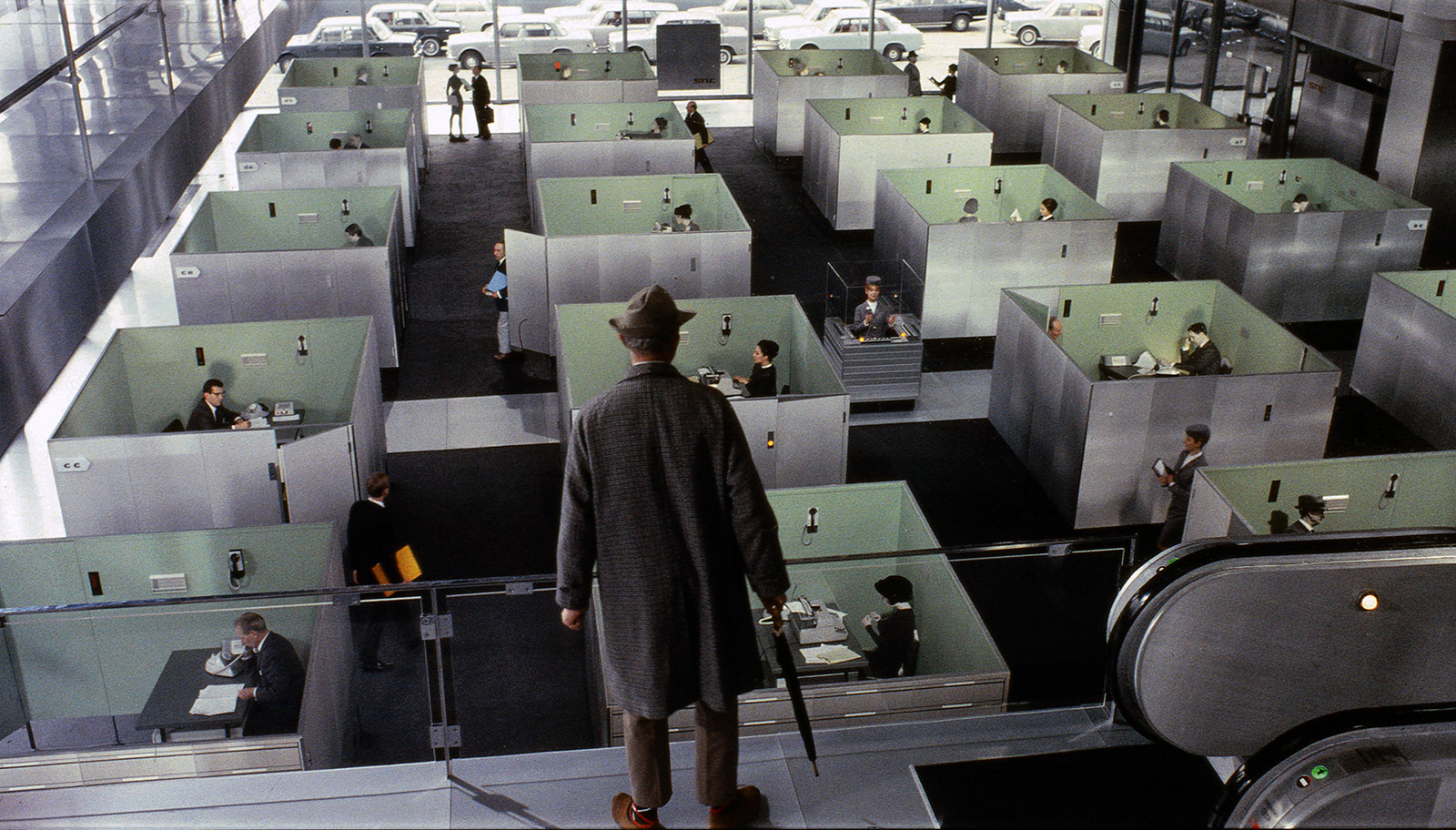 Frequently listed among the greatest films of the 20th century, Jacques Tati's idiosyncratic opus, Playtime, celebrates its 50th anniversary this month.
Structured in six segments, the film follows Tati's signature protagonist, Monsieur Hulot (played by the director himself), as he navigates a soulless, starkly utilitarian and invariably chaotic near-future Paris.
A thinly-veiled critique of the International Style of architecture, which favours function and uniformity over expressiveness and spontaneity, the film is Tati's response to what he saw as the relentless march of Modernism.
It is also famed for its vast but intricate sets, which were built on the outskirts of the French capital on a plot of land locals affectionately dubbed 'Tativille'. Playtime's massive budget and box office failure ultimately led Tati to declare bankruptcy (he made just one more feature, Trafic, in 1971). Yet its legacy is enshrined in the works of Wes Anderson, David Lynch and others who have taken inspiration from it.
Wes Anderson
Although Wes Anderson's films have their own unique visual language, the eccentric, handmade charm of The Life Aquatic with Steve Zissou, The Royal Tenenbaums and The Grand Budapest Hotel is demonstrably Tati-esque. Both directors like to draw attention to the artifice of filmmaking, but in doing so they manage to make their fictional worlds seem all the more real.
For instance, early on in Moonrise Kingdom Kara Hayward's Suzy is framed in a way that suggests a feeling of isolation. Like Tati before him, Anderson builds meticulous sets in which his characters often appear at odds with their surroundings.
Dominique Abel and Fiona Gordon
This Belgium-based husband-and-wife duo have been performing together since the early 1990s, but it was for 2011's The Fairy that they gained wider recognition as contemporary exponents of silent-era slapstick. Their most recent film, Lost in Paris, a fleet-footed dance through the City of Lights, owes a debt to Tati's distinct brand of physical comedy.
Despite being more whimsical and romantic than Playtime, Abel and Gordon's modern fairy tale similarly makes use of ordinary settings, as well as a number of iconic landmarks such as the Eiffel Tower. Their film turns Paris into a character itself.
Steven Spielberg
Steven Spielberg once described his 2004 comedy The Terminal as a tribute to Jacques Tati. The clearest evidence of this is the elaborate replica of New York's JFK airport in which the film was shot, complete with three fully-operational escalators and a multitude of shops and restaurants – an homage to Playtime's opening sequence inside an ultra-modern reconstruction of Orly airport.
Spielberg even snuck in a nod to Monsieur Hulot, whose ability to use 'what's around him to make us laugh' directly inspired Tom Hanks' affable and resourceful eastern European immigrant, Viktor Navorski.
Roy Andersson
Sweden's doyen of droll is perhaps the biggest Tatiphile working today. His pitch-black 2014 comedy A Pigeon Sat on a Branch Reflecting on Existence, the third film in his so-called 'Living trilogy', comprises various narrative vignettes contained within specially constructed, plainly decorated sets.
Andersson's film is more melancholy in tone than Tati's, but both directors employ a muted palette of blues, greys and browns in order to examine the human condition in all its mundane glory. They poke fun at the everyday absurdity of life while asking us to contemplate deeper existential themes.
David Lynch
There's a moment near the start of David Lynch's 1977 debut feature, Eraserhead, where the camera holds on Jack Nance's Henry as he steps into an elevator and then waits for the doors to close. The composition, editing and sound design transform this simple scene into something oddly compelling.
It may not be the most obvious point of comparison given the overtly dark nature of Blue Velvet, Mulholland Drive and many of Lynch's other films, but Tati's use of sound and space in Playtime and 1953's Monsieur Hulot's Holiday have undoubtedly influenced the American surrealist.
'When you watch Tati's films,' Lynch once said, 'you realise how much he knew and loved human nature, and it can only be an inspiration to do the same.'
Read next: Inside the beguiling sets of Call Me by Your Name