For a long time, minimalism was synonymous with starkness but there's a softer side to the design movement that fosters a connection between spaces, heightens the role of essential objects and lighting.
Little wonder then that minimalism is considered the 'antidote' to the frantic din of modern life. This timeless international style is especially favoured for holiday homes by architects and designers experimenting with colour, form and location. Here are a few of our favourite minimalist retreats across the globe.
Simplicity comes to the fore at Villa Cardo – a serene Italian holiday home that offers a taste of slow living in the Puglian countryside. Studio Andrew Trotter designed the minimalist bolthole which unfolds across two levels and was built using local materials. Inside are serene and minimalist spaces outfitted with stone floors, pale plaster walls and arched ceilings. Picture windows peek onto olive groves and almond trees, while furniture is upholstered in neutral tones inspired by the landscape. See more of the Italian property. 
Desert hideaway Casa Mami was designed by LA creatives Carlos Naude and Whitney Brown of Working Holiday Studio and combines clean lines and muted tones with rustic finishes. Originally conceived as a showroom and vacation home for the duo near California's Joshua Tree National Park, the California property is now for sale – including furniture and fixtures. Large windows frame the dramatic desert landscape while allowing natural light to flow throughout the pueblo-style home's white volumes, accentuating the remoteness and simplicity of the off-grid eco-home. Find out more about this instagramable minimalist home.
John Pawson is the master of minimalism and this pink villa he designed in collaboration with Claudio Silvestrin in Spain's Mallorca 30 years ago is a testament to its enduring, timeless quality. Pigments from the red Mallorcan soil were mixed with plaster to create a glowing pink for the island home's exterior walls. White dominates inside where furniture has been kept to a minimum and walls are bare. Illumination and design details come principally from the ingenious use of windows, wall slits and perspective stretching straight lines to frame the surrounds and offer a change of perspective. See inside. 
Magazine and design studio Thisispaper ventured into curating physical spaces in 2018, launching Warsaw apartment A-Place inside a former distillery. The brand has since added a pair of ultra-minimal apartments in the city's Praga district that are decked out with tactile surfaces, muted tones and a small curation of furniture, including a classic 70s Terje Ekstrom lounge chair. Though stark at first glance, the palette of wood, ceramics and metals is surprisingly rich and heightens the bones of the 117-year-old building. Take a closer look.
Crisp white volumes have been designed to contrast the rugged, time-worn terrain at Portugal's Casa Luum. The cubic Algarve holiday villa by architect Pedro Domingos sits on rustic ruins and his modern intervention unfurls around a semi-enclosed stone swimming pool. Interiors are simple and cooling with white walls and concrete floors creating a neutral framework for textiles and wooden furniture. See inside.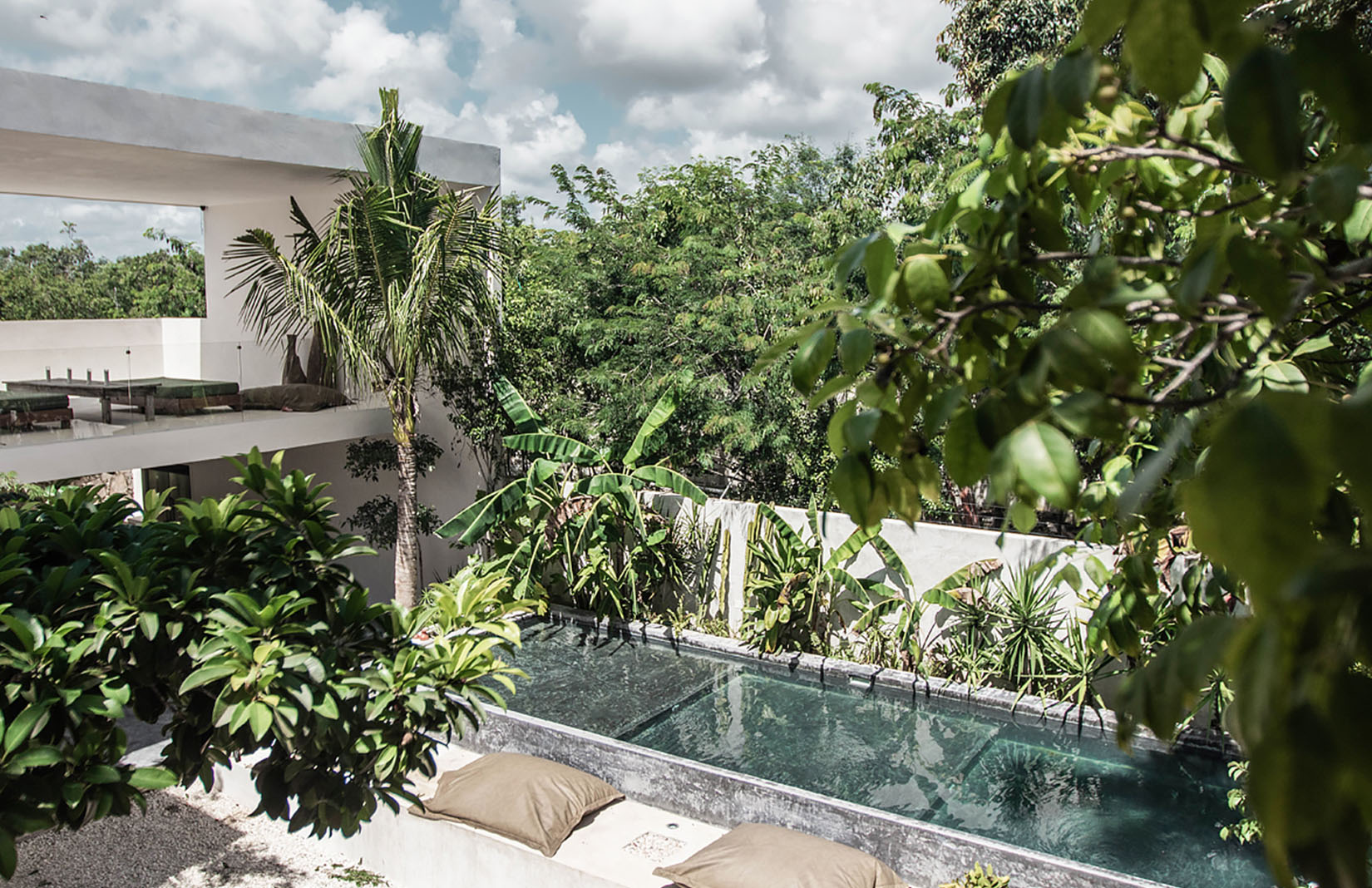 Minimalist Mexican villa 16TULUM is an eco-retreat surrounded by lush gardens on the fringes of the Yucatan jungle. The all-white tropical modernist hideaway has been designed as a calming sanctuary: there's little division between indoor and out, with spaces flowing freely onto each other across the jungle home. The plant-covered hideaway can host up to 16 people, is close to beaches and has its own 18-metre swimming pool and firepit.
This Finnish A-frame cabin by designer Robin Falck tackles off-grid living with clean, simple elegance. The minimalist 100-sq-ft cabin sits within Helsinki's archipelago on Vallisaari island. Renewable energy company Neste developed the tiny home which is constructed from raw plywood and is powered by solar panels that clad the exterior. Amenities are few: there is a stove and two beds for sleeping but that's it. Guests can spend their time looking out over the water from the cabin's transparent front and taking dips in the sea.
Wine lovers can check in to this rural retreat amid the wine groves of Spain's Extremadura region. Dating from the 18th century, La Hermandad de Villalba was recently refurbished by Madrid studio Lucas y Hernandez-Gil and the countryside villa has many period details intact, including vaulted ceilings, brick arches and plaster moulding. They have been pared with spartan colours and furniture that allows the building's architectural details to shine.
Porteous Studio hides beneath Edinburgh Castle and is the handiwork of local studio Izat Arundell. The practice drew on the philosophy of 'quiet architecture' for the dinky, open-concept studio apartment which showcases natural materials, muted colours and hand-crafted cabinetry and furniture. Velvet limestone tiles echo the cobbled street outside and clay plaster walls keep humidity at optimum levels. Sliding wooden slats separate the bedroom for extra privacy.
This minimalist Mediterranean retreat sits amongst the Tramuntana mountains in Mallorca's Calviá, where Nordic design inhabits Spanish bones. Villa Son Font boasts beamed ceilings, bespoke cabinetry and Danish textiles, though the island home's interiors are intentionally restrained as not to distract from the striking mountain views visible from its numerous terraces. See inside.
Shenzhen practice Studio 10 designed the zen-like interiors of Chinese guesthouse Light & Shadow, which explores the 'relationship between space and nature'. The open-concept space features a double-height ceiling and polished concrete floors which are complemented by clever use of lighting and natural materials like recycled elm, bamboo and rattan to create shadowplay. The simplistic design aims to evoke introspection amongst guests.