There are two options when winter arrives: hunker down where it's warm or head out and make the most of the snow. Ice hotels are some of the most extreme places to experience the drop in temperature, reserved only for those who want to commit wholeheartedly to the frosty weather. We've found six of the best, which offer everything from mountain chapels carved from ice to outdoor spas and snowshoe expeditions.
Hotel de Glace in Quebec, Canada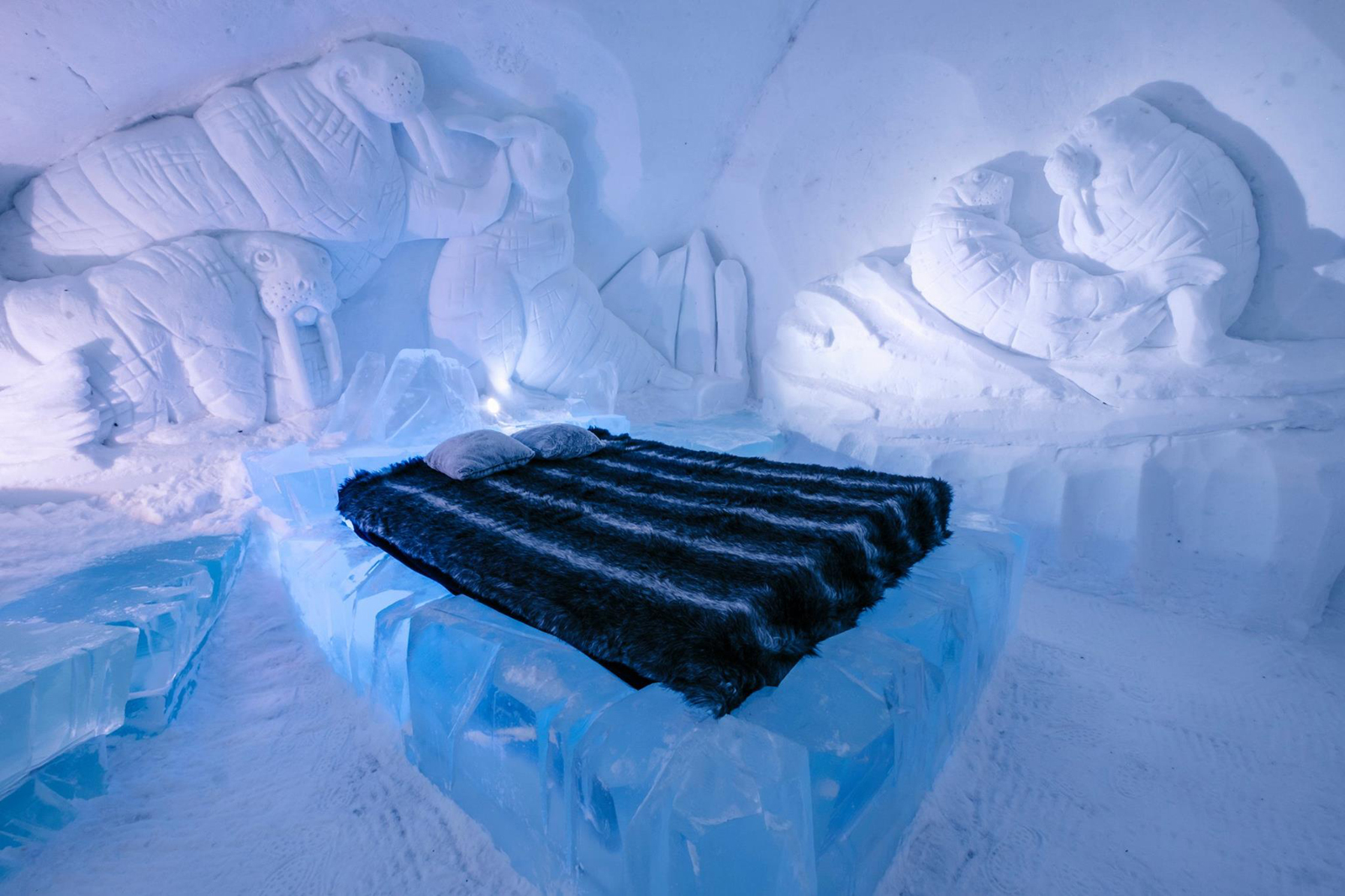 Rooms drop down to a chilly -5°C at this Quebec hotel – although guests get insulated sheets and pillows, and some rooms also have a fireplace. Hotel de Glace is the only ice hotel in North America and is located 20 minutes drive from Quebec City. As well as the expected ice bar, there's also a sauna and outdoor Nordic spa, which promises to be a bracing experience. The hotel is built around a different theme each year, with this year's set to be announced in December.
From $379 per night
Hotel of Ice, Romania
Romania's Hotel of Ice has been rebuilt each year for the last 14 years, using snow and ice taken from a glacial lake in the Fagaras Mountains. Each ice block weighs up to 70 lbs and is used to build everything from the walls of the hotel to the beds guests stay in. As well as a chilly sleepover – there are animal furs in every room for guests that feel the cold – the Hotel of Ice offers an unusual spot for worship. As well as the hotel, a snowy chapel is constructed each year in the mountains – complete with icy altar and pews. Each winter the spot is blessed by local priests.
From 460 RON per night
Icehotel, Swedish Lapland
Sweden's Icehotel celebrates its 30th anniversary this year when once more artists from around the world will be invited to design rooms. In total, the hotel uses 2,500 tonnes of ice – which is returned to the Torne river every summer when it melts. There's usually a whimsical feeling to the suites, which in the past have featured giant lollipops and a campsite recreated in snow – including a VW camper. Guests are woken up each morning with a hot lingonberry juice.
In December 2016,  Icehotel 365 also opened a permanent ice hotel, which lets guests sleep year-round. The permanent structure comprises a 20-suite hotel, gallery and bar built from 30,000 litres. More than 40 creatives from around the world crafted its rooms,  including British architecture practice Atmos Studio, Dutch artist Marjolein Vonk and Italian artist Maurizio Perron. See more.
From 2,820 SEK per night
Sorrisniva Igloo Hotel, Norway
Billed as the northernmost ice hotel in the world, Sorrisniva is located on the banks of Norway's Alta River. The hotel takes around five weeks to construct, with an army of local workers and artists stacking ice bricks and shaping sculptures. As with other ice hotels, Sorrisniva adopts a different theme each year, often taking inspiration from Nordic legends and history. The restaurant is definitely a selling point for this stay, serving up seasonal meals made from local ingredients including fish from the Alta fjord.
From 2360 NOK per night
Snowvillage, Finnish Lapland
The ski and snowmobile trails aren't far away at this Lapland hotel, built every year using 20 million kilos of snow. The theme of the hotel changes every year, with previous iterations including a Game of Thrones-themed inn. Its artists have a touch for the dramatic with other versions featuring superheroes with glowing eyes, giant faces that loom over beds and Roman soldiers standing guard. If one night feels like enough, guests can then relocate to the hotel's wooden cabins. There's no shortage of things to do either, with husky, snowmobile and reindeer safaris all on offer as well as ice sculpting classes for those that feel inspired.
From €480 per night
Tromsø Ice Domes, Norway
Located in Norway's Tamok Valley, the Tromsø Ice Domes offer a small number of rooms to stay in, as well as a bar, restaurant and cinema. A stay at the hotel means a full day, with a snowshoe trek to spy the northern lights and an outdoor dinner cooked over the fire before bedtime. After a traditional Norwegian breakfast, guests head out on a dog sledding tour. The hotel's artists have focused on depicting the local Arctic flora and fauna, with the restaurant surrounded by icy trees and rooms carved with oversized reindeer.
From 1.25m NOK per night