We've left no stone unturned this year to bring you the finest homes on the market across the world – even launching a dedicated property Instagram to collate our discoveries. To mark the end of 2017, we're celebrating the most radical dwellings that are still available to buy.
Our edit includes boundary-pushing contemporary designs, historic townhouses, Modernist marvels and a Brutalist tower. Included are some of your own favourites – the most-viewed homes on The Spaces (among the still-active listings).
Donaldson House in Sydney, Australia
4 bedrooms; POA, via Modern House
When it comes to creating site-specific contemporary architecture, the Aussies are upping the ante. Donaldson House by Pritzker Prize-winning architect Glenn Murcutt is designed so it is almost invisible from street view. Its rooftop sits flush with the sandstone bluff that dominates the site, and the four-bedroom property – clad in black-weathered zinc – plunges down the steep hillside below.
Lyngen cabin in Norway
3 bedrooms; 12.5m NOK, via Tom Espen Stormo of SNE eiendom AS
Simple cabins became the new luxury retreats in 2017, with a slew of new tiny home rental companies popping up across the world. Raising the bar is this bolthole designed by Norwegian architect Snorre Stinessen on a waterfront site at the bottom of the Lyngen Alps. While it's yet to be built, preparation work has already started on site. The home will feature a glass facade with unobstructed views of the ocean, and will be sheltered by a hardy copper roof, which will turn green over time.
Townhouse in Lisbon, Portugal
12 bedrooms; €4m, via Portugal Sotheby's International
Our readers couldn't get enough of this opulent Art Deco townhouse in Lisbon, which was among our most clicked properties of the year. The 12-bedroom grand dame has aged gracefully and retains many of its historic features – however, it could use a nip and tuck here and there from its new owner. Currently still wooing suitors, the Junqueira mansion has the potential to be turned into a boutique hotel (subject to planning) or a decadent family home.
Jungle retreat in Trancoso, Brazil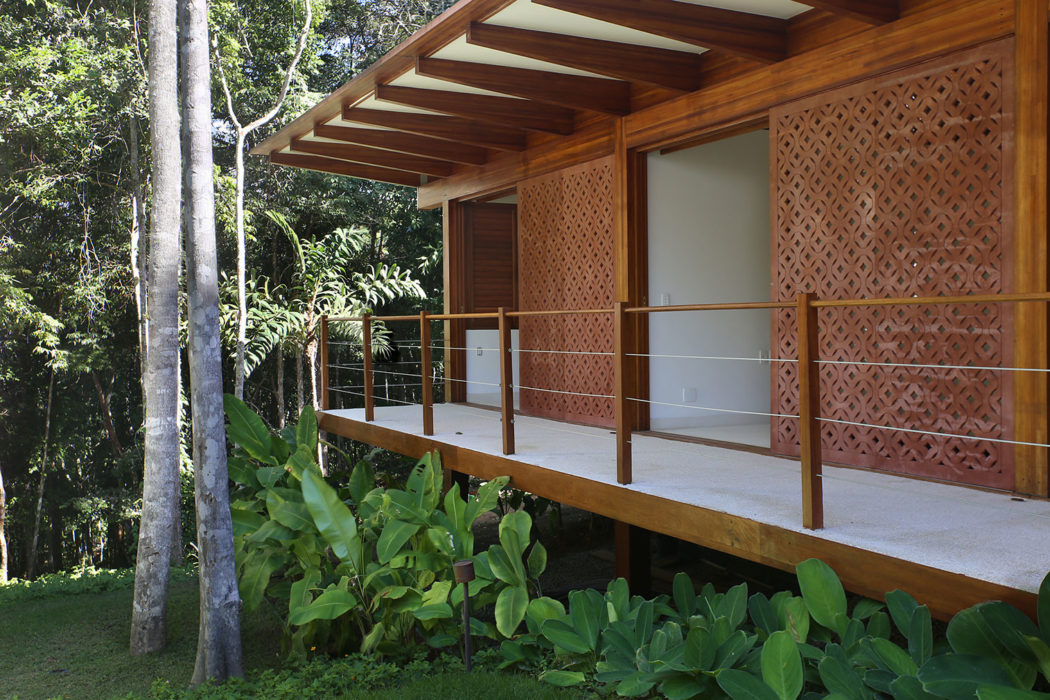 6 bedrooms; $1.9m, via Christie's International Realty Estate
Muxarabi Villa was designed by architect André Luque in 2014 as two overlapping pavilions, and features a muxarabi façade. This 'woven' skin is inspired by Bahian lace and helps to naturally ventilate the contemporary jungle home, which sits at the top of Trancoso's cliffs, surrounded by the dense Atlantic Forest. Despite its sheltered location, it's not far from amenities: the house is part of the exclusive Altos de Trancoso community, and is just 10 minutes walk from Trancoso's Quadrado.
A woodland home in Usonia, New York
3 bedrooms; £725,000, via Houlihan Lawrence
This wooden hideaway speaks to our readers' twin passions: midcentury architecture and wooden cabins. It was designed in the 1950s by Frank Lloyd Wright's protégé and engineer, David Henken in the experimental architecture hub of Usonia, New York. The three-bedroom home comes wrapped in terraces, which echo its overhanging, angular roof line.
Bierpinsel Tower in Berlin, Germany
€3.2m, via Sotheby's International Realty
'Extraordinary' is open to interpretation and Berlin's Brutalist Bierpinsel Tower deserves a nod for its sheer wackiness. The 47-metre-high Sci-fi structure was designed by Ralph Schüler and Ursulina Schüler-Witte in 1972 is a local landmark. It is now seeking a new owner to reimagine it as a Modernist home after mixed success as a restaurant and commercial centre. It needs a lot of work, but the views are pretty impressive…
Troglodyte house in Provence, France
4 bedroom; €2.45m, via Espaces Atypiques
This grotto-style 1962 property by Jacques Couëlle is inspired by organic forms, with nary a straight line in sight. It's one of only four 'landscape houses' designed by the architect, and combines elements of sculpture with architecture. It also has a whiff of The Little Mermaid about it, thanks to its seashell-like spirals, curves and arches…
Berthold Lubetkin's penthouse, London
2 bedrooms; £2.95m, via The Modern House
Berthold Lubetkin left an indelible mark on London, designing everything from high rises to healthcare centres. One of the Modernist architect's seminal creations is the Highpoint housing complex in North London, which he built in the 1930s and lived in himself. Lubetkin's penthouse apartment in Highpoint II recently came up for sale. The two-bedroom dwelling has a 40-ft-long vaulted living and dining room, opening out onto terrace overlooking the city. Lubetkin and his wife Margaret created bespoke fittings and furnishings, including a rough-hewn travertine bench and carpet sections laced together with coloured cord.