Welcome to our weekly property digest, where we bring together the best homes for rent and sale across the world. This week, we have a freshly restored townhouse in Barcelona and a brutalist jungle hideaway in Tulum.
Brutalist jungle hideaway in Sian Ka'an, Mexico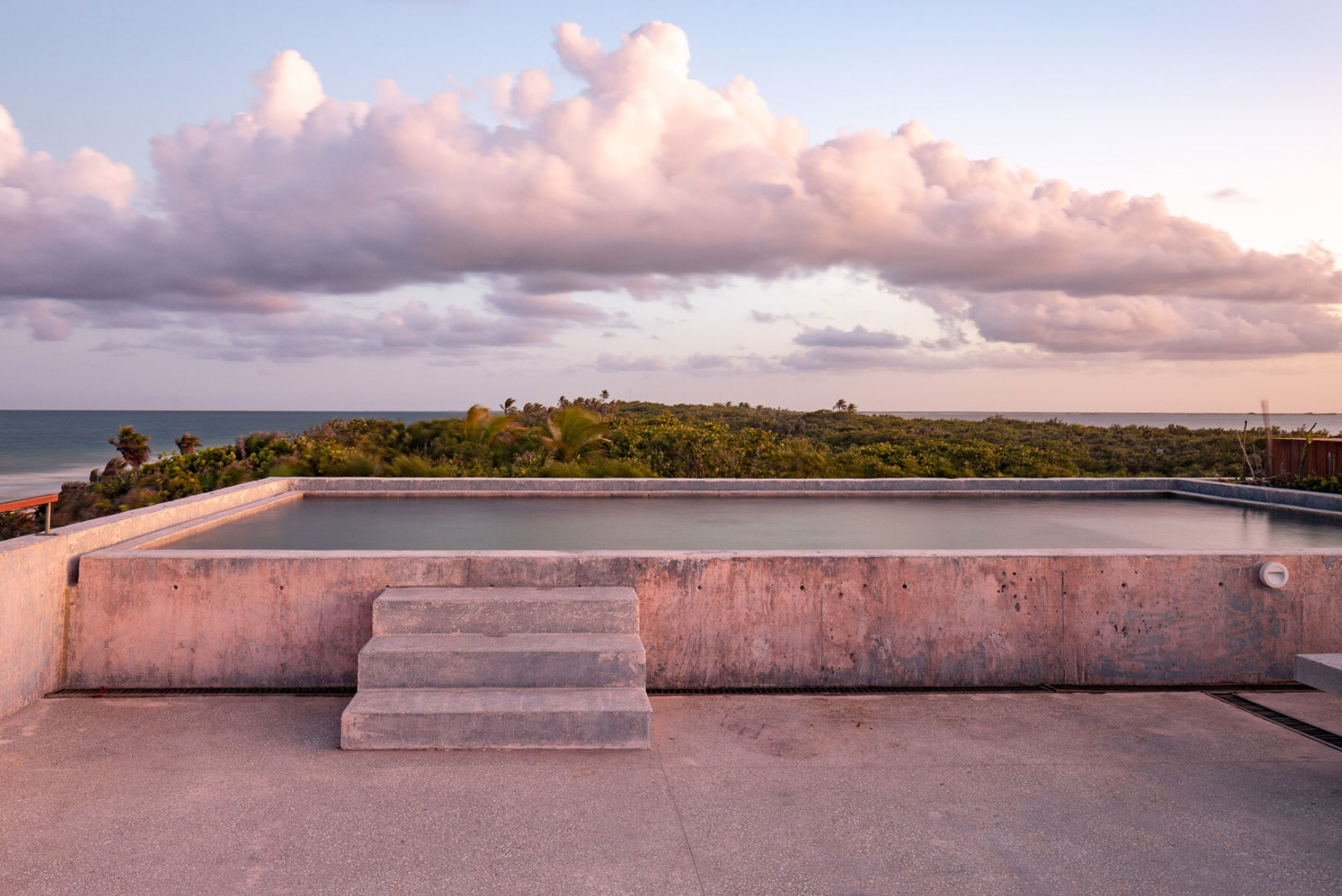 5 bedrooms; POA direct
Mexico City-based practice Productora designed Casa Bautista as a glistening blue jewel amid the jungle at UNESCO heritage site Sian Ka'an. The topical brutalist hideaway is a 'living sculpture': its concrete skin appears to change colour in the light, and has a rooftop pool and dining area that peek across the tree canopy to the lush beaches beyond. Take a look around the Mexican holiday home.
Brutalist property in Digne-les-Bains, France
5 bedrooms; €580,000 via Espaces Atypiques
This French brutalist property was inspired by Le Corbusier's geometric forms and constructed in 1979. Its concrete skin has taken on a craggy appearance over time which beds it into its leafy setting on a 1.7-hectare plot, overlooking a valley in Digne-les-Bains. Just wait until you see inside.
Contemporary villa in Byron Bay Hinterland, Australia
4 bedrooms; $3.6m-$3.8m AUD via Pacifico Property
Australian practice 7 Mile Architects designed The Springs which comes with 37 acres of land and has sweeping views over the countryside from its bi-folding glass walls. Each of the villa's living spaces tumbles out onto the landscaped gardens and a 16-metre-long infinity pool. Take an online tour.
Concept store holiday home in Maine, US
4 bedrooms; from £302 per night via Airbnb
Brightly coloured Maine holiday home Pieces House is the lovechild of Brooklyn design store Pieces, by creative agency An Aesthetic Pursuit. Everything inside the shoppable home is for sale, and it's awash with colour, including a bedroom drenched in coral. See more.
Jason Statham's midcentury home in Los Angeles, US

4 bedrooms; $6.995m via Williams & Williams Estates Group
Jason Statham's renovated midcentury house sits above Los Angeles's Sunset Boulevard. The film actor and midcentury aficionado refurbished the butterfly-roof home with architect Jeff Allsbrook of Standard Architecture after buying it in 2015 as a fixer-upper and has kept the shape of its original exterior. Minimalist interiors have cedar plank vaulted ceilings, clerestory windows and sliding glass doors that open onto serene outside space. See inside. 
Historic townhouse in Barcelona, Spain
2 bedrooms; €1.338m direct
Argentinian architect Gustavo Barba revived this 19th-century townhouse in Barcelona's Gràcia district. Dating back to 1860, old bones have been given new life after a top-to-toe refurbishment. Barba's objective was to 'clean up' and recover the openness and integrity of the original structure. During the strip-out, original timber beams, a Catalán vaulted ceiling and patinaed brick walls were rediscovered along with a historic palimpsest. Get a closer look.