Welcome to our weekly property digest, where we bring together the best homes for rent and sale across the world. This week we discovered a frescoed French Riviera apartment in Nice and Will Alsop's only known residential project in England's West Sussex.
Frescoed apartment in Côte d'Azur, France

4 bedrooms; €1.38m via Espaces Atypiques
Gilded Age glamour comes alive inside Château D'Azur which was inspired by the 16th-century castle at Azay-le-Rideau in the Loire Valley. Traditional French and Italianate influences are combined with Art Deco features inside the 1932 building by Parisian architects Argentino and Gaujoin. The apartment has vibrant rooms with frescoes, paintings, marble and gilded mouldings. Get a closer look.
Will Alsop's only residential project in West Sussex, England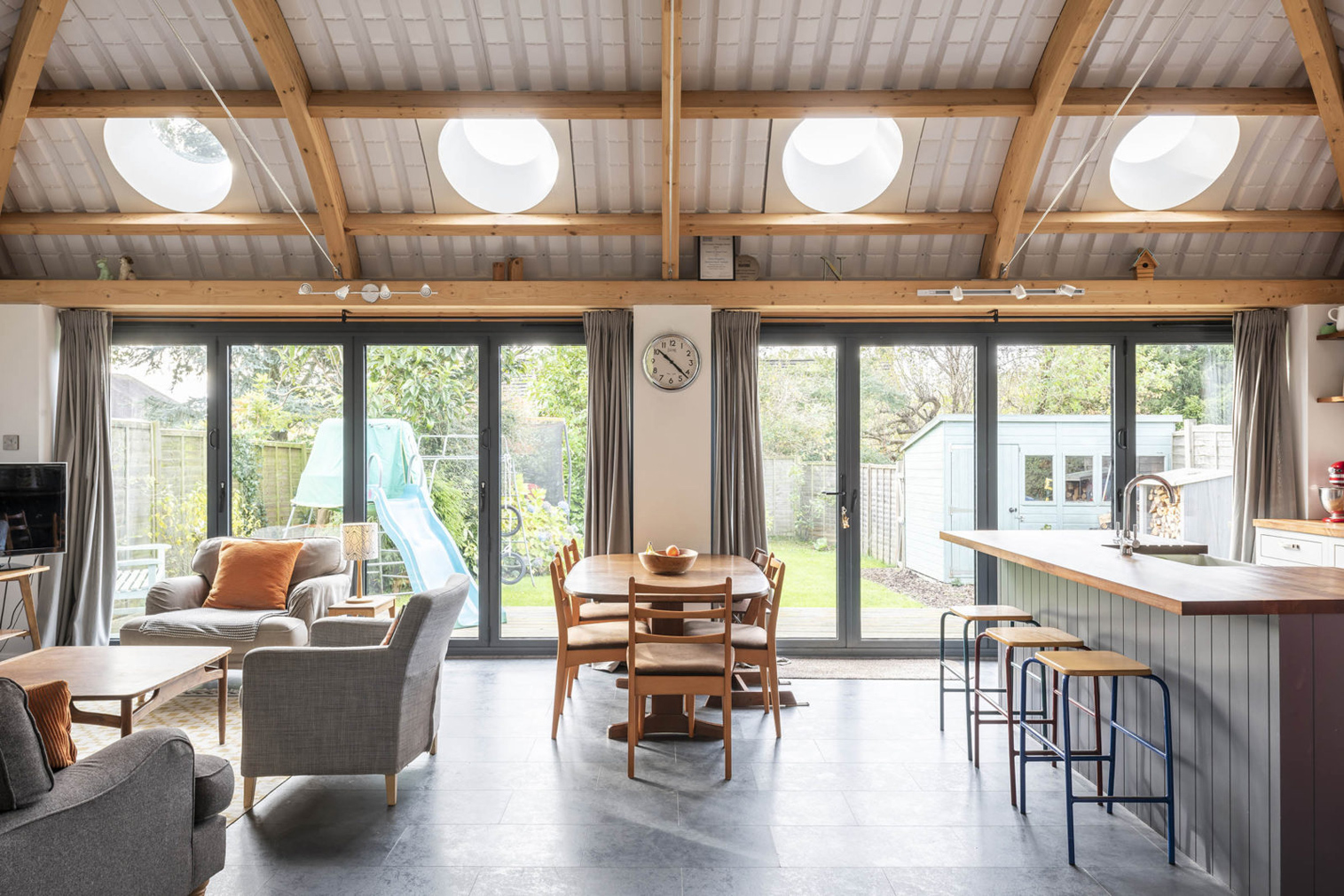 3 bedrooms; £475,000 via The Modern House
British architect Will Alsop designed this 1960s bungalow in rural England and it is his only known residential project. Classic post-war British architecture leads into an extension where a playful transformation takes place. A barrel-vaulted aluminium ceiling is studded with Alsop's signature porthole windows, crowns a modern living area and kitchen with exposed pine beams and steel. See more.
Kanye & Kim's 'monastic' condo in Calabasas, USA

3 bedrooms; $3.5m via Compass
Kanye West and Kim Kardashian's brutalist-inspired Calabasas condo was designed by Belgian architect Vincent Van Duysen. The California property has clay-coloured concrete walls, neutral tones and wooden floorboards throughout. The new owner will also get bespoke furniture, drapes, chandeliers and lighting fixtures all designed by Van Duysen. Take a closer look.
The Royal Family's City Palace in Jaipur, India
Sleeps 2; from €7,224 per night via Airbnb
Airbnb's first Royal host, Maharaja Sawai Padmanabh Singh, is welcoming guests into his ornate 300-year-old family home, the City Palace in Jaipur. The royal residence was built in 1727 for Jaipur's founder Maharaja Sawai Jai Singh II and is one of India's most photographed buildings. The sprawling estate is a decadent example of Rajput architecture, with richly decorated rooms featuring vaulted ceilings, gilded wall decorations, crystal chandeliers and carved stone insets. See more.
A time capsule bolthole in Piedmont, Italy

3 bedrooms; €390,000 via Fantastic Frank Italy
Villa Valmanera is a slice of 1970s Italian glamour. The time capsule bolthole is nestled into the hills of Italy's Piedmont region, near Turin. It's both elegant and restrained – and surprisingly modern with pea-green carpets, cork surfacing and a chrome-spindle spiral staircase that nods coolly to futurism. The Asti villa is surrounded by tall trees on a hectare of parkland. Get a closer look.
Eco bushland retreat in Victoria, Australia
View this post on Instagram

Sleeps 4; from £185 per night via Airbnb
Callignee II is an eco-retreat in the Australian bush. The Gippsland house which has been featured on series Grand Designs Homes is totally off-grid and surrounded by 5 acres of native bushlands. Rainwater is harvested at the solar-powered property, and it features rusted walls and ceilings, and a swimming pool. It's available for stays and shoots.