Welcome to our weekend property digest, where we bring together the best houses for sale (or rent) that we've unearthed across the world. Among this week's discoveries is a creative couple's greenery filled gallery home, and 'the best building in Wales'.
A restored farmhouse in Luberon, France
6 bedrooms; from $2,034 a per night
Sitting in the vineyards and valleys of Provence, around an hour-and-a-half's drive from Marseille, this former farmhouse in Luberon dates back to the 1700s and has been completely restored as a contemporary holiday home. See more villas for rent in the South of France.
'The best building in Wales'
5 bedrooms; from £5,000 per week via Unique Home Stays
You don't need to take our word for it: this Pembrokeshire cliffside retreat scooped both the 2013 Welsh RIBA Award and the Gold Medal Award, praised for being 'the best building' in the country. Seren Mor was designed by John Pardey Architects, and has a topsy-turvy layout with living spaces on the upper levels – overlooking the Newport estuary – and bedrooms beneath. Take a look around.
A creative duo's live/work space in Antwerp, Belgium
1+ bedrooms; via Wellimmo for €1.485m
Architect Nathalie Wolberg designed this 552 sqm live/work space as a gallery, home and studio for herself and her artist husband Tim Stokes. Formerly an import and export office in Antwerp's old sailors' quarter, the building has been taken back to its brick bones. Ateliers, living spaces and offices branch of a central jungle courtyard, while private spaces are tucked upstairs. Explore its light-filled rooms.
A billowing live/work space in London, UK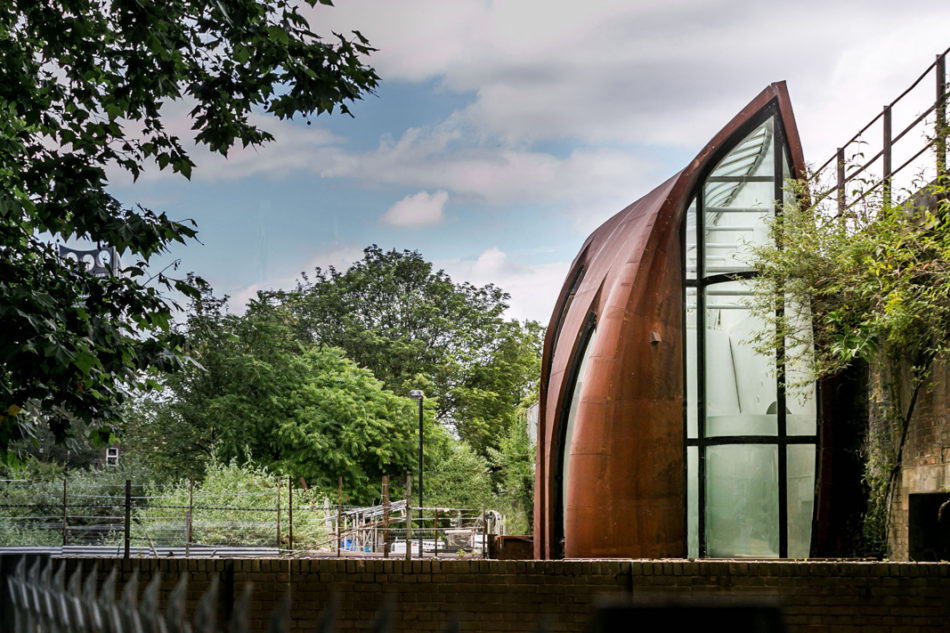 2 bedrooms; £1,085,000m via The Modern House
Designed by Undercurrent Architects, this unusual London property has been built beside and under a 19th-century viaduct. A glass atrium channels light into the deepest recesses of the railway arch, while a specially designed acoustic ring wraps living spaces, reducing noise from overhead trains. Take a spin around the home.
A private island with five homes in the Bahamas
£85m via Knight Frank
You'll need deep pockets and lots of friends for this Caribbean retreat, which sits in the Exumas chain of tropical islands and comes with five colonial-style properties. Little Pipe Cay reportedly served as the backdrop to Johnny Depp's Pirates of the Caribbean movies. The 38-acre island includes a forest, private beaches and coves.
Read next:  Art Night – 7 unmissable sights on London's nocturnal art trail