Paris is a romantic and timeless city, and its architecture a feast for the eyes.
The French capital's historic, labyrinthine streets combine grandeur and grit. And despite being short on space, it is ever-evolving as period properties continue to be revived and ex-industrial sites transformed as adaptive reuse projects.
Here are 7 Paris properties with a certain je ne sais quoi, ranging from an 18th-century live-work space by the Seine to a duplex in a landmark art deco mansion.
Loft apartment, Charonne, 20th arrondissement
2 bedrooms; €1.98m via Architecture De Collection
This 19th-century loft is lit by a grand, double-sloped glass ceiling, with a steel frame made by the Gustav Eiffel company. A truck garage until the end of World War II, the Paris property underwent a revamp in 2012 by architect Véronique Laurent, and its vast bays are now an open-plan living space.
Former shed turned loft, Villeneuve-le-Roi
3 bedrooms; €595,000 via Espaces Atypiques
The painter who converted this 2,540 sq ft shed into a loft has honoured its industrial past. Retaining its original voluminous proportions, it has a glazed wall with metal framing, a galleried double-height main room and a pitched roof. The layout of the Paris property, located in the city's southern suburbs, is free-flowing thanks to an open steel staircase, and it has potential for a variety of uses, from a live/work space to a pied-a-terre.
Art deco apartment in Hôtel Martel, 16th arrondissement
1 bedroom, €1.65m via Architecture De Collection
A duplex with terraces, this property lies in a 1927 art deco mansion by architect Robert Mallet-Stevens in collaboration with Jean Prouvé and glassmaker Atelier Barillet. It was built for sculptors Jan and Joël Martel as a total work of art, and its exterior has a projecting curved volume with a floating, circular top and a linear stained-glass window, which houses a spiral staircase. Other highlights include a terrace with abstract patterned floor tiles, mosaic pillars, and a front door featuring zigzagging metal strips.
Period apartment, Place des Victoires, 2nd arrondissement
2 bedrooms, POA via Philippe Menager Nicolas Hug
Multiple sets of arched, double balcony doors accentuate the airy feel in this attic-like 18th-century apartment while offering views of the street below. Elegant large rooms sit beneath all-wooden beamed ceilings while underfoot lies Versailles parquet characterised by diagonal interlocking pieces.
Loft-style apartment, Quai de Valmy, 10th arrondissement
2 bedrooms, €2.2m via Philippe Menager Nicolas Hug
Beside Canal Saint-Martin in a private courtyard community, this loft-style home has quiet open-plan spaces with extensive glazing. Its interior is cottage-like, cosy and warm and features timber pillars, varnished floorboards, an exposed stone wall and a pitched full-length skylight, which pours sunlight into the kitchen.
Triplex in Saint-Germain-des-Prés, 6th arrondissement
3 bedrooms, €17 m via Philippe Menager Nicolas Hug
Late fashion photographer Peter Lindbergh lived the last 25 years of his life in this three-storey apartment – part 17th century mansion and part late 19th-century industrial building a few yards from the Seine. (Two of the floors once belonged to the late interior designer Andrée Putman.) It has a contrasting mix of historical and industrial styles, two courtyards and a ceiling mural by Pierre Alechinsky.
17th-century mansion in the Latin Quarter, 5th arrondissement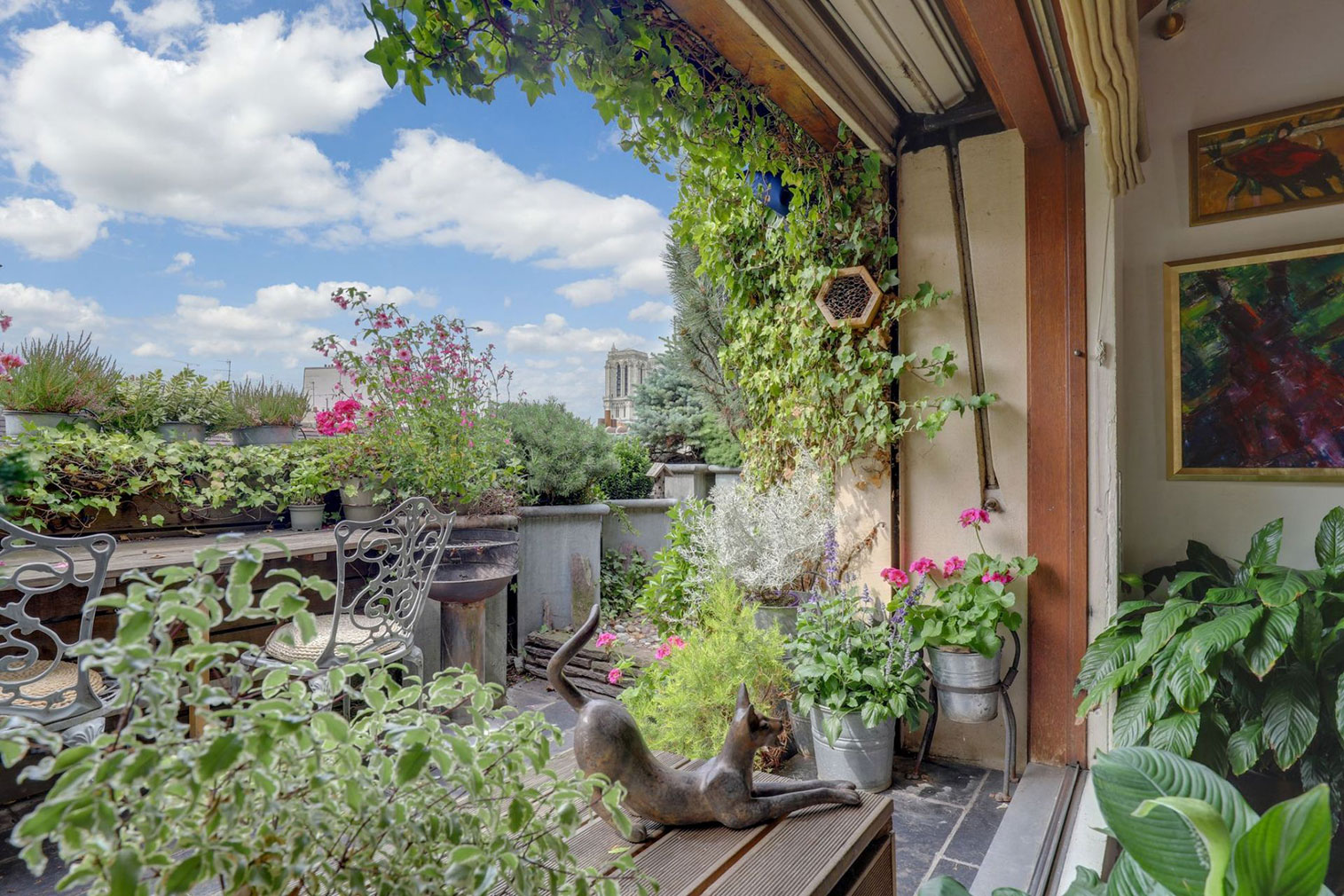 9 bedrooms, €13.9m via Proprietes Parisiennes Sotheby's International Realty
Squint, and you could almost be in rural France as this renovated historic mansion has a cottage garden-like terrace, stone walls and barn-like vaulted ceilings crossed with timber beams. The 17th-century house is centred around an interior courtyard. It features a ground-floor loggia, thick wooden doors with intricate carvings and a pool and wine cellar under cellar-level stone vaults.