A carpet of blue pigments, a pile of rags and a gold toilet have all found their way into Blenheim Palace in recent years. But until now, never an exhibition dedicated to contemporary painting.
For her first major show in 15 years, British artist Cecily Brown has festooned the Palace with a tumult of new works on canvas. Each a relic of her creative process: a complex geology of motifs drawn from folklore and art history, feverishly contoured in oil.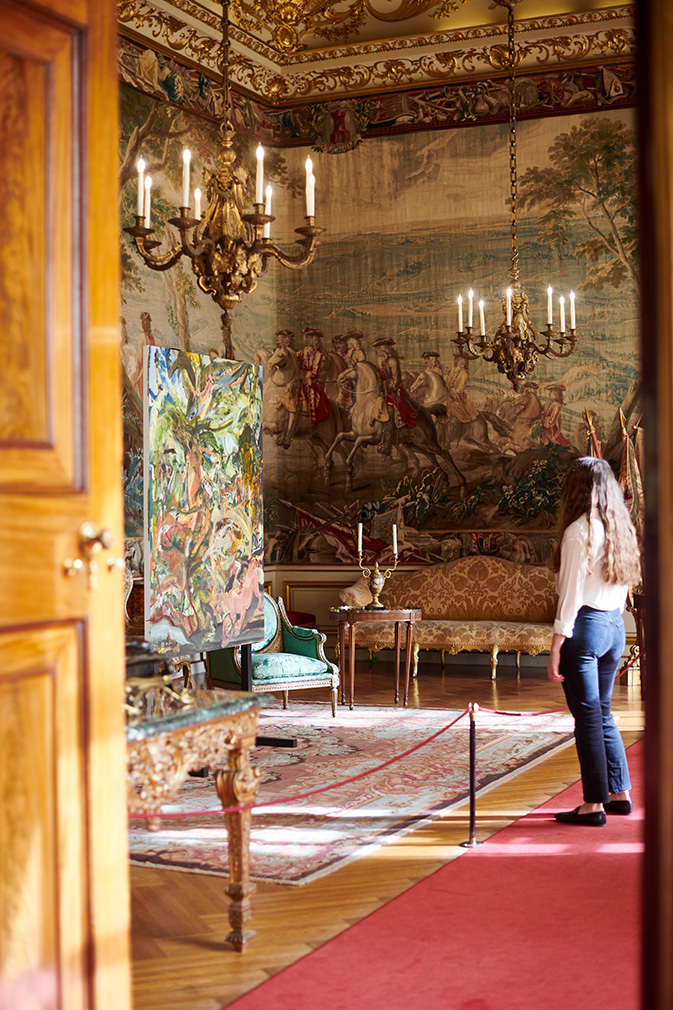 From the Great Hall, the grandeur of a stately English home abounds. First, a barrage of Corinthian pilasters, niche sculpture and military standards, then corridors of Chinese porcelain and drawing rooms of Ducal tapestries. A bounty of riches that has spawned an even more dizzying collection of painting.
From hunting scenes to pastoral landscapes and fairy kingdoms, Brown's intervention is steeped in a vision of the past and present and intoxicated by the romance of 'England's green and pleasant land'. Through this kaleidoscopic lens, flags and troops are enmeshed in swirling eddies of paint, woodland creatures tussle in-and-out abstraction, while bluebirds sing a lament of childhood memories. Then arrives the mammoth finale, The Triumph of Death – the artist's largest canvas to-date – a painted hallucination on horseback.
Each disquieting scene is as palpable as her expressive strokes, canvases weighty with meaning, yet airy with fantastical curiosity – seemingly capable of floating aloft to the gilded ceilings above. And each is a signpost on Brown's quest 'to understand what England means to me.' It is a question surely asked of us all, at this moment of a nation in crisis.