RIBA's House of the Year award goes to multi-generational country home Caring Wood – which gives each member of the family their own oast house-style turret.
The home, designed by British architects James Macdonald Wright and Niall Maxwell, took seven years to complete, and is modelled on the oast houses found across the Kent countryside. Marked out by their distinctive pointed turrets, these buildings were historically used for drying hops, which were spread out on thin floors above fires, with the conical roofs helping heat escape.
Caring Wood offers a contemporary take on the tradition, with a set of angular towers spread across four conjoined homes. It's designed as a family holiday house that offers three different generations their own private space within the turrets, as well as communal co-living areas to spend time together.
'Caring Wood is very much a design exercise in spatial independence and interdependence,' explains Maxwell, of Rural Office for Architecture. 'The house can be seen as a series of layers offering different levels of privacy for family members – from the more public arrival hall and gallery to the semi-public street that contains the main living functions; before moving into private family quarters.'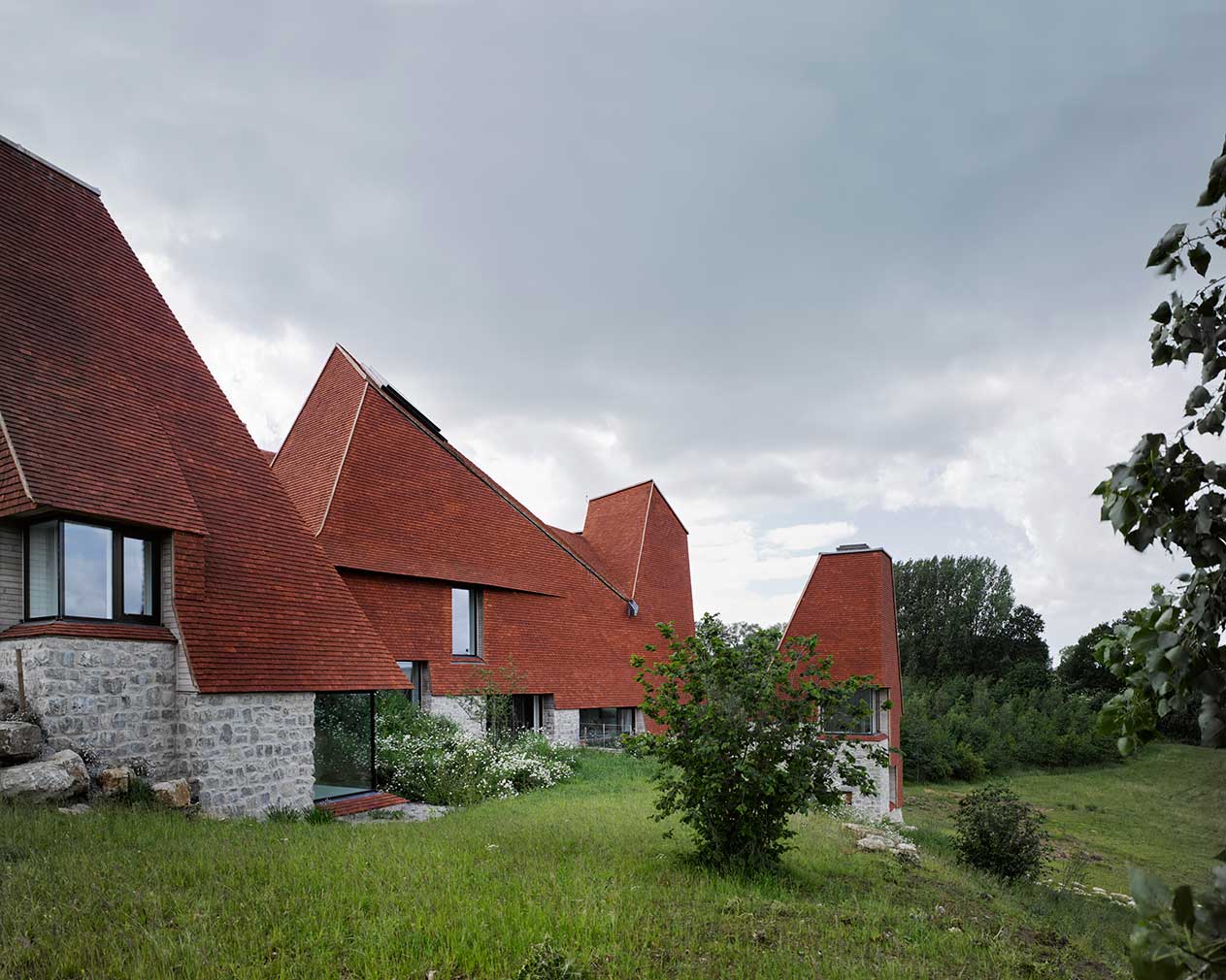 Its central spaces function as 'streets or village squares', as the architect describes them, offering an alternative to the more formally labelled functional rooms, which would have been typical in large historic country houses. 'Here, the spaces are fluid with one merging with another, a more relaxed and flexible solution which reflects modern life,' he explains.
Walkie talkies are apparently on hand if residents struggles to find each other in the 1,400 sq m building, and if family company gets too much there's a music room, which can accommodate an audience of 50, and an art gallery to escape to. The house is set in 84 acres of Kent countryside, meaning there's also no shortage of outdoor space.
As well as referencing architectural vernacular of the nearby area, the architects also revived local crafts – using handmade peg clay tiles, locally quarried ragstone and coppiced chestnut cladding.
RIBA president Ben Derbyshire added: 'This ambitious house explores new architectural methods, materials and crafts and allows us to question the future of housing and the concept of multi-generational living. I've no doubt many of the ideas displayed at Caring Wood will influence UK housing for many years to come.'
Caring Wood beat a shortlist of six other houses to win RIBA's annual House of the Year award – which is given to the best new home designed by an architect in the UK.
Read next: Peter Salter's Walmer Yard homes are a radical take on 'close living'