Tiny houses are one of the most popular categories on Airbnb, which has seen bookings for micro homes soar by 125% year on year.
Perhaps it's the fact they offer a taste of a clutter-free life that makes them so popular? Or the romanticism of cosying down in a tiny cabin with a woodburning stove. Either way, we've found 8 of the best tiny homes the house-sharing platform has to offer.
Waco shipping container cabin in Texas, USA
From $142 per night
Two shipping containers have been refashioned as this stacked two-bedroom tiny home near Wavo. Dubbed The Helm for its nautical origins, the metal cabins have been clad in cedar to give them a more rustic feel, with living space on the lower floor and sleeping quarters – reached via an external spiral staircase – above.
The Millennial Tiny House, New Zealand
From $74 per night
Try before you buy with the Millennial Tiny House in New Zealand's Katikati. The tall prefab cabin is built onto a tandem trailer base and is the prototype design from Build Tiny Limited. Just 17 sqm, it's packed with space-saving features such as built-in-storage and a retractable staircase up to the sleeping loft. If you're on a working holiday, there's wifi and a desk with countryside views.
'Silo Studio' Cottage in Massachusetts, USA
From $195 per night
Sculptor Henry Hudson Kitson used this whimsical pavilion on the Santarella Estate in Tyringham as his summer studio. Now it's a surprisingly spacious holiday let that belies its diminutive floorplate thanks to a towering 35-foot-high canonical ceiling. A canopied bed has been tucked upstairs while multi-paned mill windows peek out onto the adjacent lily pond.
Stockholm Writers Cabin, Sweden
From $84 per night
Pen your next novel at this miniature Swedish cabin. Interiors channel a 'pre-internet vibe' thanks to dark wood furniture and timber walls, and there's a woodburning stove for curling up in front of during research sessions.
San Diego countryside cottage, California, USA
From $97 per night
Newly built, this rural north county tiny home trailer is close enough to San Diego that you don't feel cut off, but far enough to enjoy the stars. The open-plan space features a sleeping loft with kitchenette beneath, and a large deck out front for drinking in orchard and vineyard views. Golf, hiking trails, wine tasting and biking are all at your doorstep should the quietness get too much.
JR's eco-hut  in New South Wales, Australia
From $250 per night
Architects Anthony Hunt and Luke Stanley designed JR's A-frame cabin which draws on the agricultural structures found around Gundagai. It's built from locally sourced ash and capped by a corrugated roof, while its glass facade peeks out onto 6,000 acres of rolling hills and river flats.
'Cowboy' Tiny House in British Columbia, Canada
From $67 per night
The Cowboy sits on a waterfront spot in BC's Squamish and was designed by Hummingbird Microhomes in 2016. It's definitely tiny, but it has everything you'll need – including a hot shower for warming up after paddleboarding and canoeing on the water. (Both are free to use during your stay). Shannon Falls is also just a 500-metre walk away.
Private island tiny home in Hvaler, Norway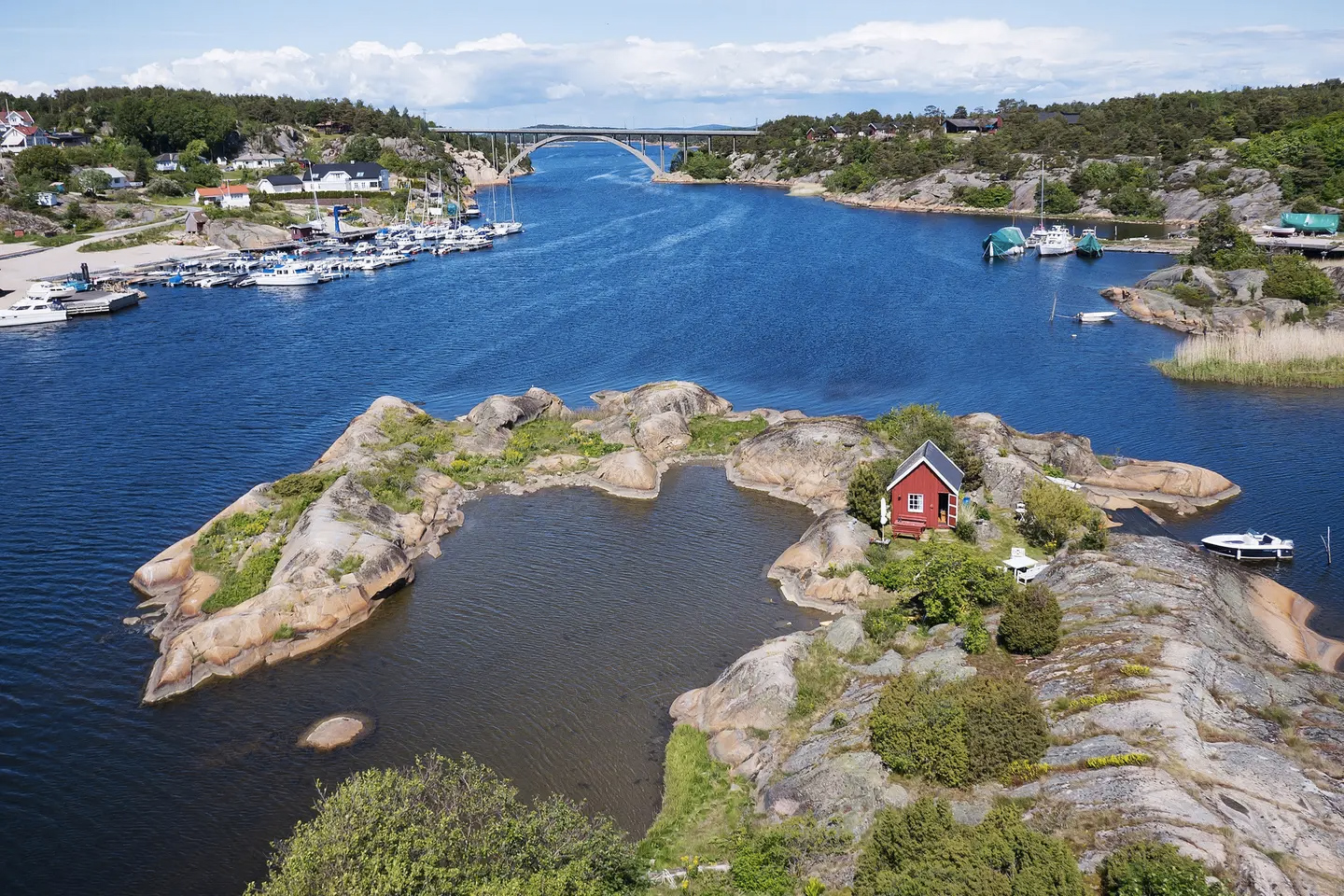 From $222 per night
Yes, this Hvaler home is small, but it's built on its own 10,000 sqm private island. Constructed in a traditional red-cabin style, the off-grid cabin has no running water, wifi or mains electricity, but is powered via a solar panel. And a motorboat is available for the duration of your stay to get you to and from the island.
Read next: BMW and The North Face design an 'element-proof' camper