There's nothing like a treehouse to awaken your inner child. From urban dwellings to gravity-defying mirrored capsules, here are 10 our of favourite treetop homes fit for adults and kids alike.
The Woodsman's Treehouse, Dorset, UK
Guy Mallinson and Keith Brownlie designed this award-winning, timber structure which is suspended 30-ft-above the ground, between three ancient oak trees on Dorset's Jurassic Coast. It took five months to complete and comprises a cluster of stacked timber boxes, clad in oak laths, cleft oak shingles and sweet chestnut log stacks, so each volume has its own texture and patterning.
A rotating wood burning stove heats the main living space, complete with a copper bathtub and seating area. There's also a hot tub, sauna and outer deck with views across the leafy tree canopy. The Woodsman's Treehouse is available from £455 per night.
The Bird's Nest Cabin, Raray, France
The latticed timber skin of The Bird's Nest by Atelier Lavit evokes the woven twigs of its namesake structure. The two-bedroom bolthole is approached by an elevated bridge and is constructed around a 100-year-old oak tree in the grounds of Château de Raray golf course.
From €320 per night via Les Cabanes des Grands Chênes
Bisate Lodge in the Volcanoes National Park, Rwanda
Nicholas Plewman Architects designed the Bisate Lodge, which sits inside an eroded volcanic cone next to the protected Volcanoes National Park. The complex comprises six basket-like villas that peek out from tree canopy and are inspired by the King's Palace at Nyanza.
Floor-to-ceiling windows look out towards Mount Bisoke, while interiors – created by Caline Williams-Wynn of Cape Town practice Artichoke – feature textiles and furnishings decorated with imigongo patterns by fashion designer Teta Isibo. Each villa starts from $1,400 per person, per night.
The Urban Treehouse, Berlin, Germany
This pair of treehouses are sited on the edge of the Grunewald forest, close to Berlin. Designed by architect Andreas Wenning to mimic the shape of a tree, their 28 sqm cabins are elevated 4 metres high.
Living areas comprise an open-plan bed and living room, and a small kitchen and bathroom. The winning space is the roof terrace, however, which puts you at eye level with the surrounding treetops and their feathered inhabitants.
Within walking distance of bakeries, restaurants and beer gardens, the Urban Treehouse isn't exactly a remote cabin, but it's ideal for exploring nearby lakes Krumme Lanke and Schlachtensee. They're available to rent via Urlaubsarchitektur, POA.
Tropical Treehouse on Big Island, Hawaii, USA
This hand-built bamboo treehouse is completely off-grid in Hawaii's Fern Forest and is powered by solar energy and fitted with a rain-water catchment system. A 15-ft-high staircase leads up to the structure's trapdoor, where a double bedroom and private balcony are set at canopy level. The Big Island is known for its frequent tropical rain showers, but that's an asset with this jungle hideaway which uses natural rainwater for its indoor/outdoor shower, which disappears through the floor-boards. It's available via Airbnb from £236 per night.
Papaya Playa Project Hotel Room, Tulum, Mexico
Part of the Papaya Playa eco-hotel in Tulum, this treehouse by Emilio Heredia is inspired by the organic shapes of Antoni Gaudí's architecture. The sculptural suite sits on wooden stilts and is accessed via a caved staircase.
Its curvy design revolves around the site's existing flora and fauna, with branches punching through the walls and roof, and an expansive deck has views of the sea and jungle. It's operated by Design Hotels, starting from €214 per night.
Casa Barthel, near Florence, Tuscany
Casa Barthel is an architect-designed tree house that sits on stilts overlooking the Tuscan countryside. It might be on the small side, but it packs in everything it needs: a queen size canopy bed, wood burning stove, compact kitchen, rain shower and WC, which is discreetly hidden behind the bedroom.
Close to the Duomo and an hour's drive from Siena, it's an ideal launch pad for exploring Tuscany. Treehouse Casa Barthel also has access to olive groves, a kitchen garden, tennis court and small swimming pool that belong to the main house. Sleeping two people, it's available for £285 per night through Canopy and Stars.
Furnas Cabin, Outes, Spain
Furnas Cabin is an exercise in simplicity. It sits 6-metres above the ground on a series of thin stilts and is accessed via an elevated walkway. The cabin has its own wooden deck and hot tub facilities, and inside, there's a woodburning stove, bathroom, double bed and sofa that sleeps up to three guests. It's available for £106 per night via Airbnb.
Shunya Gor, Goa, India
Made from wood, steel and canvas, Shunya Gor is a 'treetop beach bungalow' designed to open up to the outdoors and stay cool in the heat of the Goan sun. We're cheating a little bit here as it's technically not a treehouse so much as 'tree-adjacent', but the master bedroom and verandah are set at canopy level, looking out onto the surrounding woodland.
The rest of the tropical house, including the living room and bathroom, is relatively open to the elements, and there are 24-hour-housekeeping services and a chef on hand. Shunya Gor has access to a lap and plunge pool should you need to cool off, plus it's a short walk from Ashwem beach. Available via Airbnb, it's a steal at £71 per night.
Snøhetta's 7th Room, Swedish Lapland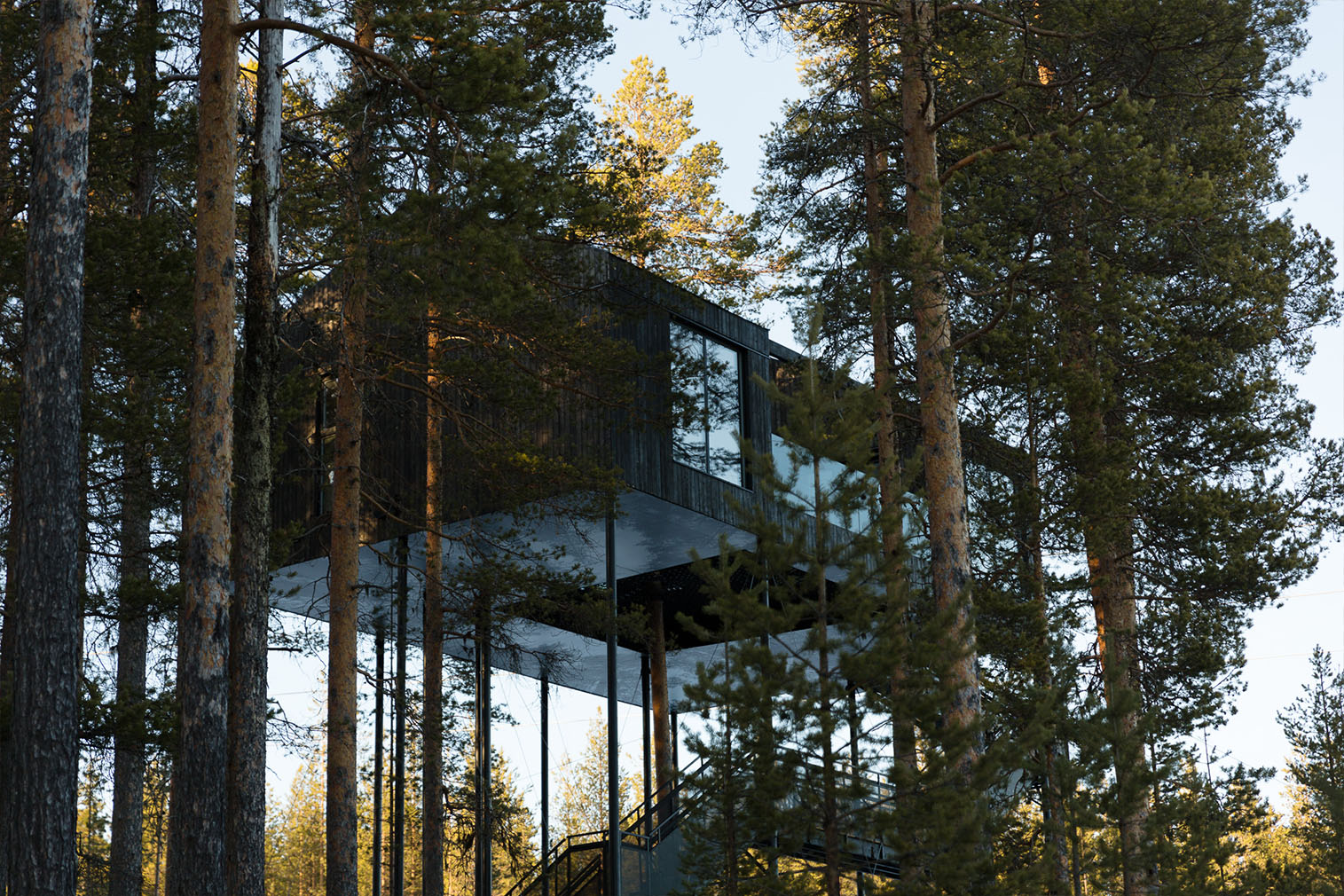 Lapland's Tree Hotel has become something of a pilgrim spot for intrepid architecture lovers looking to stay in some of the most innovative treehouses in the world. Norwegian practice Snøhetta's 7th Room might not be the newest addition to the hotel, but it certainly sets the bar.
The four-person cabin – available from 15,000 SEK per night – appears to hover above the ground and features a mirrored underside which blends with the forest. Minimalist interiors are decked out in pale timbers to contrast the treehouse's charred exterior.