The decade just ended has seen adaptive reuse evolve into a major category within contemporary construction, with architects and developers making the most of opportunities to breathe new life into undervalued structures.
Here are nine of our favourite examples of adaptive reuse from the past 12 months that demonstrate the varied ways in which such projects can link the past and future.
Medieval Mile Museum, Kilkenny, Ireland
McCullough Mulvin Architects was nominated for the Mies van Der Rohe Award 2019 for this sensitive conversion of a 13th-century church in Kilkenny, Ireland, into a museum for medieval artefacts. Modern interventions are clad in lead to complement the church's original limestone and slate, and a large section of the timber roof is left exposed to create a focal point.
Galeries Lafayette, Paris, France
One of the more modest projects completed by Bjarke Ingels Group in 2019 was this renovation of the famous Galeries Lafayette department store on the Champs-Élysées in Paris. The restored Art Deco building provides four floors of retail arranged around a large circular atrium and, according to the architects, its new look 'combines old-world elegance with modern chic'.
Wuyuan Skywells Hotel, Jiangxi, China
China has upped its hospitality game in recent years, with a slew of exciting hotel launches making it a top destination for design lovers. The Wuyuan Skywells Hotel in Jiangxi province occupies a 300-year-old Huizhou-style building that was restored by Anyscale Architecture Design to give it a new purpose. Many of the old inn's original features are retained, including faded characters spelling out quotations from Chairman Mao.
XY Yunlu Hotel, Guangxi, China
Also in China, a group of disused farmhouse buildings was converted into the XY Yunlu Hotel by Shanghai studio Atelier Liu Yuyang. The boutique hotel in the Li River Valley preserves the original village layout and uses a material palette that complements its traditional neighbours. Five rammed-earth buildings were carefully renovated and refurbished with interiors in concrete, wood and blackened steel.
Apple Carnegie Library, Washington DC, USA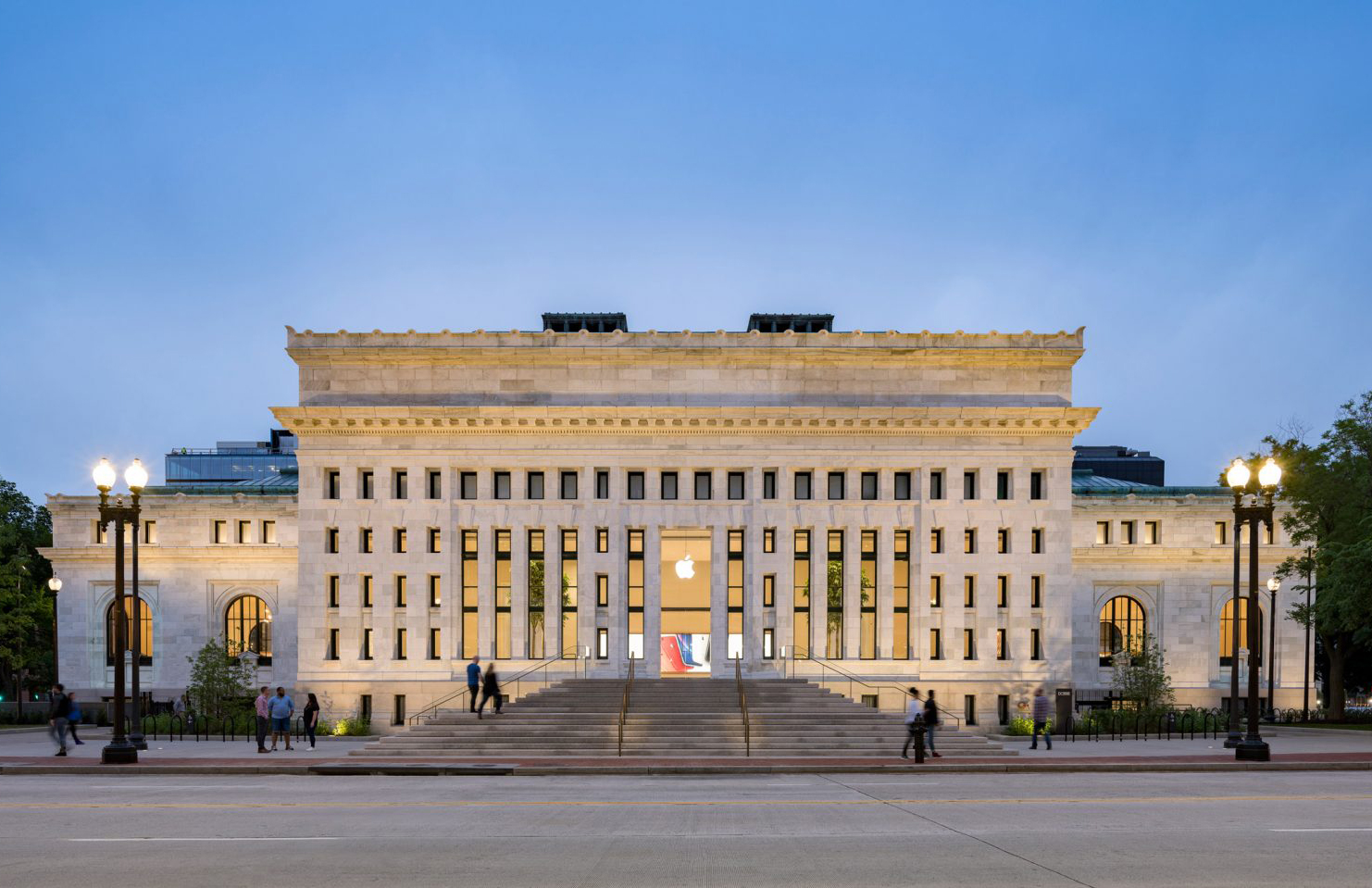 Apple took on yet another renovation of a historically significant building in 2019, converting Washington DC's first public library into a new flagship store. The restoration of the 116-year-old Carnegie Library by Foster + Partners took two years and involved installing a new skylight above a central plaza used for hosting events. Elsewhere, the building's Beaux-Arts style columns and moulding were retained and restored.
August hotel, Antwerp, Belgium
If you're looking to create a pared-back interior for a hotel in a former convent, Vincent Van Duysen is a good man to call. The Belgian minimalist collaborated with Wouter Callebaut Architects on the design of Antwerp's August hotel, which features a muted material palette and simple furnishings that reference the lifestyle of its original inhabitants.
The Detective Building, Pittsburgh, USA
Proof that the industrial aesthetic remained a fashionable look in 2019 can be found in this adaptive reuse project by lighting designer, Brian Faherty. His Schoolhouse design studio transformed a 1970s police homicide bureau into a coworking space and retail hub that repurposes many of the building's original materials, while also exposing its steel supports and industrial piping.
Nevill Holt Opera, Leicestershire, England
This transformation of a former stable block into a rural opera theatre in Leicestershire, England, earned its architects, Witherford Watson Mann, a spot on the shortlist for the 2019 Stirling Prize. The Nevill Holt Opera is built in the stable yard and topped with a new roof made from steel and wood.
Original stone walls and openings are retained, while new interventions utilise materials that are sympathetic to the agricultural setting.
The Idea Exchange Old Post Office, Cambridge, Ontario
The past and future collide at this 'bookless library' in Cambridge, Ontario. Local office RHDA added a glass pavilion to a 134-year-old former post office to create a centre for learning and making where visitors can read on tablets or make use of a 3D-printing makerspace, restaurant and event space. The glazed extension wraps around the existing building, leaving its stone walls exposed inside.