The Paris we see today owes much to the work of Baron Haussmann, who led an overhaul of the whole city back in the 19th century. Its present-day residential architecture remains a hallmark of that transformation.
But there are more than just Haussmann-style properties on offer for visitors. We've scoured the streets to bring you 10 of the best Paris apartments for rent, from former factories to contemporary townhouses…
A white-washed loft in the 10th
New York loft living comes to the 10th arrondissement. Towering four-metre-high ceilings and steel-framed windows set the tone inside this Parisian apartment which has been drenched in white and filled with plants. Painted wooden floors and timber beams complete the soft-industrial look. From £565 per night. Sleeps 10.
A taste of Haussmannian Paris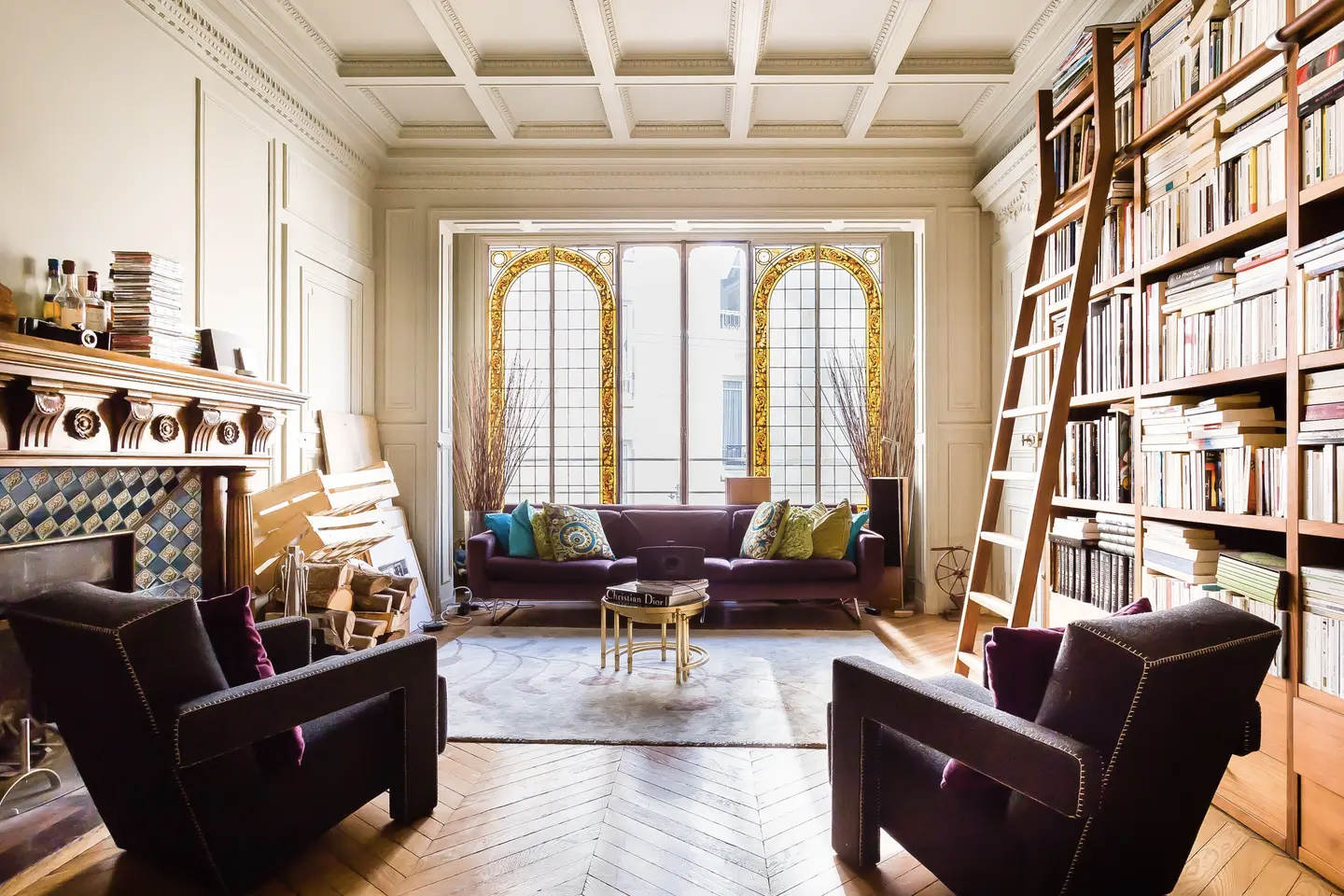 With its well-stocked book library and grand Steinway piano, this 19th-century Haussmannian apartment on Rue de Magdebourg is all about staying in. The living room has floor-to-ceiling bookshelves, coffered ceilings, parquet floors and oversized armchairs set around an ornamental fireplace. Three bedrooms lie down the hallway – the master suite with its own roll-top bath. From £1300 per night. Sleeps 6.
Converted railway loft in the 10th arrondissement
View this post on Instagram
This apartment sits inside a converted warehouse dating back to back to 1850, built for Gare de l'Est station. The industrial building's huge arched windows have been retained as part of its adaptive reuse, drenching its 7-metre-high living room in light. A mezzanine skirts the top of the main space, leading to a bedroom and home studio, while the bathroom has a living plant wall. From €250 per night. Sleeps 2.
Gilded apartment in Saint-Germain-des-Prés
You can get a glimpse of the grander side of the city, in this elaborately gilded Paris apartment for rent on the Left Bank. Antiques dot its parquet-floored interiors, while oil paintings and bookshelves filled with vintage volumes line the walls.
From £950 per night. Sleeps 6.
A former chocolate factory on the Left Bank
This light and airy apartment on the Paris' Left Bank is close to the action but tucked away behind a quiet, greenery-filled courtyard. It inhabits a former chocolate factory, which means high ceilings and wide, open-plan spaces. A mezzanine dining room sits under a sloping glass roof.
From €594 per night. Sleeps 6.
Artist's loft in Bastille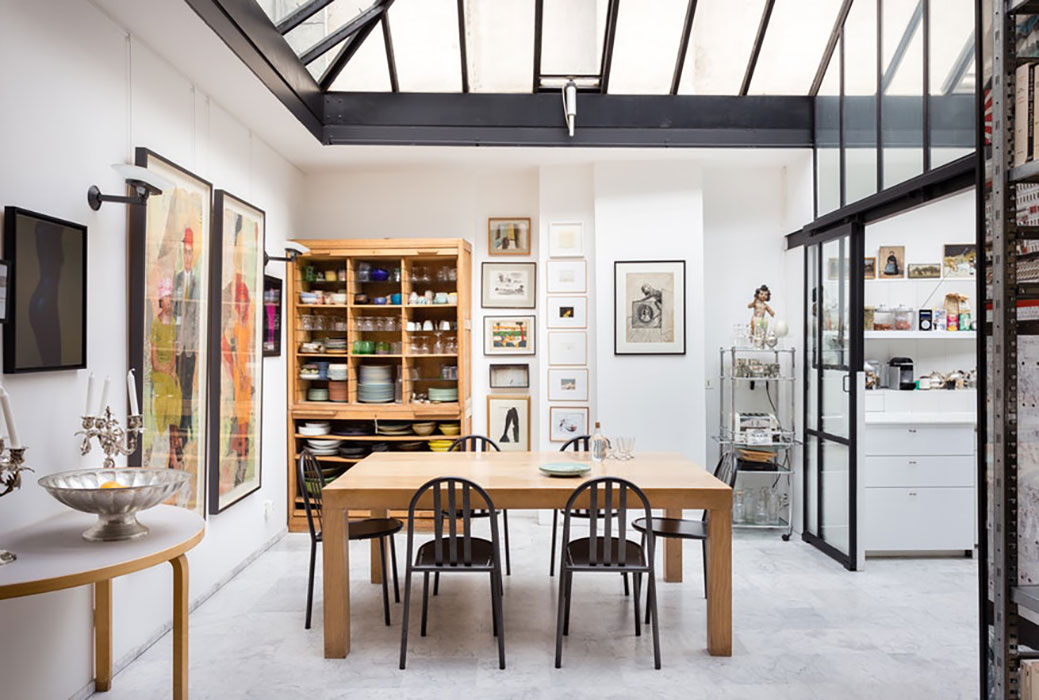 Huge windows are the main selling point for this former warehouse, which looks out across the Bastille rooftops. Interiors are decked out in a soothing palette of whitewashed walls and pale flooring and come filled with a pleasingly haphazard collection of furniture and art.
From £491 per night. Sleeps 4. 
A former factory in Montreuil
A Modernist design and a Mondrian-inspired colour scheme converge inside this bright Paris apartment – also sited inside a converted factory. The property retains the building's original metal beams and double-height ceilings. It lies on the city's outer perimeter.
From €300 per night. Sleeps 6.
The Pierre Levée Residence
Double height ceilings and oversized windows give this Parisian townhouse near Canal St Martin its loft-style edge. Design details from around the world fill the space, such as a wooden painted door from India in one of the bedrooms.
From €350 per night. Sleeps 7.
Art and design-filled apartment in the 14th
Midcentury design pieces and modern art prints fill this three-bedroom apartment in Paris' 14th arrondissement. At the heart of the space is a Cubist-inspired winding staircase joining the main living space to the upstairs bedrooms and bathrooms.
From €390 per night. Sleeps 8.
Canal-side loft in the 10th
The industrial past of this canal-side loft leaves a legacy of soaring ceilings and huge skylights and windows. A large dining space has room for eight to eat together, and bedrooms are tucked away under a sloping roof. There's also a small library of books and a piano if guests need a break from exploring the city.
From £434 a night. Sleeps 11.
See the best Milan apartments for rent
See the best London apartments for rent
See the best New York apartments for rent
See the best Lisbon apartments for rent