With its golden beaches, glistening harbour and year-round sunshine, Sydney is the jewel of Australia, attracting visitors from around the globe to sample its easy-going lifestyle – and its world-class monuments.
It's also home to striking residential architecture, from storied Federation-era townhouses to contemporary Modernist homes. Here are seven of our favourite Sydney properties on the market right now. Most are set to go under the hammer imminently, so act fast…
Fombertaux House in North Shore
POA via Modern House Estate Agents; 4 bedrooms
Perched at the edge of a sandstone ledge in North Shore, this experimental house-on-stilts was designed by French-Australian architect Jean Fombertaux in 1964. It's one of the earliest expressed steel houses in Australia and features Japanese-inspired interiors, including a sunken living room.
272 Bourke Street in Darlinghurst
Guide price $1.35m via BresicWhitney; 2 bedrooms
There's no shortage of original details in this Darlinghurst dwellin, which is ripe for renovation. Exposed brick walls add an industrial feel, and high ceilings have their historic mouldings intact. A spiral staircase leads up to a converted attic, and the Sydney home's balcony is perfect for surveying the surrounding leafy neighbourhood.
Auction: 2.15 pm, Saturday 2 December 2017
244 Forbes Street in Darlinghurst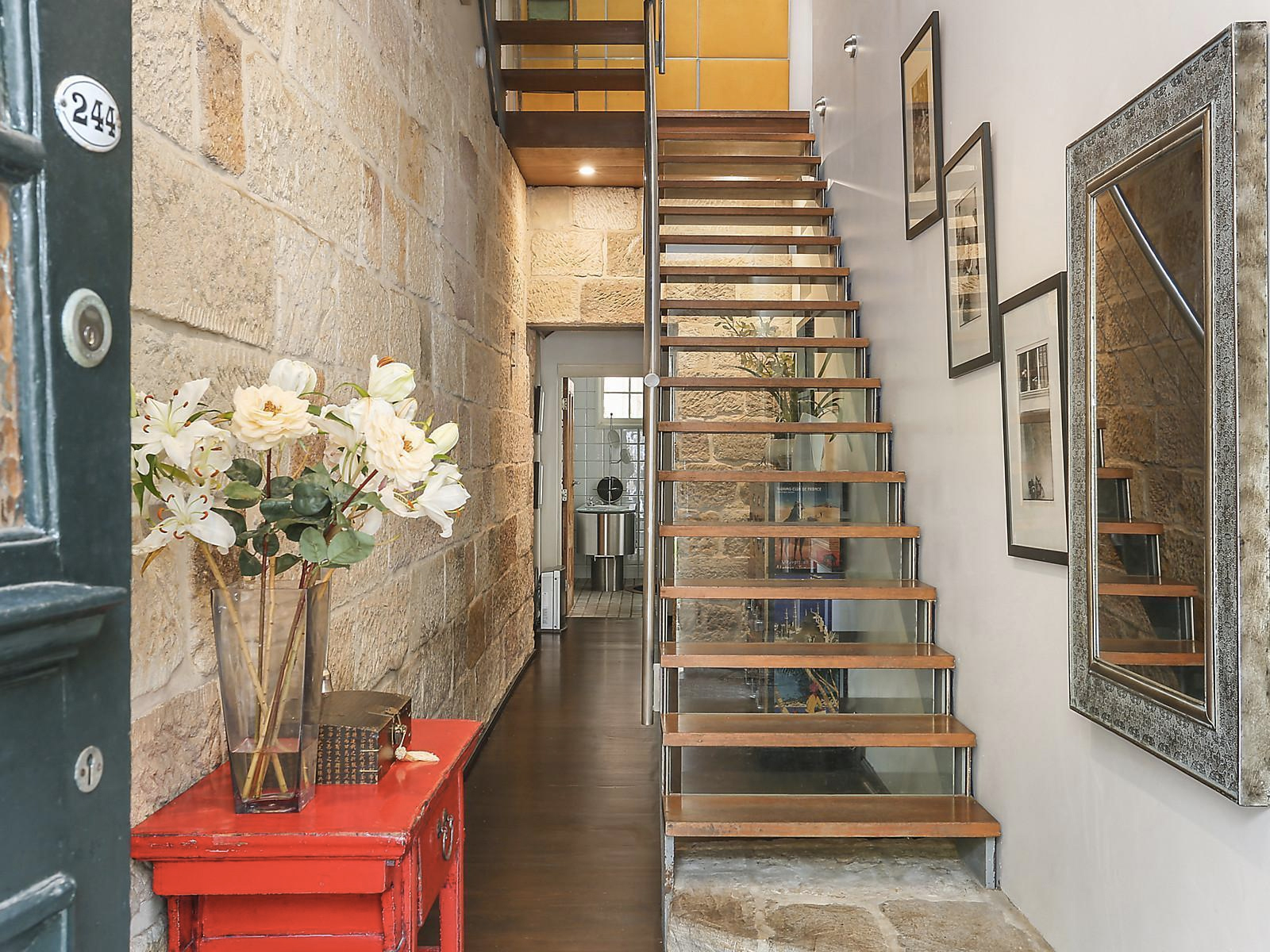 $2.8m via McGrath Edgecliff; 4 bedrooms
It might have been home to Darlinghurst Gaol's warders, but there's nothing cell-like about this 1850 sandstone terrace. It occupies four levels, and includes an exposed stone entrance with a striking glass and wood staircase. Its rooftop offers views across the Sydney skyline and harbour, and there's room to renovate the period property.
Strathmore House in Dulwich Hill
Guide price on application via The Agency; 4 bedrooms
This quaint period cottage at 279 Old Canterbury Road is known as Strathmore, and dates back to the 1800s. Its ground floor features a wraparound veranda, while interiors come with original wooden floors, high ceilings and exposed brick walls. It's already undergone renovation, but there's still room to leave your mark on the 341 sq m Sydney property, located just a few minutes walk from Dulwich Hill Village.
Auction: 10.15am Saturday 9 December 2017
396 Bourke Street in Surry Hills
Guide price $1.9m, via Belle Properties; 4 bedrooms
There's plenty of potential in this classic Victorian terrace fixer-upper, close to Oxford Street in Surry Hills. The Sydney property last sold in 1989, and it's ready for a complete overhaul. Luckily it has strong bones to inspire you: rooms all feature high ceilings, polished floors as well as picture rails and mouldings, and it offers 152 sq m of space.
Auction: 3pm, Saturday 16 December 2017
79 Ferry Road in Glebe
Guide price $2.3m via BresicWhitney; 2 bedrooms
Close to the harbour, and spitting distance from Blackwattle Bay and Foreshore walk, this 1881 sandstone terrace is full of surprises. Exposed stone walls have been retained inside the front living room, while a soaring double-height atrium leads onto the rear garden. Crowning the two-bedroom property is a 50 sq m rooftop terrace with panoramic views.
Auction: 11.15am, Saturday 2 December 2017
Donaldson House in Palm Beach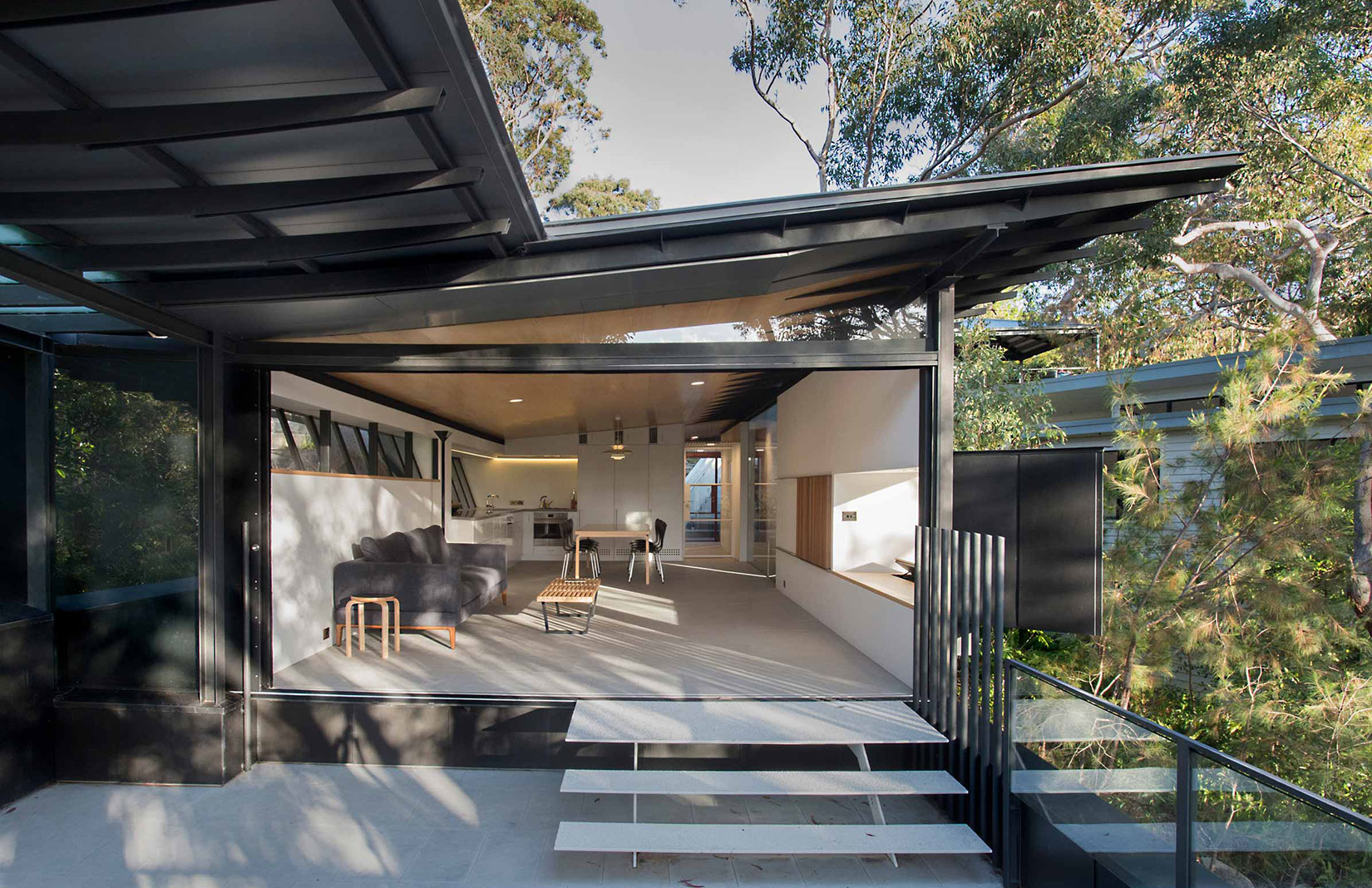 POA via Modern House Estate Agents; 4 bedrooms
Invisible from the street, Donaldson House sits within native bushland on the Sydney peninsula of Palm Beach. It's been designed so it 'touches the earth lightly' – the mantra of its Pritzker Prize-winning architect, Glenn Murcutt. Donaldson House was completed in 2016, and is clad in black-weathered zinc. Solar panels, overhangs and carefully placed operable windows create cross-ventilation across the four-bedroom property, eliminating the need for air conditioning, and minimising its impact on the environment.
Read next: Dangar Island House is a hidden hideaway near Sydney
Unyoked launches secret cabins you can rent near Sydney
Take a Brutalist tour of harbour city