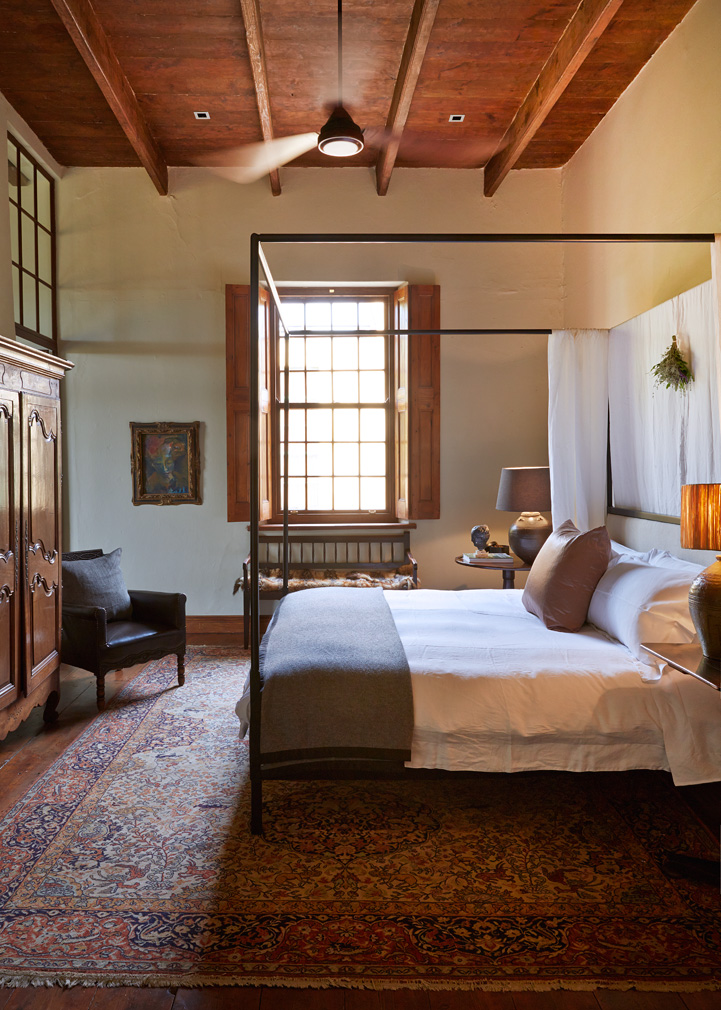 Jonkmanshof, a low-tech, high style getaway a few hours outside of Cape Town, celebrates eclecticism and the senses.
Older architecture has a lot to offer in the way of aesthetics and atmosphere but isn't always conducive to luxury hospitality. When these two can be married successfully, though, magic happens.
In the charming town of Montagu in South Africa's Western Cape region, interior designer and restaurateur Jacques Erasmus and his partner Hein Liebenberg have reimagined two heritage buildings into exquisite guesthouses. The first, 20 Bath (for its location in Bath Street) they bought as a holiday home for themselves, but ultimately decided it lent itself beautifully to hosting guests.
The 1854 structure needed a lot of work to bring it up to livable, and presentable, standards, but the house's bones made for generous elegantly proportioned rooms. Erasmus' pared-back approach – layered but not cluttered – contributes a sense of restraint that feels almost Axel Vervoordt-esque in its careful placement of objects and eclectic mix of art and artefacts.
These all live together in a curated way so that every space is easy on the eye. Erasmus' culture-forward style of decorating means that every item is interesting, nothing gratuitous, and every element is considered. From generously proportioned living-room-style bathrooms to a fully stocked library complete with chaise longue and writing desk.
The beautiful interior spaces are complemented by a level of detail that elevates the experience still further. From rosemary tied to the bathroom taps for their aroma, and crisp linen on the beds, to elegant coffee table books to read everywhere you turn, it's a multi-sensory approach.
In line with the celebration of nature, it's a low-tech space – you won't find televisions, only a music system and the sounds of the village around you. The idea is to slow down and engage the senses.
20 Bath St, Bergsig, Montagu, 6720, South Africa