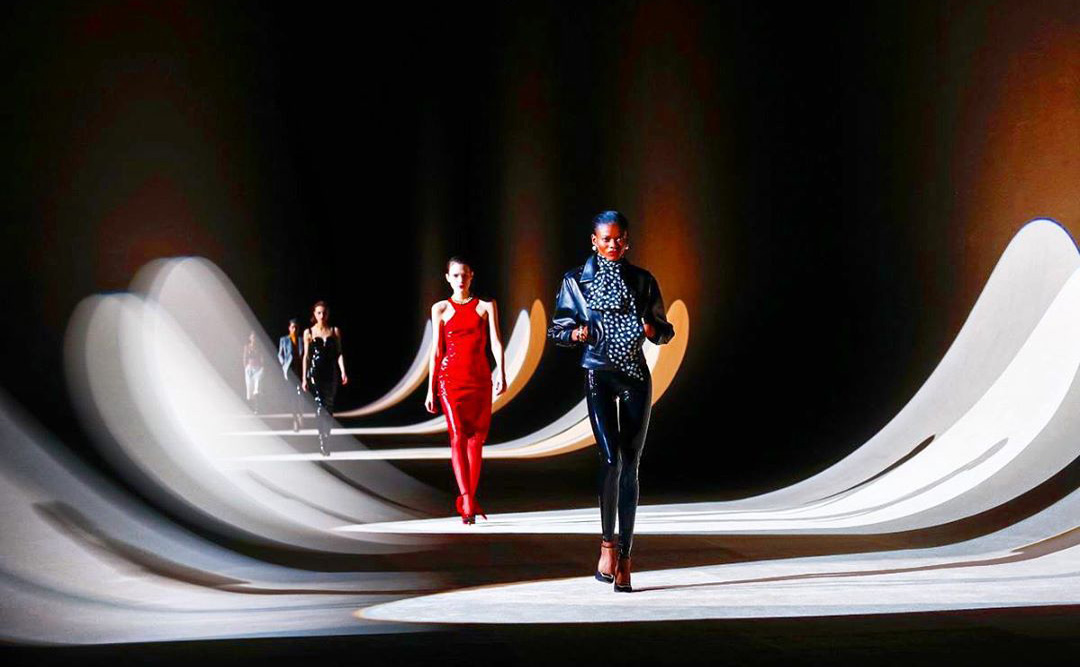 The Eiffel Tower was once again the backdrop for Saint Laurent's AW/20 catwalk last night in Paris as set designer Bureau Betak opted for a stage with minimal environmental impact and high drama.
Anthony Vaccarello's show emphasised the brand's clothing designs over superfluous stage design, as models trouped down a cavernous runway dressed in fetish-inspired latex suits and tweed in the Trocadero district.
Each model was illuminated by a circle of light from powerful moving spotlights, with Naomi Campbell closing the show in a sequin power suit.
Bureau Betak has announced its '10 Commandments' via Business of Fashion – a list of rules the company will follow in a bid to reduce its carbon footprint.
'Today, we announce that we will be the first significant agency worldwide specialising in the fashion luxury sector to receive ISO 20121 certification for sustainable event management,' the firm announced on Instagram. 'This means that every fashion show, exhibition and event overseen by Bureau Betak's offices in New York, Paris and Shanghai will be conceived and executed with a commitment to the best practices of reducing environmental impact across the entire supply chain and production.'
Bureau Betak will recycle materials, set elements and decor; eliminate single-use plastics and food waste; cut-down on travel, and implement a 'carbon compensation' project.