Ridgeline is a mountain retreat that hunkers down into the rugged Wyoming landscape.
Designed by US practice Welch Hall Architects, the single-storey Jackson Hole ranch house embraces the extremes of its exposed site atop the Gros Ventre Ridge, and works with the natural contours of the land.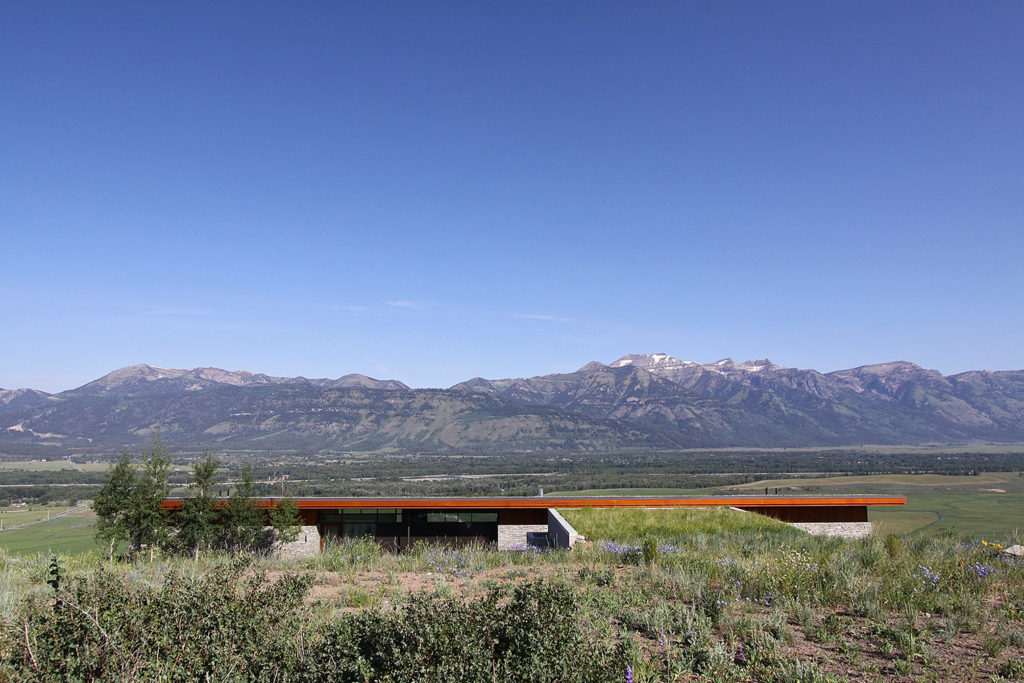 'Our goal was to minimize skylinging by keeping the structure low and building into the hillside, integrating the architecture within its natural context,' says the practice.
The sloping roofline follows the organic gradient of the land and offers protection from the height of the summer sun, and the 100 mph wind that can rip through the valley during the winter months.
Built using steel and glass, Ridgeline is clad in natural oakley ledgestone and red cedar, whose tertiary hues blend with the terrain.
Interiors across the three-bedroom Wyoming property – on the market via Christie's International Real Estate for $5.5m – are pared-back, so as not to distract from the dramatic views of the Grand Teton mountain range, visible from every room.
White walls and wooden floors are staple, as are high ceiling and floor-to-ceiling glass windows. In the living room, a large feature fireplace with built-in entertainment system takes centre stage and echoes the limestone exterior walls.
The 3,850 sq ft US property comes with 5 acres of land and is designed as a primary residence. Its two-car garage is built into the hillside and is planted with a green roof that will turn to natural meadow over time.
Read next: 4 iconic Modernist buildings you can call home for under £1m