Country living gets a minimalist twist inside this Swedish home, created from two converted barns in Österlen.
Owner Jonathan Andersson enlisted a team of carpenters to help him transform the run-down structures – located in the hilly landscape of Tunby, and dating from 1910 – into a contemporary four-bedroom home with pared-back interiors.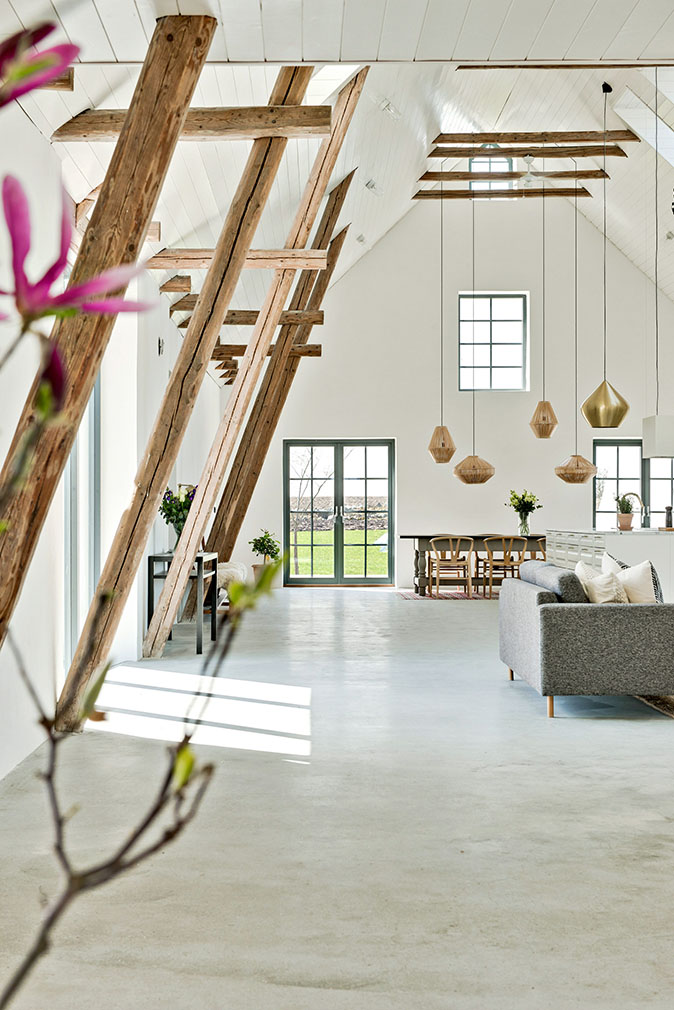 A vaulted living space and kitchen sits at the heart of the L-shaped property, which is on the market via agent Lovisa Björnberg of Fastighetsbyrån for SEK 7.25m. 
It features soaring 6.8-metres-high ceilings crossed with rustic beams. They inject texture and natural colour into the otherwise white space with its crisp plastered walls and poured concrete floors.
Glass doors lead off the bespoke kitchen onto a wooden deck area and pool, with views of the surrounding countryside.
The 390 sqm converted barn is set over two levels, with black-framed windows that peek out onto the surrounding fields. Andersson's also added clerestory windows and skylights to the building's facade and roof to introduce extra light into its cavernous living spaces.
An angular concrete staircase leads from the living room up to one of the bedrooms, while three more are tucked into the other wing of the property. All enhance the soft minimalist vibe found throughout.