Welcome to our weekly property digest, where we bring together the best homes for sale and rent across the world. This week, we have an ultra-minimal island villa and John Lautner's midcentury home in California.
John Lautner's hillside home in Los Angeles, US
3 bedrooms; $1.59m via Crosby Doe Associates
John Lautner designed this Silver Lake property for his family and it's on the market in Los Angeles for the first time in 40 years. The midcentury time capsule was built into a sloping hillside in 1940 and its simple three-storey frame features wraparound windows. Original features are intact, including built-in furniture and a fireplace in the main living space though it is in need of some TLC. See more.
Ultra-minimal villa in Formentera, Spain
POA via The Sibarist
Architect Mariá Castelló Martínez designed this ultra-minimal villa in Spain's Formentera. Sitting amongst 33,000 sq m of wheat and barley fields, Es Pujol de Sera is arranged across a single storey with one fully-glazed end covered in sliding wooden shutters. The contemporary home is available to rent as an event space and film location. Join the location hunters group on Facebook to see more like this.
Brutalist 'Ghost House' in Warwickshire, UK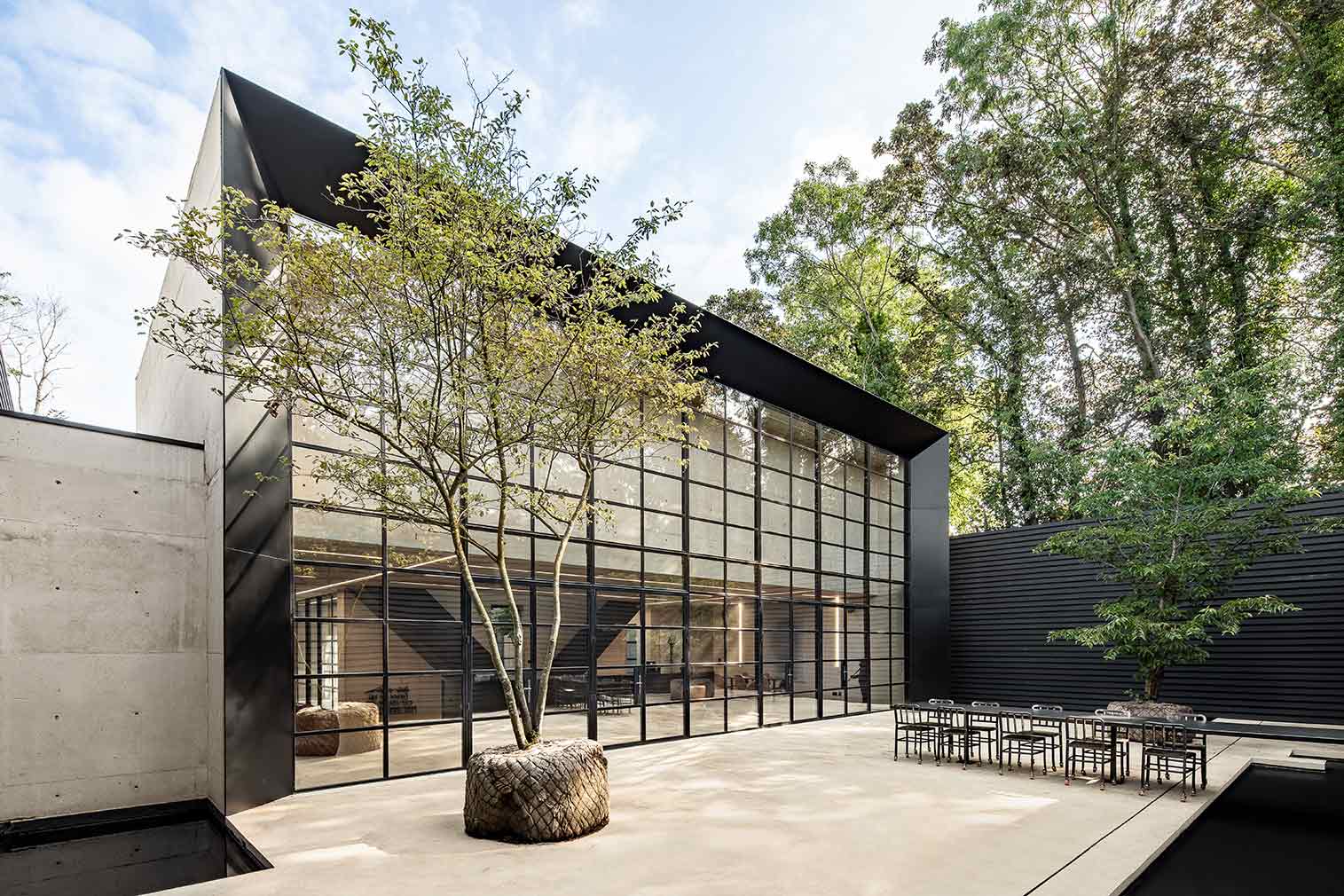 3 bedrooms; £2.5m via Savills
'Ghost House' was designed by BPN Architects. The partially-sunken home was built with cast-in-place concrete and is named for its ethereal form. The top half is barely visible from ground level, and its concrete skin radiates a haunting pale light across its pools of water, which are dyed black. Take a look inside the colossal concrete space.
'Treehouse' villa in Talmont-Saint-Hilaire, France
Sleeps 14; from €1,800 per week via BoutiqueHomes
This holiday home in France's seaside Talmont-Saint-Hilaire is built entirely from birch plywood to emphasise its connection to the surrounding forest. Paris architect Philippe Rizzotti designed villa which is dubbed The Tree House because of rustic interiors and views over the nearby woods. Take an online tour.
Refurbished Forbes-Mack Residence in Portland, US
4 bedrooms; $1.35m via (W)here Real Estate
The Forbes-Mack residence is one of a handful of Portland homes designed by Danish architect John Jensen. Cedar forest surrounds the 1955 property giving the impression from the interior that it's floating among the trees. Built-in lighting illuminates the clean lines of its design, while slate flooring and teak and cedar panelling run throughout. See more.