Welcome to our weekend property digest, where we bring together the best houses for sale (or rent) that we've unearthed across the world. Among this week's discoveries is a floating home in the Danish capital, and an architect's Neo-brutalist home in South Africa's Gauteng province.
Flat in a Victorian pub in East London, UK
2 bedrooms; £695,000 via Knight Frank
History comes alive inside this Shadwell bolthole, set on the ground floor of a converted Victorian pub. Its interiors were restored by Patrick Williams of Berdoulat Design, who installed a salvaged shop counter as a kitchen island and reintroduced missing period features such as porcelain light switches. Take a closer look.
Cabin home beside a volcano in Araucanía, Chile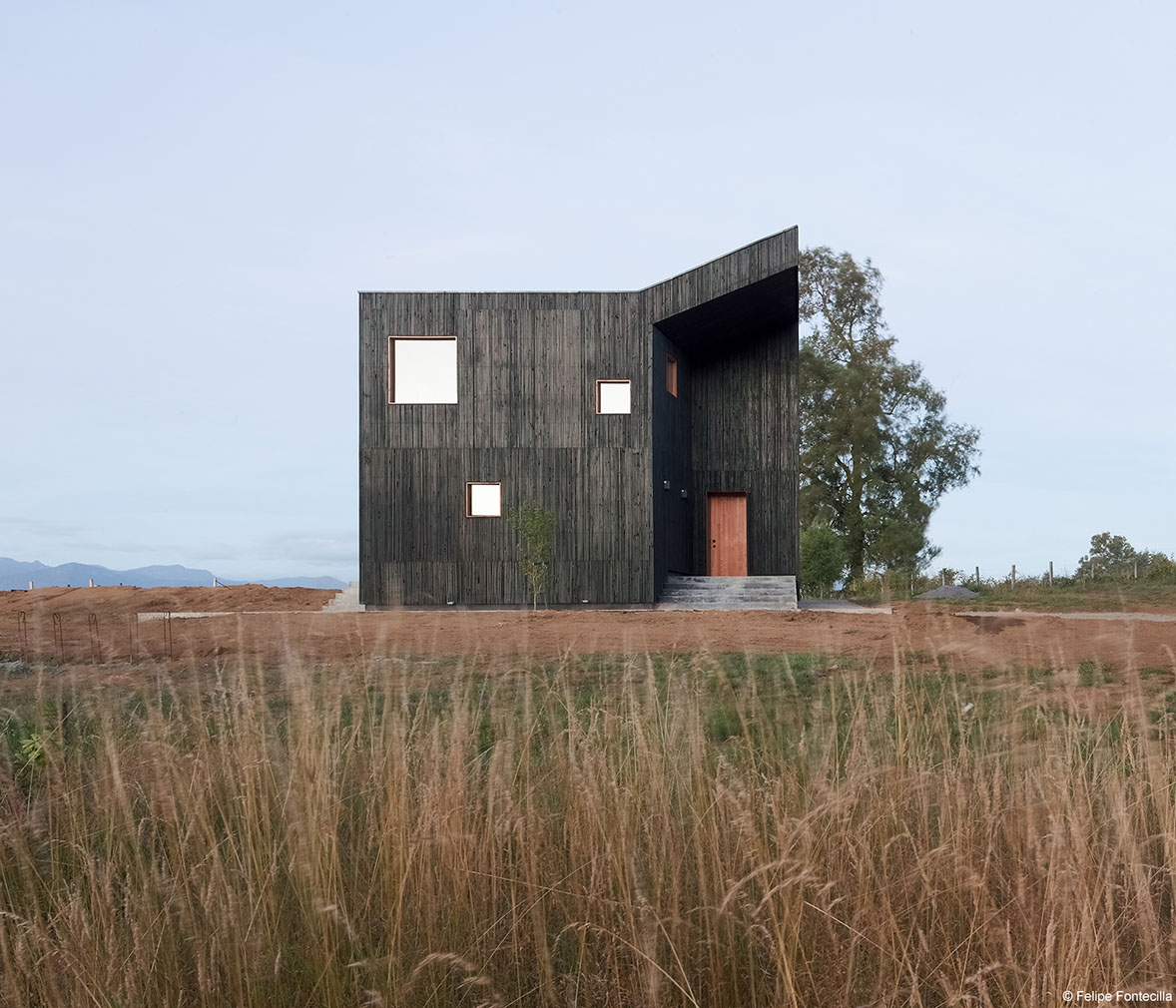 3 bedrooms; via BoutiqueHomes from $500 per night
The black exterior of this Chilean holiday home is inspired by the dark stone prevalent in the Araucanía Region. Casa Hualle was designed by practice Ampuero Yutronic and sits in the shadow of the active Villarrica volcano. Interiors belie its dark, moody façade, thanks to blonde plywood, smooth concrete and oversized windows that frame the views.
Seaweed cottage on the island of Læsø, Denmark
2 bedrooms, 2.6m DKK via Adam Schnack
This 300-year-old cottage is topped by 32 tonnes of seaweed, which gives it a shaggy, cartoon-like appearance. One of only a handful of seaweed houses left in the country, the protected monument has a driftwood frame. The cottage has been completely renovated ready for a new century and comes with beamed ceilings, wood floor and a brand new kitchen which has been installed beside the original one. Explore its cosy nooks.
Houseboat in Holmen, Copenhagen
Via Adam Schnack for 4,750,000 DKK
Jantje is a converted charter ship that's now a full-time residence in Copenhagen's Holmen harbour. The 120 sqm ship has been carefully maintained and is ready to set sail at the drop of a hat. Cabin interiors feature painted timber ceilings and walls and sandblasted wooden floors. See more Scandinavian homes for sale.
Neo-Brutalist bolthole in Gauteng, South Africa
7 bedrooms; £524,000 via Hamptons International
Architect Charl Groenewald designed this 600 sqm concrete villa for his family in the village of Irene, close to Pretoria. The neo-Brutalist home has an industrial feel thanks to concrete walls, stainless steel appliances and dry-stacked dolomite walls. Take a tour.