Creative director Alex Eagle knocked on the doors of 30 of her closest friends to gather interior inspiration for her new book, More Than Just a House: At Home with Collectors and Creators, published by Rizzoli.
The coffee-table tome – written with our contributing editor Tish Wrigley and photographed by Kate Martin – takes readers inside the private realms of collectors, artists, designers and hoteliers as they candidly unravel the genesis of their personal styles and possessions.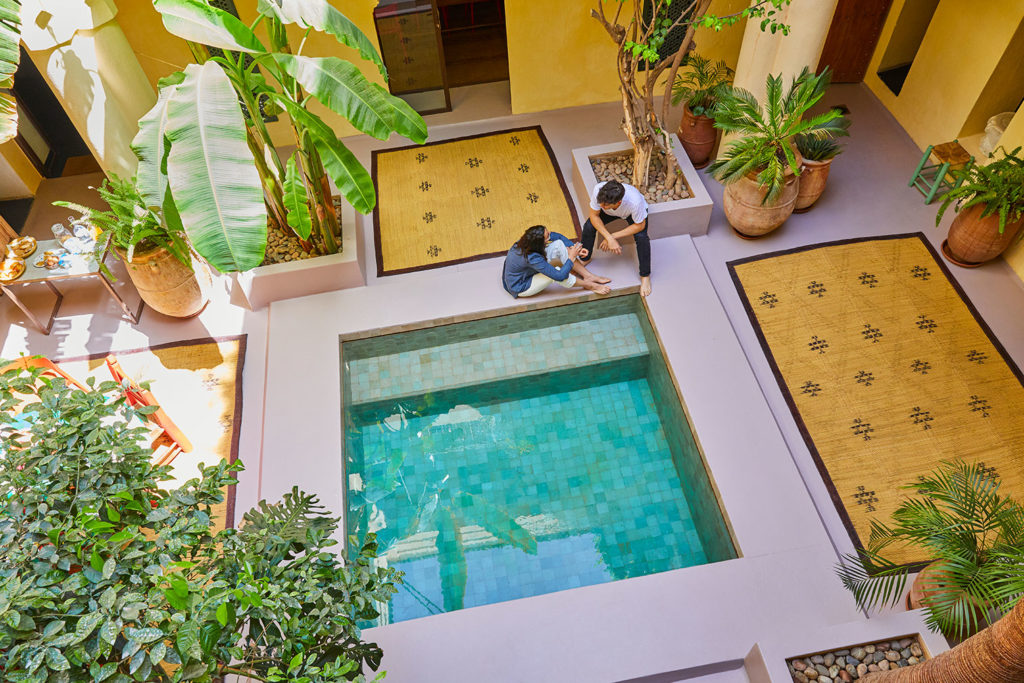 'This book was born from a feeling I often have when I am welcomed into a friend's fabulous house,' says Alex Eagle in her introduction. 'I look around and wish I could record my experience: not just the color of the walls or the art in the hallway, but the spirit of the place, the way the energy of the person who lives there is expressed in its singular style. I wanted to build a portrait of the best interiors of the moment filled with the personalities of the brilliant people who live there.'
In this exclusive excerpt, we go inside the vibrant Marrakech home of film producer Portia Alen-Buckley.
Portia Alen-Buckley's house in Marrakech has a personal history. 'The house belonged to Alain Mertens, who was a fabulous interior designer and my godfather,' she says. 'He left it to me in his will.'
The bequest was a total surprise: a reflection, Alen-Buckley says, of her close bond with her godfather but also of his love for her mother, Gianni.
'They met when he gave her a job at his shop on Beauchamp Place when she was sixteen. That's why he left it to me, it's really a testament to their relationship, they were best friends.'
It was clear to Alen-Buckley from the outset that she did not want to make any radical alterations to the riad. 'I love it how it is. I couldn't do a better job,' she says. 'The aesthetic feels very aligned to my aesthetic, which is because my mum grew up with Alain, and she has passed it on to me. It's all so closely knit.'
Portia and her husband, Michael, first came to the house just after their wedding in 2017, a few months after Mertens passed away. 'It was crazy hot—no one lives in Marrakech in August—so we were just alone. It made me feel very happy about it all, because it's so surreal when someone dies. It was so nice to spend some time there, meet his friends who worked for him, feel our way, and get a sense of the place.'
They spent their six weeks at the house cowriting their first feature. 'Now, two years on, we're making it. The house is part of the journey of our film, it's so sweet that it happened there.' Tucked down an alleyway in the heart of Marrakech's medina, the riad is an oasis amid the hustle and bustle of one of the city's busiest quarters. Arched doorways lead off the riad's plant-filled central courtyard into various nooks for sitting and reading, for working, for eating, for sleeping.
'Alain restored the whole place, cultivating this effortless combination of traditional colors and contemporary European pieces, creating a fresh take on a traditional, heritage vibe. It's so uncluttered, but he has lots of objects everywhere, perfect objects.'
Treasures include carved wooden masks, richly embroidered tapestries, delicate bobbin chairs, and copies of pieces by Cy Twombly and Andy Warhol that Mertens had bought in New York in the seventies. A favorite room is the library, which brings together nineteenth-century paintings, exquisite inlaid tables, teetering piles of books, and two iconic mid-century modern chairs by Eileen Gray and Ray and Charles Eames.
More Than Just a House: At Home with Collectors and Creators is out now, published by Rizzoli