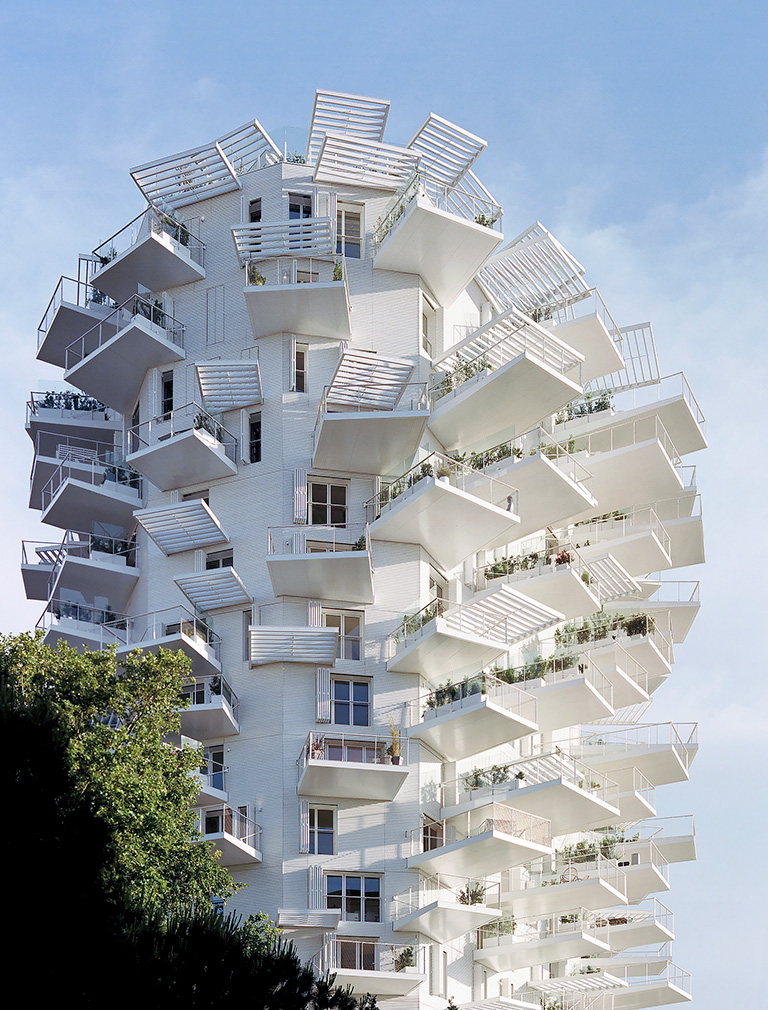 Wood and white spaces form the interiors of Montpellier's L'Arbre restaurant and rooftop
bar.
Diffused and direct sunlight make the white interiors appear brighter, creating a luminous
and almost ethereal backdrop for the geometric timber joinery.
French architect Pauline Percheron created the two-level restaurant and a rooftop bar inside L'Arbre Blanc, a new 17-storey mixed-use tower designed by Sou Fujimoto with Nicolas Laisné, OXO Architectes and Dimitri Roussel.
Percheron has taken classic Mediterranean design features of smooth, cool surfaces and made them contemporary and urban. Two white concrete bars feature a recessed square pattern, and there are flashes of dark orange, yellow and dark blue on the seating and green from the row of plants.
Oak joinery adds a sense of craftsmanship through the restaurant and tapas bar, starting with a sweeping freestanding staircase on the ground floor – which is set in a double-height void – and continuing with planters and banquette seating on the first floor.
Glass doors provide a panoramic view of the city and open onto a terrace on the rooftop level, while cloud-like light pendants allude to L'Arbre's position above the city's skyline.
10 Parvis Oscar Niemeyer, 34000 Montpellier, France