Architects are embracing plant life like never before, incorporating greenery into the very fabric of their buildings. And there's good reason, with biophilic design credited with boosting both physical and mental wellbeing by creating new connections with nature. As cities grow ever larger and more densely populated, architecture that integrates plants offers an answer to disappearing or overused green spaces. In Vietnam, a host of architects are re-establishing links with nature by bringing plantlife into projects small and large – everything from cafés and stores to hotels and homes.
Here we bring together five of the best biophilic designs across the country.
Hoi An Hotel by Vo Trong Nghia Architects, Hoi An
Cascading greenery covers the sides of this Hoi An hotel, which has concrete planters hidden in its sandstone walls. The plants do double duty, giving guests extra privacy as well as shading corridors from the sun.
Greenery continues inside, where the hotel's architect Vo Trong Nghia – known for his biophilic buildings – has designed a restaurant strung with hanging plants.
Tropical Forest café and plant store by Tayone Design Studio, Hanoi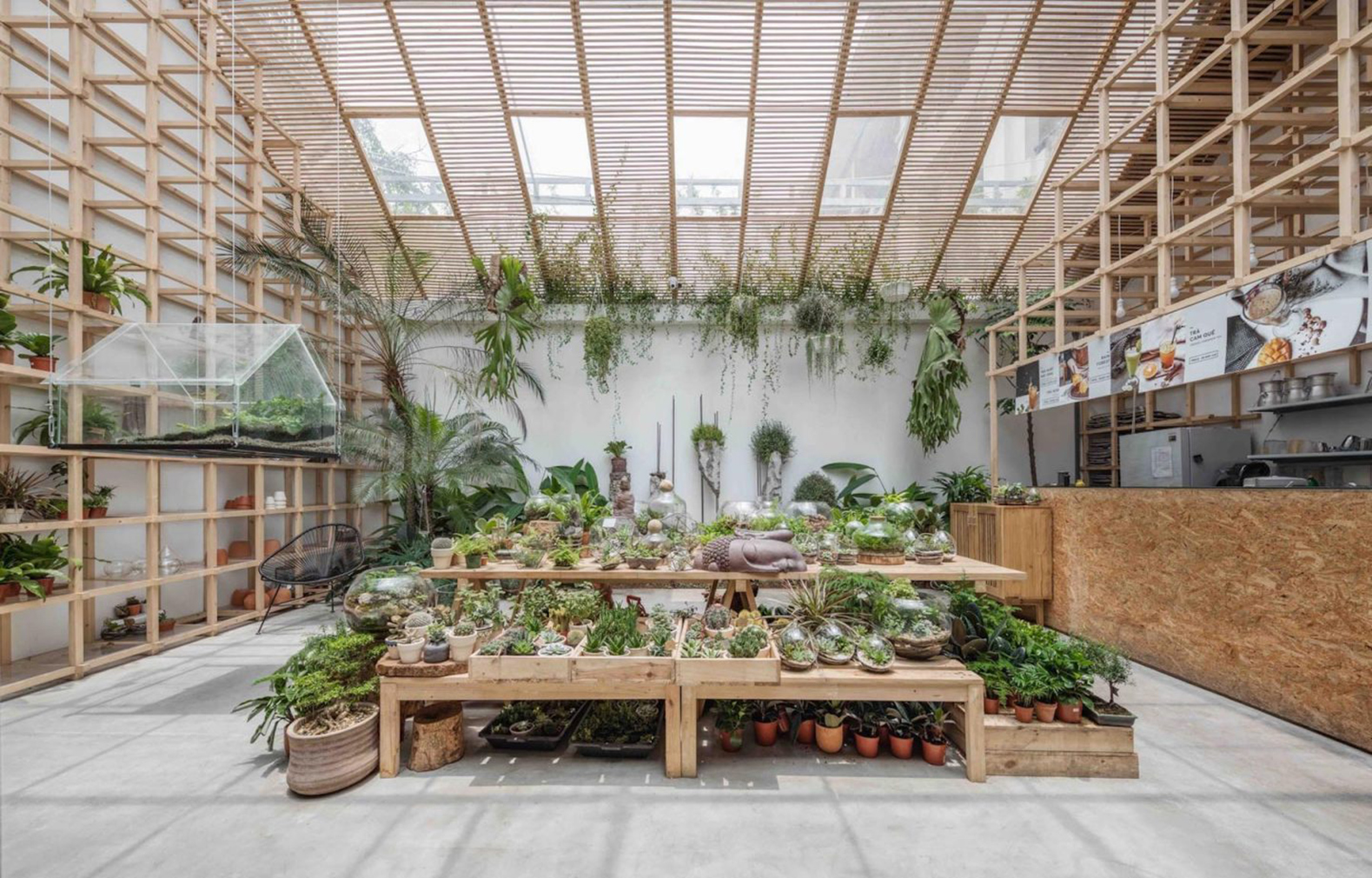 Designed as an oasis of plant life in the heart of the city, this Hanoi café combats pollution and sells succulents to locals. Says its creators, Tayone Design Studio: 'Tropical Forest is based on the idea of creating a real tropical forest in the heart of the city, offering a fresh, airy atmosphere to dispel the dust of pollution.'
Coffee is served under a pitched wood and glass roof, which recalls the form of a greenhouse and helps filter pollution in the space beneath. Creepers meanwhile reach along the walls and plants spill down from the ceiling, adding to the tropical effect.
An'garden Café by Le House, Hanoi
Architecture practice Le House had the Hanging Gardens of Babylon in mind when designing this plant-covered café in Hanoi's Hà Đông neighbourhood. The eatery takes over a former industrial site.
An'garden has steel-frame and bare brick interiors that are filled with greenery, including trees sprouting from the concrete floor and a hidden koi carp pond behind its blackened-steel staircase. The three-storey space features an overlapping timber-slatted roof and huge glass facade that draws light into its cavernous spaces. Huge timber planters are suspended from the roof and are dripping with vines.
Binh House by Vo Trong Nghia Architects, Ho Chi Minh City
Part of Vo Trong Nghia's 'House for Trees' series – which aims to return greenery to cities – this boxy residence has plants sprouting from every spare space. Its abundant gardens connect the home's multi-generational inhabitants, and improve wellbeing by offering fresh produce for the kitchen.
The Hut by 23o5 Studio, Ho Chi Minh City
For this Ho Chi Minh City home, 23o5 Studio broke with convention, bringing the garden into the bedroom and punctuating its concrete interiors with flashes of greenery. Boundaries between inside and outside are further blurred, with iron shelves separating the living area and back garden. Openings in the roof meanwhile have been designed to channel light down into plant-filled spaces beneath.
Read next: 5 Wes Anderson-inspired cafés you can visit right now
Copenhagen's 10 best restaurants for the design obsessed