This dreamy rural hideaway in Ireland's County Kerry was rescued from a ruin.
Lost Cottage was built in the 19th century as a farmer's bolthole. It was abandoned in the 1960s and was empty (except for a herd of goats who used it as refuge during the winter) for over 40 years before Brian Spain bought the Glenbeigh property.
Spain worked with conservation experts in 2003 to revive the original part of the Irish holiday home, which had a rudimentary earth floor and dried moss roof. 'The authenticity of the renovation was very important,' says Spain. 'We took the rotting frames that were in the windows and copied them exactly.'
Walls were repaired with field stone, clay and line, and rendered in traditional lime. The thatch roof was covered with hardy corrugated iron – giving the country cottage its signature red roof.
Architect Maxime Laroussi of Dublin practice Urban Agency was also enlisted to add a contemporary extension to the 86 sq m Irish holiday home, which was completed in 2016. This new wing is constructed from wood grain oxidised concrete, and its tawny hue blends with the surrounding hills and grasslands.
The two-bedroom holiday cottage – available to rent via Unique Home Stays (+ 44 (0) 1637 881183) from £2,500 for a week – looks pretty traditional from the outside, but its interiors are surprisingly contemporary. White-walled minimalism is softened by rustic ceiling trusses, textured limed walls and an enormous brick chimney in the living room, now fitted with a wood-burning stove.
Bedrooms have floor-to-ceiling glazing, overlooking the natural lakes and grassland nearby, while the bathroom has a glass roof for stargazing from the tub.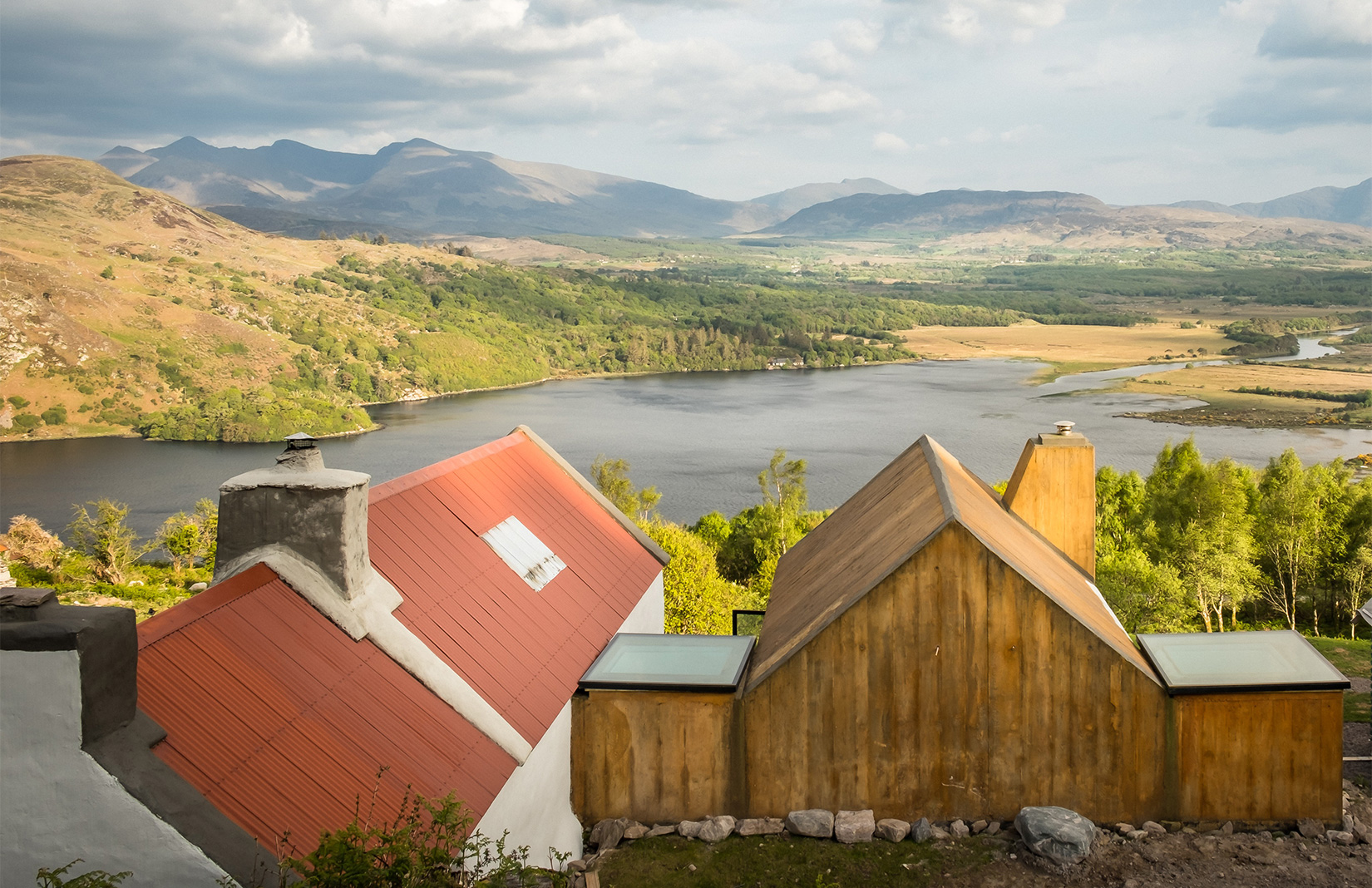 Lost Cottage sits within sits 85 private acres of Treangarriv in Glenbeigh, surrounded by the Horseshoe of Hills and Seefin Mountains.
Read next: 11 spectacular hotels opening in 2018