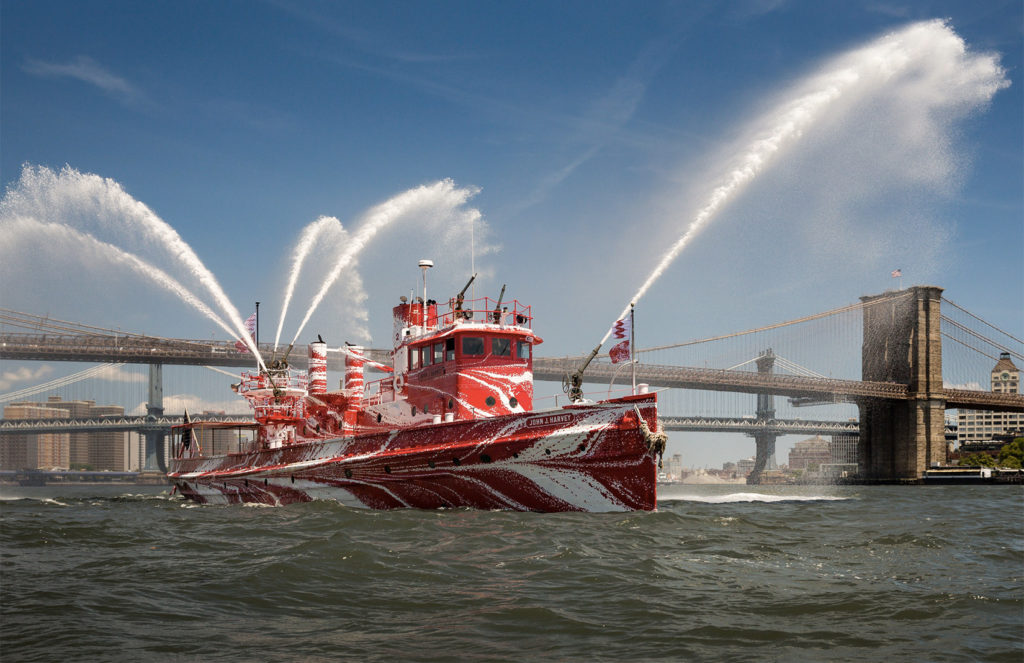 Tauba Auerbach has given retired New York fireboat John J Harvey a kaleidoscopic paint job inspired by WWI camouflage and the movement of water.
The artist's installation takes cues from the work of Norman Wilkinson, who pioneered the dazzle camouflage technique during WWI, painting battleships in eye-straining geometric patterns and colours to throw off the enemy and prevent them from tracking the ship's course, distance and speed.
During the war, thousands of boats were 'dazzled' in the UK and USA, including at Brooklyn's Navy Yard. Auerbach has drawn on this technique for her art installation, titled Flow Separation, which she calls the 'visualisation of the physics of fluid dynamics'.
Using the boat's original red and white colour palette, she has transformed its skin with bold strokes of colour that bubble at the edges like a jet of water.
The dazzle boat was co-commissioned by Public Art Fund and 14-18 NOW, a UK-based public arts program commemorating the centenary of WW1. It will be on view at docks around New York Harbor until May 2019 and will offer members of the public free trips around the harbour on weekends.
Read next: TeamLab launches the world's first digital art museum in Tokyo