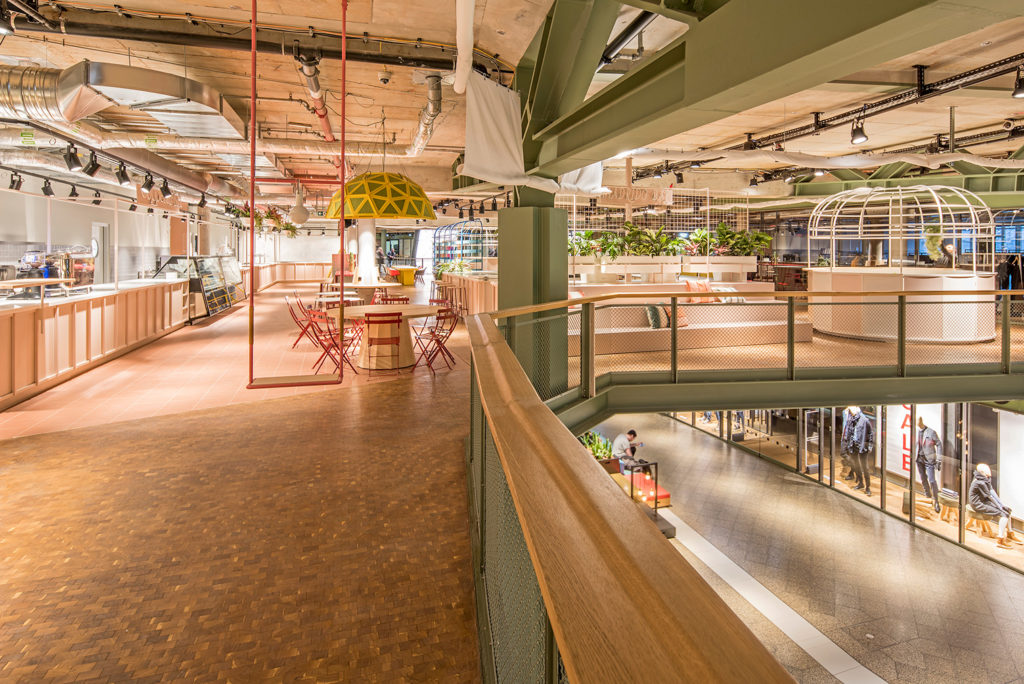 Destination store Bikini Berlin has opened Europe's first 'design food court' – an ultra-kitsch playground for the Instagram age.
Equipped with 13 food stalls, the court is housed on the first floor of the Bikini Berlin building – a newspaper printing press turned shopping destination founded by Andreas Murkudis. Berlin-based Studio Aisslinger has taken a colourful, social media-first approach to its design.
'The staging of spaces through storytelling, unusual material combinations and experience-oriented installations is a new playing field for all architects in the digital age,' says practice principal Werner Aisslinger.
Taking centre stage inside the 1,800 sqm addition to Berlin's restaurant scene is a towering, blue 'birdcage' enclosure, filled with Wes Anderson-style pastel seating and small tables. Its shape is inspired by the aviaries at the nearby Berlin Zoo, which is visible from the 18-metre wide panoramic window which runs the length of Kantini's loggia.
Other smaller 'cages' appear across the interiors as hanging planters and Studio Aisslinger has has installed staggered seating in ice cream shades of soft pink, mint green and lemon yellow in the main dining area. Totem stools and Hobo and Tree pendant lamps add a postmodern twist to the industrial space, which is hung with a number of swings – each created bespoke.
Kantini also offers casual seating options, including pale bleachers strewn with cushions, while cacti offers a tantalising hint of Californian climes.
Hungry shoppers can tuck into a range of 10 international cuisines, cooked inside modular kitchens, ranging from currywurst to Hawaiian poke bowls.
Read next:
Colour is the dish of the day at Berlin restaurant To The Bone
9 Berlin restaurants in extraordinary spaces