London's biggest art fair returns this week, bringing artists and collectors from around the world to the capital. There are a few surprises in store this year including a science-fiction take on the London club night and Frieze's first augmented reality artwork, which questions the limits of sculpture.
We've picked out the most immersive offerings to experience during Frieze London 2019, including an offering from UVA at 180 The Strand that bends the perception of space and time…
Hovering ice in Regent's Park
Billed as Frieze's first augmented reality artwork, this installation by Korean artist Koo Jeong A, entitled Density, takes fair-goers on a sculptural treasure hunt around Regent's Park. Hidden about the greenery are three huge floating slabs of ice, that can only be seen through an app. 'If you take a photo of it or you send it to your friends, they will not be able to tell whether it is real or virtual,' commissioner Daniel Birnbaum told The Guardian.
Density by Koo Jeong A is at Regent's Park from 3-6 October
A hotel room that's frozen in time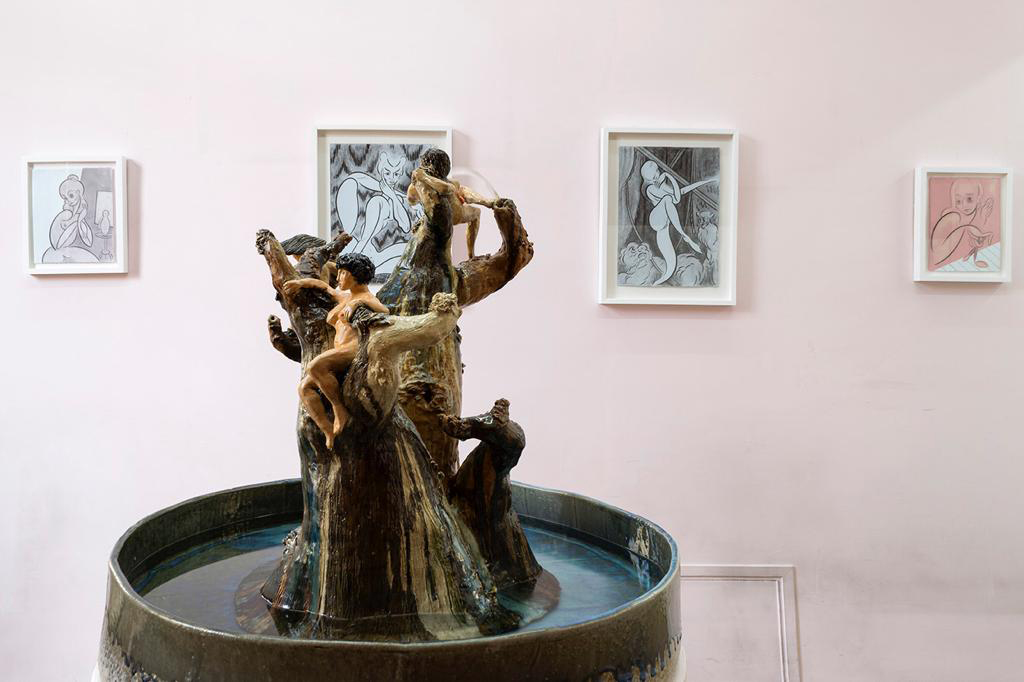 Japanese artist Urara Tsuchiya will turn Union Pacific Gallery's booth into a fictional hotel room, complete with bedside tables and TV for Frieze London. Everything's been given its own twist, with furniture used to display ceramic pieces by Tsuchiya – including a pair of creature-covered lamps. Even the carpet was made by her, while the TV shows a video Tsuchiya filmed. Several new relief works cover the walls, apparently inspired by the dreams of those that might stay in the room.
3-6 October 2019 at booth H2, Union Pacific Gallery, Frieze London
Fabric as architecture
The work of Modernist architect Muzharul Islam inspired this stage set by Shezad Dawood, which comes alive for ten minutes every hour. Dancers dressed in architecturally influenced costumes perform in the space, accompanied by a score from musician patten. The piece explores the relationship between tapestry and architecture, as well as the 'futuristic geometry' of Islam's drawings.
University of NonDualism is at Frieze LIVE from 3-5 October
The future of the club
Originally created at the Large Hadron Collider at CERN, The Wave Epoch imagines a science fiction future for the club night. This hybrid installation and live performance is spearheaded by musician GAIKA alongside artists Haroon Mirza and Jack Jelfs, and features video, incantation and instruments built from unwanted scientific equipment. It takes place in an alternative time when the LHC has been uncovered by a future civilisation and turned into a ceremonial site.
The Wave Epoch is at Ministry of Sound on 3 October, 7.30 pm till late.
Into the light
Three large-scale pieces by art collective United Visual Artists feature in Other Spaces, at 180 The Strand. 'Vanishing Point' draws on Renaissance works by Dürer and Da Vinci, reinterpreted using a grid of lasers, while 'The Great Animal Orchestra' immerses visitors in a soundscape of wildlife recordings.
View this post on Instagram
Lastly, 'Our Time' features new music by Mira Calix, accompanied by moving lights that move back and forth to bend the perception of space and time.
Other Spaces is at 180 The Strand, from 2 October to 8 December
Let's get physical
Hannah Perry is planning a mysterious new piece for the Ministry of Sound, which aims to challenge ideas of masculinity as well as class. Details are sparse at the moment, but the work will blend live music with inflatables and smoke, and apparently test the limits of physical exertion. Several other performance pieces will be taking place on the same night, including The Wave Epoch.
Perry's performance takes place at Ministry of Sound on 3 October, 7.30 pm until late.
Alternative universes
Step inside a fictional world at Colony Sound, which is the latest instalment of Jonah Freeman and Justin Lowe's fantastical San San Universe. There are 11 surreal rooms to explore, ranging from a burnt-out record studio to a 1970s living room – all connected by the artists' imaginary wellness programme, The Smile. A soundtrack by Elizabeth Hart and Iván Lee with Lee Scratch Perry accompanies the experience.
Colony Sound is at the Marlborough Gallery until 19 October
Altered states
Transformer: A Rebirth of Wonder brings together work by Jenn Nkiru, Juliana Huxtable and Doug Aitken, amongst others, in an exhibition curated by Dazed founder Jefferson Hack. According to him, the show invites us to 'access altered states of consciousness as we step beyond reality into a series of highly authored, staged environments'. A programme of workshops and performances accompanies the exhibition.
Transformer: A Birth of Wonder is at 180 The Strand from 2 October to 8 December
Confronting reality
Doug Aitken is showing a collection of new works with Return to the Real at the Victoria Miro, which explores how our dependence on technology and the screen is changing our relationships. 'These artworks question how we navigate a world of increasing speed and transition,' says Aitken. The show includes some striking takes on sculpture, including a glowing ghost-like girl, as well as Aitken's usually deft use of light and sound to manipulate perception.
Return to the real is at Victoria Miro Gallery from 2 October to 20 December
Theaster Gates creates an immersive world
Social practice artist Theaster Gates is bringing his Black Image Corporation to The Store X, 180 The Strand for Frieze week, launching with Prada Mode on 2-3 October. A series of immersive spaces are furnished with images and pieces drawn from his extensive collections exploring Black culture, as he connects Chicago's South Side with London's vibrant creative community. Expect live performances, talks and screenings, brought together under the title 'Collective Intimacy', and scheduled to run throughout October. See more.