A good party isn't just about the guest list. Plenty of room, cosy nooks for people to catch up in and outdoor space is also key – and if it takes place in dramatic surroundings, even better.
With that in mind, we've selected seven homes for sale in the UK designed for entertaining – whether you're organising a civilised garden party, sit-down meal, or a grand gathering worthy of the Great Gatsby.
Grade II-listed Baykers House in Halstead
5 bedrooms; £1.2m via Fenn Wright
This 16th-century country property comes with four reception rooms, so would-be owners won't be short on space. Located a couple of hour's drive outside London, Baykers House could be the perfect place for guests to escape the city for a night. Its tree-lined drive and extensive grounds offer scope for grand summer parties too.
Converted brewery in Clerkenwell, London
4 bedrooms; £4m via Sotheby's Realty
This spacious, four-bedroom property in London's Clerkenwell is destined to be a party house. Its previous life as a brewery means it has huge rooms and high ceilings, so you won't have to worry about cutting down the invites, and it comes with a sizeable cellar. There's also plenty of room for guests to gather in the home's enormous kitchen – the most important room at any gathering.
Converted furniture workshop in Shoreditch, London
3 bedrooms; £1.9m via The Modern House
If you like to plan a big bash, this industrial-style Shoreditch property has generously sized rooms that can accommodate a lengthy guest list. Its open-plan layout means party-goers can mingle with ease. Original features include timber beams and metal columns and it comes with three bedrooms, so you can offer an extra bed to out-of-town visitors.
Kensington house by DOS Architects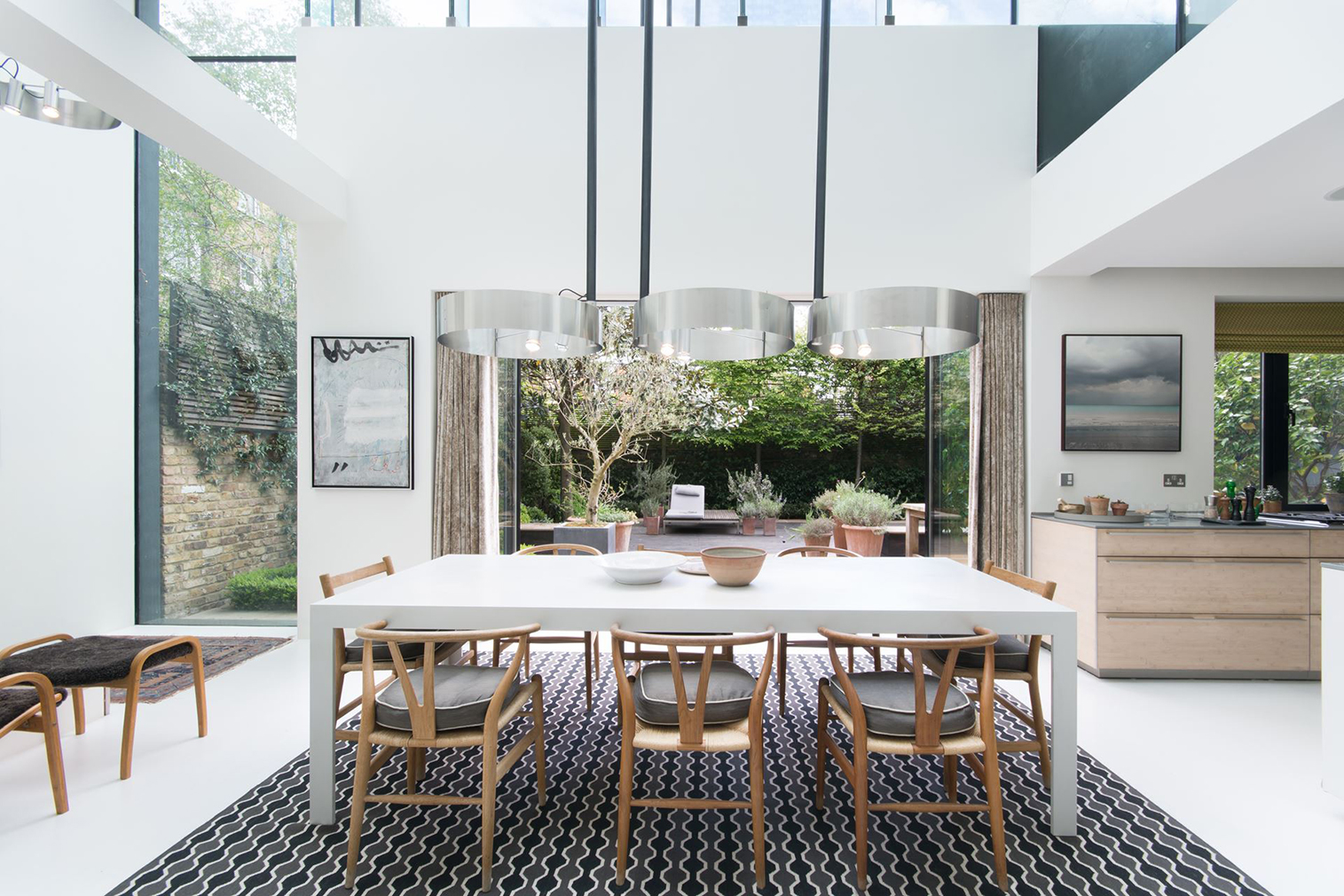 4 bedrooms; £5.9m via Domus Nova
Dinner party enthusiasts can make the most of this west London property, designed by DOS Architects. It features a soaring open-plan kitchen and dining room, which leads straight onto the garden. A mezzanine level means parties won't ever feel cramped, while secluded living spaces offer a place for cosier gatherings. There's even a library on hand, in case the more introverted guests feel the urge to escape.
Foscott Manor in Buckinghamshire
7 bedrooms; £6.5.m via Savills
This imposing country manor and its 39 acres of grounds date back to the Doomsday Book, which means it's probably hosted a party or two in its time. It's not just its six reception rooms that make it well-suited for entertaining, it also has three separate cottages for guests that want to spend a long weekend, and plenty of surrounding parkland for them to walk off their over-indulgences…
Mews House in Clapham, London
6 bedrooms; £3.9m via Knight Frank
The 100-ft roof terrace of this six-bedroom, Clapham home is designed for summer parties, which will be shielded by plants. Inside, you'll find 4,300 sq ft of space, including a vaulted dining hall – for dinner in the colder months – and a spacious reception room. A self-contained apartment means there's also room for visitors to sleep over.
William Morris-designed apartment in Kensington, London
1 bedroom; £3.4m via Domus Nova
It might only have one bedroom, but this London home feels voluminous, thanks to its dramatic barrel-vaulted living room. Rumoured to be designed by William Morris, the apartment's details include stained glass windows and an ornately carved large fireplace. The property is close to Hyde Park and the Royal Albert Hall.
Read next: 7 of the best London apartments for rent