Prefabricated homes are shedding their shoddy reputation. No longer seen as inferior alternatives to bricks and mortar, they're being touted as a possible solution to rising house prices and shrinking spaces. With many of them delivered part or fully assembled, they can also drastically cut construction time and costs, and, in some cases, allow owners to move their entire home if need be.
We've rounded up some of the best prefab homes that can constructed in under a day – quick enough to suit even the most impatient of people.
TF64, assembled in ten minutes
Price on application
No workers are needed for this quick-draw, self-building home, which unloads and unfolds itself in just 10 minutes. The floor plan is small, with just 64 sqm of room, but internal walls can be rearranged to accommodate owners' needs. The TF64 units can also be adapted and connected to create larger dwellings. This one's due to start shipping at the end of 2018, so keen buyers should get their orders in now.
M.A.Di, assembled in 6 hours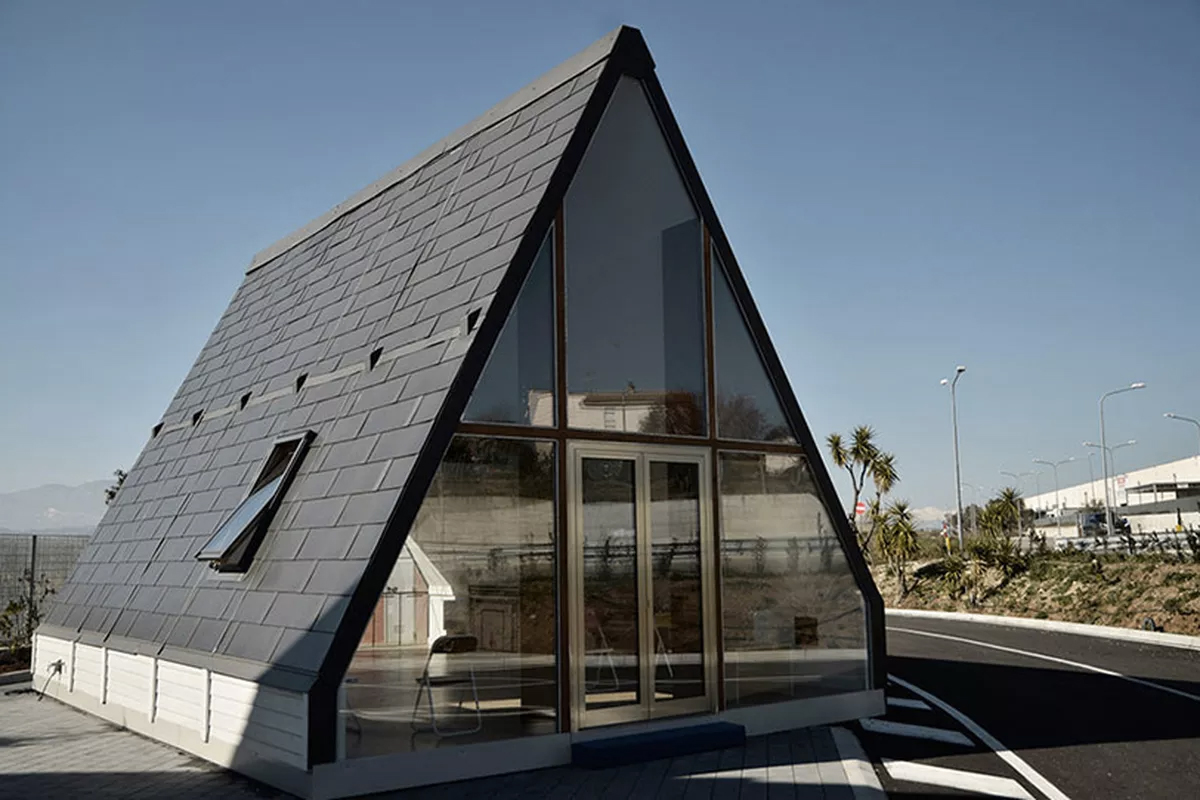 Starting from €32,800 (excluding delivery)
Not only can this A-frame cabin be constructed anywhere in the world, but it only takes 6 hours to put together.
Architect Renato Vidal designed the tiny M.A.Di homes – available in five sizes, from 27sqm to 84 sqm – as modules that can be unfolded and built without the need for foundations, making the prefab home a good choice for homeowners in a hurry. Take a closer look.
KODA by Kodasema, assembled in 7 hours
Starting from €90,000
Those after the simple life will appreciate this tiny minimal cabin. Its glazed wall makes the prefab home perfect for making the most of remote landscapes, while a mezzanine sleeping area offers just enough space for its owners to bed down in. Nomadic owners take note – it can be assembled and disassembled in under seven hours. Take a closer look.
ÖÖD House, assembled in 8 hours
From $65,000 (excluding land, installation and set-up, shipping and taxes)
ÖÖD House owners can enjoy their privacy behind this tiny home's mirrored exterior, which helps it disappear into the landscape. There's only one room to squeeze into, but what this prefab home lacks in square-footage it more than makes up for in views through its wraparound glass windows.
Kasita, assembled in 24 hours
From $139,000 (excluding land, installation, shipping and taxes)
Simple living is the philosophy of Kasita – a micro home inspired by its founder's year-long voluntary stay in a dumpster. Thankfully there's nothing dumpster-like about the cabin's light-filled interiors – spanning 374 sq ft – which are kitted out with minimalist storage units and wooden floors. It's positioned as a solution to the housing crisis, and can be installed within 24 hours of delivery.
Read next:
Why pavilions are the new collector's item
Go off-grid with this prefab Artist Bothy – costing £39k